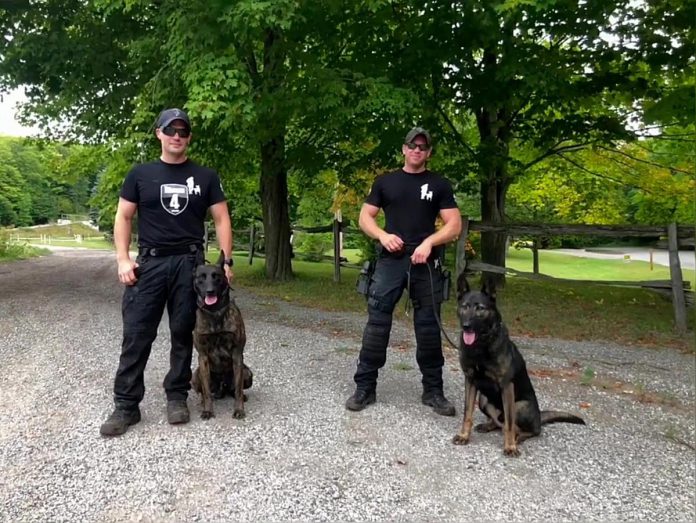 The Peterborough Police Service's K9 Unit had three top five finishes in the 2023 National Police Dog Competition held last week in Barrie.
Presented by the Canadian Police Canine Association and hosted by the Ontario Provincial Police (OPP) and the Barrie Police Service, the five-day event held from September 5 to 9 featured 39 canine teams competing from police and government agencies across the country including the RCMP, the OPP, the Canada Border Services Agency, and many more.
Police constables Bob Cowie and Dillon Wentworth and police service dogs Isaac and Gryphon represented Peterborough in the competition. Cowie and Isaac placed fourth in drug detection while Wentworth and Gryphon placed fifth in drug detection and fourth in building searches.
Advertisement - content continues below
Tweet this quote
"Without a doubt the residents of Peterborough, Lakefield, and Cavan-Monaghan can rest assured that their K9 officers are some of the best in the country and we are proud of their hard work and accomplishments," says Peterborough police chief Stuart Betts in a media release.
It was the first time the competition has been held in Ontario and the first time the Peterborough Police Service has participated.
"There is a considerable amount of training that goes into ensuring Isaac and Gryphon are ready to serve the community," Cowie says. "It was a great experience to be able to learn and compete with the best in the country."
VIDEO: Peterborough Police Service K9 Unit at 2023 National Police Dog Competition

Advertisement - content continues below
Tweet this quote
"We would like to thank all of the supporters of the unit for their kind words," Wentworth adds. "It was wonderful to know that the community was cheering us on throughout the week."
Isaac, a German Shepherd and Belgian Malinois mix who specializes in drug detection, joined the canine unit in 2019. Gryphon, a Dutch Shepherd who joined the canine unit in 2022, is trained in human scent detection and location, suspect apprehension, article detection, handler protection, and narcotics detection.
"I am impressed with the handlers' dedication to public safety and using the police service dogs as an appropriate tool in that endeavour," Betts says. "Congratulations to PCs Cowie and Wentworth and PSDs Isaac and Gryphon on their success and representing Peterborough at such a high level."