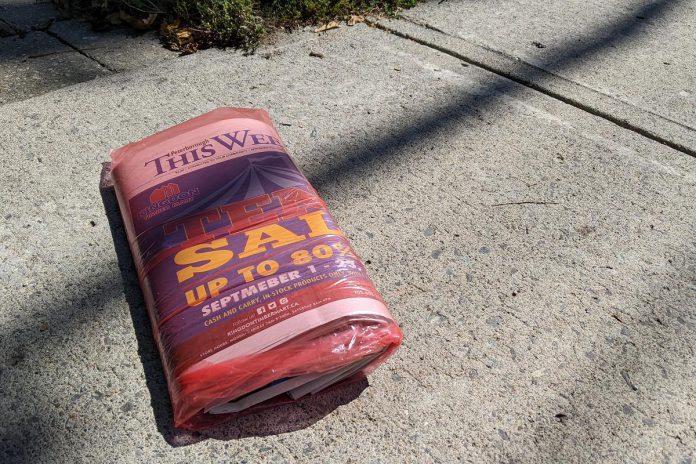 Metroland Media Group is ending the print editions of its 70 community newspapers — which include Peterborough This Week, Kawartha Lakes This Week, and Northumberland News — and getting out of the flyer delivery business as it seeks protection under the Bankruptcy and Insolvency Act as part of a restructuring plan.
Owned by Toronto Star publisher Nordstar Capital LP, Metroland announced on Friday (September 15) the decision was "in response to unsustainable financial losses stemming from the changing preferences of consumers and advertisers."
The move will see 605 jobs eliminated, including 68 journalists, which is about 60 per cent of Metroland's total workforce. Around a third of the employees to be laid off work at Metroland's flyer distribution operations, and another third are part-time staff.
Advertisement - content continues below
Receiver Grant Thornton LLP indicated in an internal document for employees that Metroland will not offer severance or termination pay because of "insufficient funds."
While the print editions of community newspapers are ending, they will continue to be published online.
Metroland's six daily newspapers — the Toronto Star, Hamilton Spectator, Peterborough Examiner, St. Catharines Standard, Niagara Falls Review, Welland Tribune, and Waterloo Region Record — will continue to be published both in print and online. The Peterborough Examiner already publishes online content from Peterborough This Week and Kawartha Lakes This Week.
It is unknown how many local employees will be affected by Metroland's decision. However, a source told kawarthaNOW one journalist with the Peterborough Examiner was let go immediately after the announcement and Peterborough This Week and and Northumberland News will each lose a journalist at the end of December.
In June, Nordstar had entered into non-binding merger talks with competitor Postmedia Network Canada Corp, owner of the National Post and many other daily newspapers, in an attempt to fight off the "existential threat" facing the media industry because of declining revenues. However, the talks were called off in July, with the Globe and Mail reporting the deal was scuttled when debt-laden Postmedia's major lender, Chatham Asset Management, wanted to retain a large amount of the debt rather than convert it to equity in a merged company.
Advertisement - content continues below
Tweet this quote
In its statement, Metroland blamed big tech and a decline in advertisers for the restructuring move.
"The media industry continues to face existential challenges, largely because digital tech giants have used their dominant positions to take the vast majority of the advertising revenue in Canada," the company said. "The decline of the print and flyer distribution business was significantly accelerated by the COVID-19 pandemic, and by the reduction of flyer usage both by readers and advertisers as a marketing vehicle."
Advertising revenues for the newspaper industry have been steadily declining since the 1990s with the rise of the internet. The decline began with classified advertising when free online options became available, and increased when tech companies including Alphabet (the parent company of Google) and Meta (the parent company of Facebook) introduced new low-cost advertising options against which traditional media could not compete.
Earlier this year, after years of lobbying by the newspaper and broadcast industry, the federal government passed the Online News Act, which would force Google and Meta to pay for links to Canadian news content that people share on their platforms in an effort to have tech companies transfer some of those advertising revenues to media companies.
Meta responded to the legislation by blocking all news content to Canadians using Facebook and Instagram, and Google has threatened to de-index Canadian news from its search engine unless the legislation is changed.