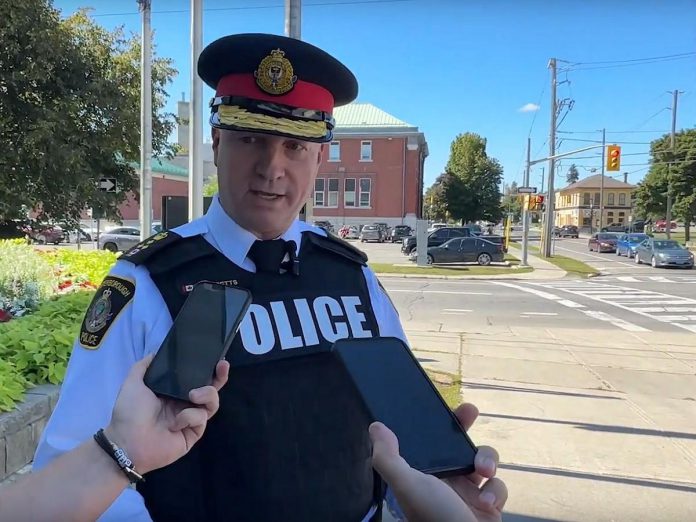 Peterborough police have arrested a suspect with a criminal history in connection to a shooting in downtown Peterborough that left a men with a serious leg injury.
At around 12:22 a.m. on Monday, September 4th, police were called to the Rubidge Street and Stewart Street where they located a man with a gunshot wound to his leg. He was taken to Peterborough Regional Health Centre before being transferred to a Toronto-area hospital for further treatment.
Officers, who learned there had been an argument between two men before the shooting, searched the area but did not locate the suspect. Police released a description of the suspect as a Black man with a stocky build, short corn rows, and a thin moustache with well-groomed short beard.
Advertisement - content continues below
On Thursday (September 14), investigators from the Peterborough police's street crime unit, with the help of Halton Region police officers, arrested 31-year-old Suleman Hussain of Milton.
Hussain has been charged with attempt to commit murder using a firearm, aggravated assault, unauthorized possession of a firearm, knowledge of unauthorized possession of firearm, possession of prohibited or restricted firearm with ammunition, two counts of possession of a firearm or ammunition contrary to prohibition order, possession of a weapon for a dangerous purpose, pointing a firearm, and discharge of a firearm with intent.
After a search warrant was executed at a Milton residence, Hussain was also charged with possession of proceeds of property obtained by crime under $5,000, failure to comply with an undertaking, possession of a Schedule I substance for the purpose of trafficking (cocaine), possession of a Schedule I substance for the purpose of trafficking (methamphetamine), and possession of a Schedule II substance for the purpose of trafficking.
VIDEO: Peterborough police chief Stuart Betts (September 15, 2023)

Hussain, who is being held in custody pending a bail hearing on Friday (September 15), has previous convictions and has served time in custody for firearms offences.
He was also previously arrested on March 18 after police were made aware of a suspected vehicle theft in progress in the King Street parkade, with the driver of an SUV colliding with other vehicles. When officers approached, the SUV fled. After an officer who is a member of the canine unit attempted to stop the SUV at King and Aylmer streets, the SUV collided with the police vehicle and fled southbound on Alymer street with the same officer's vehicle in pursuit.
The SUV went through a fence around Morrow Park and into a construction zone, with the driver fleeing on foot. The officer with his police service dog chased the suspect, warning him that the dog would be released if the suspect didn't stop. The officer then released the dog, who stopped the suspect, biting him on his left and right thighs in the process. The suspect was taken to Peterborough Regional Health Centre for treatment of his injuries.
Advertisement - content continues below
In connection with that incident, Hussain was subsequently charged with operation while impaired (alcohol and drugs), failure or refusal to comply with demand, failure to stop after an accident, flight from a peace officer, and dangerous operation of a motor vehicle.
After the March 18th incident, the province's Special Investigations Unit (SIU) — which investigates whenever a civilian has suffered an injury, death, or sexual assault at the hands of an officer or an officer discharges a firearm at a person — invoked its mandate.
On July 11, SIU director Joseph Martino cleared the Peterborough police of any wrongdoing, finding no reasonable grounds to believe the officer committed a criminal offence, calling the use of the police service dog "legally justified force," especially since Hussain's escape was a possibility and that he had been warned in advance by the officer. Martino noted the bites the dog inflicted on Hussain were not necessarily evidence of excessive force, especially since there was an indication Hussain had punched at the dog.