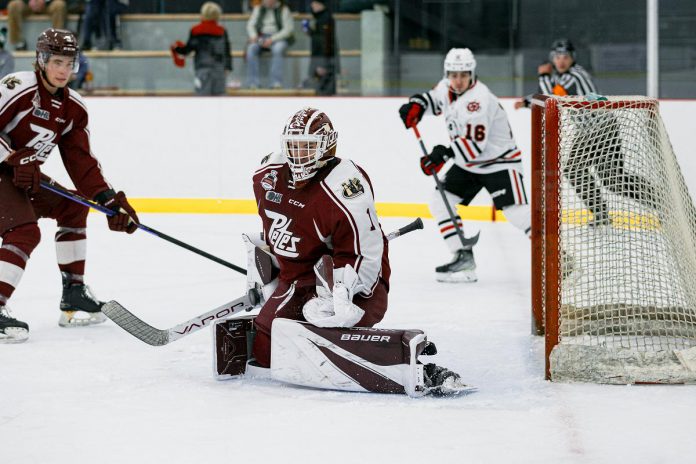 The Peterborough Petes wrapped up their five-game OHL preseason with a 3-1 win against the Niagara IceDogs in a home game played at Cavan Monaghan Community Centre in Millbrook on Saturday night (September 23).
The last time the Petes faced the IceDogs, at their first preseason game on September 2 in St. Catharines, the team lost in a 7-1 blowout.
Unlike that last match-up, Saturday night's game remained scoreless for the first two periods as an almost sold-out crowd cheered on the Petes.
Advertisement - content continues below
In the third period, the Petes' Sam McCue scored the first goal on a powerplay, with Braydon McCallum and Jax Dubois also both scoring empty net goals. Petes goalie Liam Sztuska shut down the IceDogs, stopping 45 shots until Gavin Bryant scored.
With Saturday night's win, the Petes ended up 3-2 in the preseason. After the September 2 loss to the IceDogs followed by a 5-3 loss to the Oshawa Generals on September 4 at the Petes' first home game at the Jack Burger Sports Complex in Port Hope, the Petes won the next three games, defeating the Sudbury Wolves 6-4 in Sudbury on September 8, the Kingston Frontenacs 4-2 at a home game at the Asphodel-Norwood Community Centre in Norwood on Friday night, and the IceDogs 3-1 on Saturday night.
The Petes open their 2023-24 regular season with a home game at the Peterborough Memorial Centre on Thursday (September 28) when they face off against the Kingston Frontenacs. The Petes will be raising their 2023 OHL Championship banner before the game, with puck drop scheduled for 7:05 p.m.