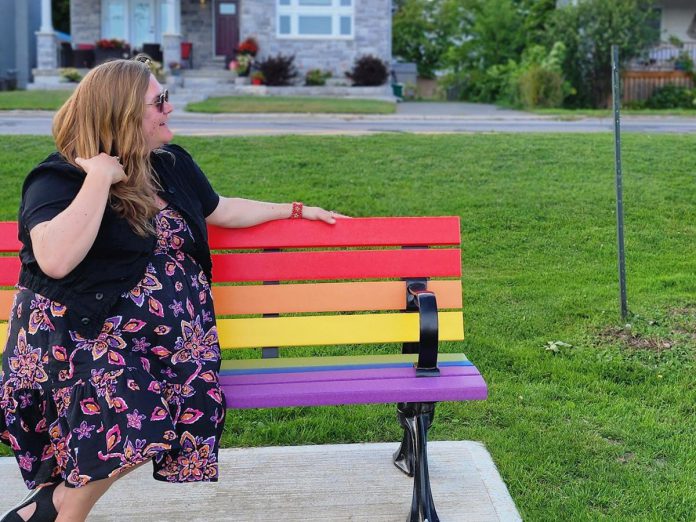 Ashley Bonner will be stepping out of her comfort zone on October 18 when she takes to the stage at Showplace Performance Centre to receive a 'Top 4 Under 40' Peterborough Business Excellence Award from the Peterborough and the Kawarthas Chamber of Commerce.
Though she will be recognized for her efforts and successes in community building and development, Bonner is more accustomed to working behind the scenes — and behind the screen.
Not only does Bonner own Smarketing, a social media marketing and management service, but she's also behind number of neighbourhood Facebook and Instagram accounts and groups, including the East City Community Hub created for her own neighbourhood where she has spent most of her life. Through these outlets, she has organized neighbourhood events with the goal of creating community, building resilience, and encouraging local shopping.
Advertisement - content continues below
Tweet this quote
"I've always been very passionate about helping the local economy," explains Bonner, adding that with her diploma in social service work and double major in international development and psychology, she has always thought about ways to develop communities.
When her mother was diagnosed with cancer shortly after the onset of the pandemic in 2020, she slowed down her social media work, and started thinking about ways to help immune-compromised individuals like her mother during this time of emergency and uncertainty.
"My background in social work and development and social media came together to make me think, 'what can I do to help this situation?'" Bonner recalls.
That's when Bonner created the East City Community Hub on Facebook, to encourage people to offer their neighbours help when they could, and to ask for help when required.
"I was aware that we were isolating and had no real way to connect with our neighbours. What if my neighbours needed something, especially the seniors?"
Though she initially used Google Forms so people could offer and ask for help, she found the community would willingly post directly on social media to offer assistance, like delivering groceries and goods to those in need. Bonner eventually created a resource document to make it easy for neighbours to get the assistance they required during the pandemic. Information on the document included anything from grocery store hours to delivery services and ideas for families to entertain their young children.
"It had some really vital information in those initial days, because we were all just reacting — we weren't really responding," she says, adding that she was impressed by the number of people who were eagerly offering help.
Advertisement - content continues below
Tweet this quote
Months later, in September 2020, Bonner's mother lost her battle to cancer. Though Bonner was really struggling throughout October, she helped manage her grief by planning a Halloween scavenger hunt for the neighbourhood children who were unable to go trick-or-treating due to the pandemic.
"It brought my passion for stimulating local economy and my passion for building community together, but it also just filled me up to know that I was bringing joy to other people because I was in such a low spot," Bonner explains.
She would partner with businesses like East City candy shop Flossophy and East Bank Variety for the participating children to collect their prizes.
"There's research that demonstrates the more we know our local business owners, the more likely people are to shop, so these types of opportunities are a chance to get to know the local businesses and build that rapport with them and connect on a commonality."
Bonner has continued to host the scavenger hunt every Halloween since and, now that she doesn't have to consider physical distancing, she's hosting the Hunter Street Haunt in collaboration with the Witch Flash Mob that Canadian Family Health Counselling organizes each Halloween. Open to all residents, this year's event takes place from 6 to 7:30 p.m. on Thursday, October 26.
The scavenger hunts were only the first of the community-building projects that Bonner promoted using her Facebook hub. Since then, she has organized a neighbourhood yard sale that take place in East City each Mother's Day in honour of her own mother. With local businesses invited to join the over 90 residential houses that participated this spring, Bonner explains that the annual yard sales have grown much larger than she ever anticipated. A fall neighbourhood yard sale in East City is scheduled for Saturday (September 30).
"It was all just out of my passion for community-building because the yard sale is beautiful and whether people are having yard sales or they're out shopping, they're meeting neighbours," she explains. "You now have the economic activity that comes from both businesses benefiting and those having the yard sales benefiting."
Advertisement - content continues below
Tweet this quote
Bonner adds that over the years, she's heard from people having come as far as from the GTA to shop at the yard sale, and she has even heard stories about families deciding to house shop in East City because they admired the community gathering that was encouraged through the yard sale.
While Bonner has no plans to stop hosting neighbourhood yard sales or Halloween scavenger hunts, she thinks that in the future she'll be focusing more on building neighbourhood resilience, as she again did during last year's derecho storm, when she encouraged people to use the Facebook hub to offer assistance to neighbours who had lost power.
"I love building community and I have the skill set and I have the passion," Bonner explains. "I feel this community, this neighbourhood, has been a support for me during my grief and my healing, and it's been an outlet. It's been a place where I can bring myself back up, whether it's through events or through the support people share in the group."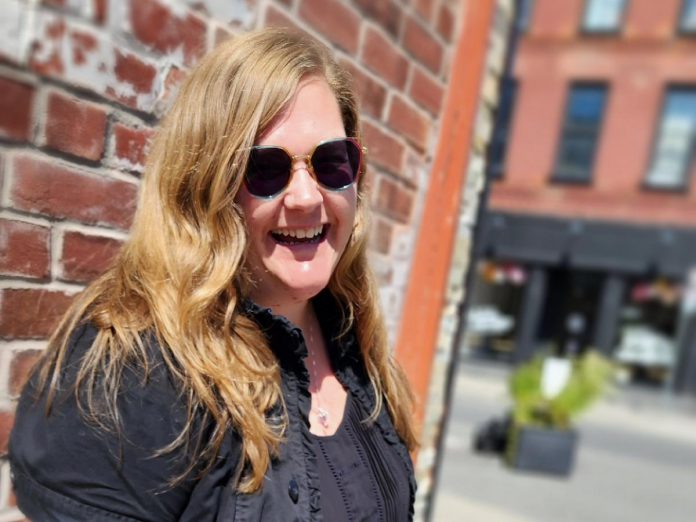 While Bonner is remaining tight-lipped about her exact plans for building neighbourhood resilience, she points out there are limitations with using Facebook as it is "not designed to help build resilience."
"A resilient community is when neighbours know each other. The less it relies on a global system, the better it is for that community. The more finances stay in that community, the more opportunities there to develop a thriving community."
"I'm working on seeing just what I could do to build that to the next level," she adds.
Advertisement - content continues below
Tweet this quote
Though we might not get to hear about her plans quite yet, we do get to see Ashley Bonner on October 18 when she accepts her 4 Under 40 Award.
"It's a very big honour and a privilege and I hope that my story helps inspire others in their journeys," Bonner says.
For more information on Bonner's social media services, visit smarketingptbo.ca. To keep up to date on East City community events, join the East City Community Hub on Facebook.