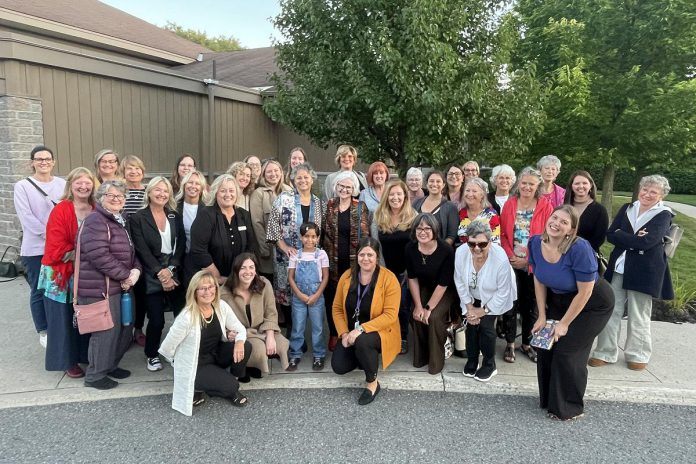 At its third meeting this year, and the first in-person meeting since the pandemic began, 100 Women Peterborough has chosen Hospice Peterborough to receive member donations — the very first organization to receive a donation from the collective philanthropy group after it formed back in 2018.
100 Women Peterborough met last Tuesday (September 19) at Ashburnham Funeral Home and Reception Centre, which donated its venue and refreshments for the cause.
At each of its quarterly meetings, the group hears presentations from three organizations randomly drawn from a larger list of organizations nominated by the group's members. The organization receiving the most votes from members receives the donations contributed by the group's members.
Advertisement - content continues below
The three organizations that presented to 100 Women Peterborough at September's meeting were Abbeyfield House Society, Hospice Peterborough, and Peterborough Veterinary Outreach, with Hospice Peterborough chosen by majority vote to receive the funds.
Hospice Peterborough last received a $12,000 donation from 100 Women Peterborough in 2018. Under the group's rules, any organization that receives a donation is excluded from nomination for three years. With 108 active members each contributing $100, 100 Women Peterborough is projecting a collective donation of $10,800 to Hospice Peterborough.
"Supporting Hospice once again is a testament to the transformative impact they bring to our community," says 100 Women Peterborough member Catia Skinner in a media release. "It's a legacy we're proud to be a part of."
Tweet this quote
The mission of Hospice Peterborough is enhanced comfort, dignity, and quality of life for people and families living with cancer, advanced illness, or grief. Partially funded by the Ontario Government and supported by volunteers and donors, the registered charity provides more than 26 programs and services free of charge to area residents of all ages living in the City and County of Peterborough.
"We're honoured that 100 Women Peterborough has chosen to support us again, marking a full-circle moment," says Aimée O'Reilly, Hospice Peterborough's manager of development. "This community of women initially helped us build our 10-bed end-of-life residence and expand our programming facility. Their renewed investment speaks volumes about the trust they place in us."
"Importantly, their donation will help sustain programs that aren't government-funded, including special touches of care and grief programming. Remember, our services are available at no cost, and all programs, except the residence, are self-referral. This donation truly invests in the future of quality hospice palliative care in Peterborough."
Advertisement - content continues below
The collective philanthropy movement began in the United States in November 2006, when Karen Dunigan of Michigan formed the "100 Women Who Care" group. After their first meeting, the women raised over $10,000 for the purchase of 300 new baby cribs for a local organization. The movement has grown over the past 17 years to include groups of men, women, youth, and children around the world, with hundreds of chapters in Canada alone.
Since its formation, 100 Women Peterborough has collectively donated more than $175,000 to 21 local organizations: Hospice Peterborough, Peterborough Youth Unlimited, One Roof Warming Room, New Canadians Centre, Cameron House, Five Counties Children's Centre, Casa De Angelae, Lakefield Animal Welfare Society, Community Care Peterborough, Kawartha Sexual Assault Centre, Community Counselling and Resource Centre, Peterborough Pregnancy Support Services, Heads Up for Inclusion, Kawartha Youth Orchestra, Peterborough GreenUP, Bridges Peterborough, YMCA Strong Communities, Homeward Bound Peterborough, Good Neighbours Care Centre and Food Bank, PARN – Your Community AIDS Resource Network, and Camp Kawartha.
The next in-person meeting of 100 Women Peterborough is scheduled for Tuesday, December 12th. For more information about the upcoming meeting and to join 100 Women Peterborough, visit www.100womenptbo.ca.