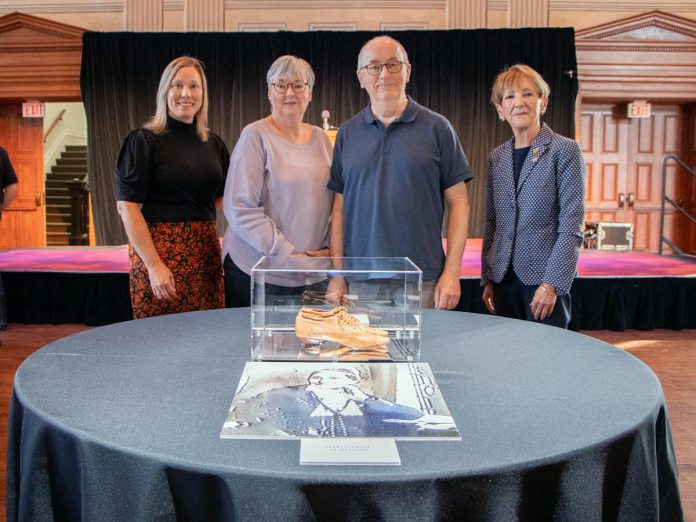 A pair of shoes worn during an 1860 dance with the Prince of Wales when he opened Cobourg's Victoria Hall are now part of the Northumberland County Archives and Museum's collection.
Tom and Eileen James travelled from British Columbia to Cobourg on Tuesday (September 26) to donate the shoes, which were worn by their ancestor Marguerite Pentland during a dance with His Royal Highness Albert Edward, Prince of Wales.
"My grandparents were collectors and preserved a lot of memorabilia throughout their lives," Tom James says in a media release. "My grandmother had been the keeper of these shoes for many years. We reached out to (Northumberland County Archives and Museum) because it was important for our family to ensure the shoes were in an environment where more people could enjoy them and help preserve the artifact and the story behind them."
Advertisement - content continues below
Tweet this quote
In 1860, the eldest son of Queen Victoria — who was heir apparent for almost 60 years until he became King Edward VII in 1901 — was sent by his parents to tour North America. During his tour, the 18-year-old prince visited Cobourg and officially opened Victoria Hall, named after his mother, on September 6, 1860.
The prince arrived by ship at Cobourg's waterfront in the evening and travelled by carriage, which was pulled by hand by some of the town's leading citizens, to Victoria Hall. After the official opening of the building, a grand ball took place at 11 p.m. in the ballroom (which later became an opera house), where the prince danced with 15 young women from Cobourg — Marguerite Pentland among them — until the early hours of the morning.
The prince travelled north the following day, stopping at Rice Lake village, where Michi Saagiig women presented him with gifts of quilled birch bark baskets called 'wiigwaasii makakoons' (pronounced 'weeg-wah-see mah-ka-coons'). These baskets are currently on loan from the Royal Collection Trust to the Peterborough Museum and Archives, where they will be on display until November 19.
"Artifacts are the tangible remnants of our past," says Katie Kennedy, the Northumberland County Archives and Museum's curator. "Being able to view, research, and showcase historical artefacts allows us to gain a better understanding of our history and opens the door to important conversations about where we come from. By showcasing the many unique stories and experiences that make up Northumberland today, we will be better able to shape the Northumberland of tomorrow."
Community members and researchers interested in viewing the shoes are invited to schedule an appointment with the Northumberland County Archives and Museum, currently located in the C. Gordon King Centre at 200 Ontario Street (which also houses the Cobourg Public Library) and open Monday to Friday by appointment only.
Next summer, the museum will be moving to a new 203,000-square-foot building currently under construction on Courthouse Road in the Town of Cobourg, adjacent to the existing Golden Plough Lodge long-term care facility, on property owned by Northumberland County.
Advertisement - content continues below
Tweet this quote
The new building, which will also be the home of the new Golden Plough Lodge long-term care facility, will include an expanded reading room for research, programming space for exhibitions and community groups, storage rooms, and a conservation lab.
The innovative partnership will increase access to cultural activities for long-term care residents, visitors, and staff, with the expanded archives and museum space offering increased capacity and enhanced exhibition features to be able to preserve and display a greater number of community artefacts, including the historical shoes.
"These are more than just a pair of shoes — they are a reflection of our history and culture," says Northumberland County warden Mandy Martin. "This artifact donation provides a glimpse into the future of historical preservation in Northumberland as (Northumberland County Archives and Museum) prepares to expand their collection with the opening of a new facility."