Peterborough's award-winning annual Mac + Cheese Festival is returning for its third year in October, with 20 downtown eateries offering mac and cheese dishes while competing to be crowned 2023's Mac + Cheese champion.
The Peterborough Downtown Business Improvement Area (DBIA) announced the festival's return at an event on Wednesday morning (September 27) at VentureNorth in downtown Peterborough.
A total of 21 different mac and cheese dishes will be featured From October 1 to 31 on local menus throughout the downtown restaurant area, for both dine-in and take home. Festival foodies can expect to dig into hearty classic macs, adventurous macs, and even handheld macs, with two "mac-it-yourself" options available to make at home.
Advertisement - content continues below
Tweet this quote
During the festival, mac and cheese enthusiasts can vote online for their favourite dishes. At the end of the month, one dish will be crowned champion, with the winning eatery receiving bragging rights for the year along with a "cheesy" hand-crafted trophy and a sizable donation to Kawartha Food Share in their name.
The Mac + Cheese Festival is the first of a number of seasonal promotional events the Peterborough DBIA has launched over the past few years to attract visitors to the downtown core and support locally owned restaurants and businesses. Other seasonal events include the Golden Goose Chase in spring, the Peterborough Caesar Fest in summer, and the Ptbo Hot Chocolate Fest in winter.
The events have proven to be successful in not only drawing people to downtown Peterborough's vibrant restaurant and beverage scene, but also in promoting friendly competition between local businesses, according to last year's Mac + Cheese co-champion.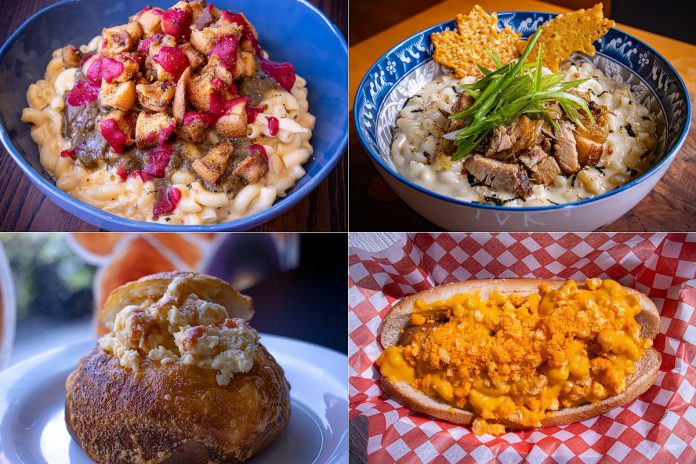 "We were so beyond proud to be chosen as the top mac of 2022, tying with Capra Toro for the winning prize," says The El (P) owner Amanda da Silva. "Being a newer business in downtown Peterborough, we've had such a blast participating in these foodie festivals. The culinary competition in this city sure is steep."
Peterborough DBIA executive director Terry Guiel says the model of self-guided participation in a promotional event taking place at multiple venues over a longer period of time has drawn attention and accolades from across Ontario.
"Our Mac + Cheese Festival has been incredibly successful both locally and provincially and has even gone on to inspire other BIAs in the province to adopt similar events," Guiel explains. "We won an award last year for special events and promotions at the Ontario Business Improvement Area awards conference, and our team is really proud of how these cheesy shenanigans continue to inspire not only local chefs, but other cities in Ontario."
Advertisement - content continues below
Tweet this quote
For a list of all the dishes available during this year's Mac + Cheese Festival and to vote for your favourite dishes, visit www.ptbomacandcheesefest.com, which includes a map (see below) of all participating restaurants. You can also follow the festival @ptbomacandcheesefest on Instagram for the latest updates.
The festival website is also home to previous winning recipes, alongside locally curated recipes for adventurous at-home chefs. Recipe cards include a hearty "local mac" that uses local ingredients from Peterborough's The Food Shop, as well as recipes from previous festival champions Sam's Place and The El (P).
Organized by the Peterborough DBIA, the Peterborough Mac + Cheese Festival is sponsored by Shorelines Casino in partnership with Kawartha Food Share.
Mac Map