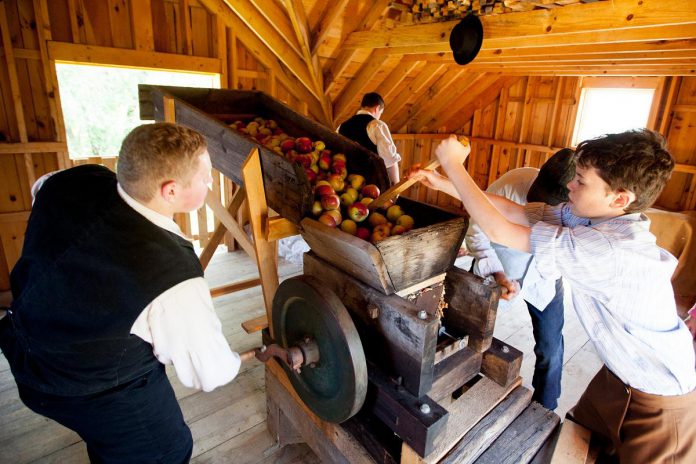 Celebrate the fall harvest and find out how 19th-century settlers prepared for the winter during Applefest from 10 a.m. to 4 p.m. on Sunday (October 1) at Lang Pioneer Village Museum in Keene. The popular annual event includes activities for the entire family and, of course, lots of apples.
You can pick up a scavenger hunt upon arrival and see if you can spot all the items as you tour the village, whether on foot or on a horse-drawn wagon. There will be a variety of historic demonstrations throughout the village, including cider pressing at the Cider Mill, flour grinding at the Lang Grist Mill, threshing at the Horse Barn, natural dyeing, chair caning, broom making, log hand-hewing, sheep shearing, and wood turning by the Peterborough Artisan Centre Wood Turners.
You can view an antique clock and timepiece display brought by the Quinte Timekeepers and visit the Ayotte Cabin where historic reenactors, the 41st Battalion of Brockville Rifles, 1st Company, will be performing drills and demonstrating military marching.
Advertisement - content continues below
Live entertainment includes harvest hymns in the Glen Alda Church and harvest dance performances by the Peterborough Scottish Country Dancers at noon and 12:30 p.m.
You can't have an apple festival without apples, so play a game of apple tic-tac-toe on the Village Green and make an apple craft. Bushels of apples and fresh apple cider will be for sale to take home with you, and you can also purchase hot or cold apple cider and freshly baked apple treats from the Keene Hotel. Apple enthusiasts can also participate in an apple pie-eating contest at 2 p.m. on the Village Green.
Other food options include chili and buns available for purchase in the Peterborough County Agricultural Heritage Building, with traditional fall kettle corn and candy floss from Ben's Kettle Corn, and fresh Empire Cheese curd and bread for sale in the Cheese Factory.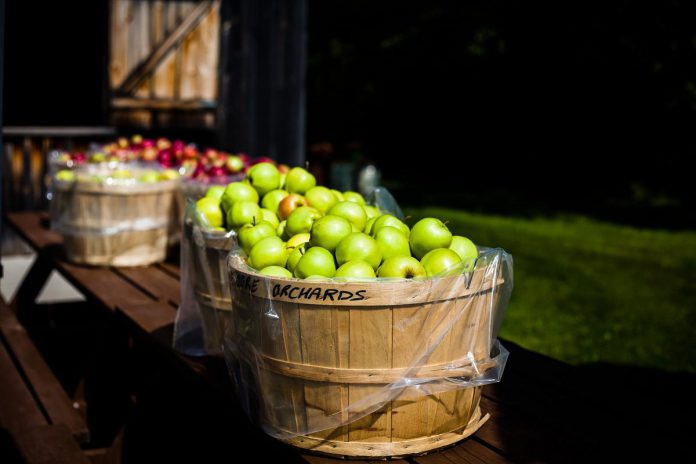 The Marie Dressler Foundation, which honours the early 20th-century Canadian comedian and actress who was North America's top box office draw in the early 1930s and the first movie star to be featured on the cover of Time magazine in 1933, will have a display about their annual Vintage Film Festival, taking place from October 20 to 22 at the Capitol Theatre in Port Hope.
Admission to Applefest is $15 for adults, $10 for students and seniors, and $7 for youth ages five to 14 (free for children under five). Family admission is also available for $40 and includes two adults and four youth. While advance admission is not required, it's highly recommended for this popular event. On-site parking is available on a first come first served basis.
For more information and to purchase advance admission, visit www.langpioneervillage.ca.