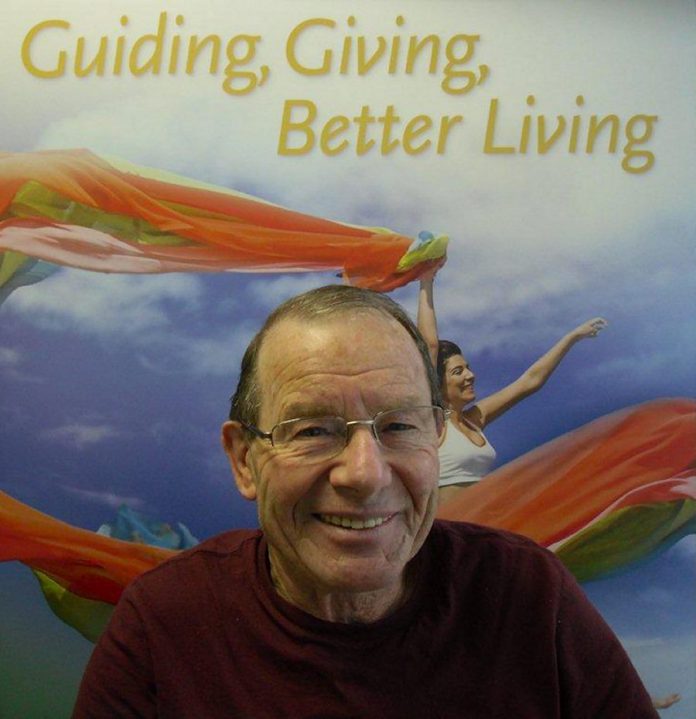 Ted Higgins is a tough guy to track down.
"I'm not avoiding you Carol," he laughs.
After four exchanges in less than three weeks, I too am starting to think our game of phone tag is humorous. In an effort to successfully pin him down, I suggest coming to meet Higgins at his home.
"That's not necessary. I'll see you first thing tomorrow morning," he promises. "What do you take in your coffee?"

Warm, genuine and free of pretense, Ted Higgins is one of Peterborough's most magnetic and charming personalities. At the age of 72, he has accomplished what many of us would strive to achieve in two lifetimes.
"I'm very proud to have been born and raised in Peterborough, a city I truly love," Higgins says thoughtfully.
Ted is the owner of a successful flooring business that was established more than 60 years ago. Higgins Hardwood Flooring is now in its third generation and run by his youngest daughter, Tammy.
"I'm very proud of both of my daughters, Tracy and Tammy," he says. "I'm very fortunate to have three beautiful grandchildren as well."
Growing up, Higgins played lacrosse like many of his contemporaries. "I was a regular at the rink from the time I was 13," he says. A two-time winner of the prestigious Mann Cup, Higgins has been inducted into the Canadian Lacrosse Hall of Fame and the Peterborough and District Lacrosse Hall of Fame.
Recently, Higgins parlayed his love of the game with his long-time experience to help the Peterborough Lakers capture the 2012 Mann Cup Championship.
"I said I was prepared to pick this team up and piece it back together. We went to Fergus on the Friday night and we won our first game," says Higgins, who is now president of the Club. "The rest is history."
What's next for Higgins (who, despite describing himself as being semi-retired, is on his way to a job site to get an update and make sure things are running smoothly)?
"I love to sing. I'm a member of the Golden Tones, a local singing group," he says, breaking into song. "I am speaking at this event, and not singing," he laughs.
Don't be surprised if you get a little of both.
Please join the Greater Peterborough Health Services Foundation and welcome Ted Higgins to the front of the house during the upcoming Peterborough Speakers Series at The Market Hall on April 10th.
---
Have you ever wondered how some people go the distance — and beyond? Find out at the Peterborough Speakers Series, an unforgettable evening of thought-provoking entertainment featuring seven acclaimed speakers.
This year's speakers are Ashley Brzozowicz (2012 Olympic Silver Medalist), Ted Higgins (President, Peterborough Lakers), Shannon McNevan (Partner, Boots and Hearts Music Festival), John Moss (Mystery Writer), Bill and Barb Johnston (Dynamic Duo Motivational Speakers), Dr. Tom Phillips (Trent University, Economic Commentator), and Derek McGrath (Actor/Musician).
The Greater Peterborough Health Services Foundation presents Unstoppable, the third annual Peterborough Speakers Series, at 7 p.m. on Wednesday, April 10, 2013 at The Market Hall (140 Charlotte St., Peterborough). Doors open at 6 p.m. with speakers presenting at 7 p.m. Each guest will speak for 10 to 15 minutes, and there will be a cocktail reception following the speeches where attendees can meet and mingle with the speakers. Tickets are $50, with proceeds from the event supporting the Health Services Foundation.