A Taste for Life – "Hope Made Delicious"!
A Taste for Life is celebrating its 8th anniversary on Wednesday, April 24th.
A Taste for Life is a simple concept: participating restaurants open their doors to diners on April 24th, 2013 and donate 25% of their sales (food and alcohol, not tax) to PARN – Your Community Resource Network.

A Taste for Life is a great opportunity to try a new restaurant and support HIV prevention and support programs in Peterborough and Peterborough County, City of Kawartha Lakes, and Northumberland,.
The list of participating restaurants in each county is impressive and offers something for everyone. Whether you decide to dine out at one of the region's best loved restaurants, stop for a light lunch at a quaint café or simply grab an afternoon coffee, there are establishments participating at all various price points, attracting every demographic and catering to many dietary restrictions.
Call your friends and make your reservations today at your favorite restaurant to ensure your dining pleasure!
Visit www.atasteforlife.org to see a complete list of participating restaurants and to make your reservation.
---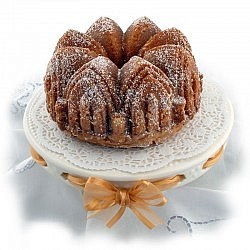 The Magic Rolling Pin Tea Room and Patisserie Celebrates 5th Year Anniversary
The corner of King and Rubidge Streets in Peterborough is home to The Magic Rolling Pin Tea Room and Patisserie.
Jan and Martin Groneng bought and renovated the building and moved their part-time home-based gourmet baking business to its new home on February 11, 2008. Five years later, the business has exceeded their expectations.
As a thank you for the community's support over the past five years, Jan and Marin donated a percentage of their sales from their anniversary week and presented a cheque for $500 to the Five Counties Children's Centre.
Visit The Magic Rolling Pin for lunch and enjoy such favourites as crêpes, salads, sandwiches, and weekly features designed to test new items for upcoming menus.
The Magic Rolling Pin also offers tea varieties not found elsewhere in Peterborough, so treat yourself to formal afternoon tea complete with scones, clotted cream, and jams.
For full details on hours, visit www.themagicrollingpin.com or call 705-745-6556.
---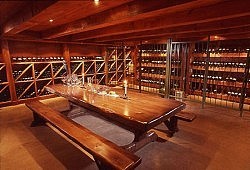 Elmhirt's Resort Offers Private Wine Tastings
Baffled by food and wine pairings? Confused by different grape varieties?
General Manager and Sommelier Greg Elmhirst of Elmhirst's Resort offers answers to these questions. For groups of 4 to 12 people, Greg conducts wine tastings in the resort's wine cellar. He shares hints about reading wine labels, and talks about food and wine matching in a fun and informal way.
Learn how to look at, smell, and taste well-known grape varieties including a white, a red, and something in between (such as a full-bodied white or a light red).
Guests will leave with a better understanding of wine and an increased ability to make educated choices about wine selection. Afterwards enjoy dinner in the dining room and peruse the wine list of over 90 different labels; all Canadian sourced from wineries — 75% from the Niagara Peninsula, 20% from Prince Edward County and 5% from B.C.
Wine tastings are $10 per person (plus HST), and can be arranged when making your dining reservation. For more information, visit www.elmhirst.ca or call 705-295-4591.
---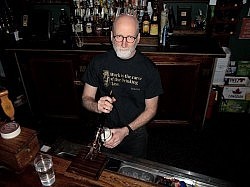 The Olde Stone Brewing Company Crafting New Brew
Since 1996, The Olde Stone has been serving up fine, handcrafted ales. This spring, Brew master Doug Warren is producing — for the first time — cask-conditioned ales.
During the regular brewing process, the beer is drawn from the kegs using carbon dioxide for standard ales (or nitrogen for Guinness or Kilkenny) resulting in the addition of bubbles to the beer.
Cask-conditioned ales are naturally conditioned as a by-product of the secondary fermentation that takes place inside the cask. These ales are drawn from the barrel-shaped containers directly using a spigot or hand pump, and have an extremely smooth and silken texture.
What you taste is a live product full of flavour and character — beer in its natural state. Cask ales offer a wide variety of aromas and flavours and create wonderful pairings with foods.
On March 22nd, Doug will debut the first of his cask-conditioned ales: a dry hopped bitter with a floral, fragrant taste and an extra dry finish. Each subsequent weekend, there will be a different variety of cask-conditioned ale on tap.
For more information and reservations, call 705-745-0495 or visit www.oldestone.ca.