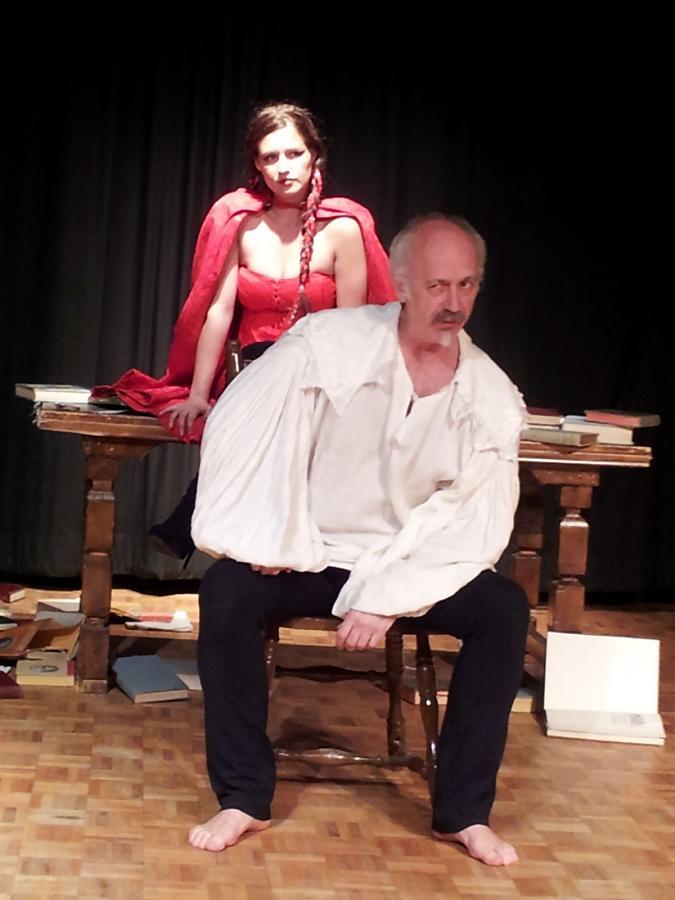 Thirty years ago, actor and playwright Wyatt Lamoureux had an idea.
Attending theatre school at the time, Wyatt wondered 'What if William Shakespeare was sitting in purgatory somewhere, completely aware of his iconic status on earth and being tormented by being unable to participate in his fame while his works are handled, or more likely mishandled, by the living?'
The idea became a solo project, but other projects (and life) got in the way of Wyatt's personal discourse on Shakespeare's influence on our culture. While the project got skirted to the wayside, once in a while these thoughts about Shakespeare would come back into Wyatt's mind.
Now, after decades of rewrites and a handful of misstarts, Wyatt is finally ready to share his unique character study of William Shakespeare in his new one-act play Shakespeare vs. the Merchants of Venom.
Directed by R. Keith Smith and co-starring Jessica Mauro, Shakespeare vs. the Merchants of Venom is a highly cerebral dark comedy that uses Shakespearean lore to reveal the dangers of ambition, fame, and ego.
Through the creative lighting designs of Richard Szajkowski, Smith and his crew transform the Peterborough Theatre Guild's Studio A into a pocket of purgatory where William Shakespeare, played to perfection by Wyatt, has made a deal with a devil, played by Jessica. Instead of facing final judgement, Shakespeare may entertain newly deceased souls with his theatrical works while they are in waiting.
Wyatt doesn't play a cool and collected version of Shakespeare: manic, crazed and tortured, he gives a high-energy performance as he makes complete use of the room, drawing in the audience who participate as his room of dead souls. From his unfinished bitter rivalry with Christopher Marlow to his obsession with finding something to rhyme with the word "orange", Wyatt's Shakespeare is a man unhinged after centuries of torture from the devil that looks over him.

If I were going to be tortured by a devil, Jessica Mauro is the kind I think I'd want to be tortured by. Sexy, sultry, seductive and smart, Jessica's devil verbally spars with Shakespeare as she calls him out on his pretensions while being an eternal thorn in his side. Playing the devil as a cross between a Batman villainess and a high-priced dominatrix, Jessica is a perfect foil for Wyatt's Shakespeare as she taunts and insults him.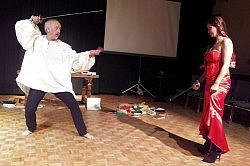 Some of the most brilliant moments of the show take place when Wyatt and Jessica's sparring becomes physical. Completely in sync with one another, the pair is able to create the illusion of telekinetic attacks and they participate in a hilarious sword duel, expertly choreographed by Kenn Gibb, that is the comedic highlight of the production. Wyatt and Jessica seem to impale each other on stage, and the result is genius physical comedy. But be warned: Jessica has a really good throwing arm, and you may want to watch out for flying books.
Shakespeare vs. the Merchants of Venom is not just the ranting of a mad Bard and the devil that tortures him. Wyatt's character study turns emotional as Shakespeare tries to exorcise the real-life demons that may have haunted the famed playwright mind.
Jessica's devil manages to pull out Shakespeare's greatest regrets and sorrows, painting an interesting portrait taken right out of the history books and making for some very interesting character development. Although Wyatt seems to begin the production by playing Shakespeare as a caricature, when the chaos turns to a moment of silence, he plays the character surprisingly realistically — with some very emotional results.
Then there is the ending. Obviously I won't reveal it, but Wyatt presents one of the finest and funniest twist endings of all time, bringing what is often an abrasive and dark play to a final moment of highbrow humour.
I recommend Shakespeare vs. the Merchants of Venom for people with a love for classical theatre. Wyatt plays Shakespeare in a manner true to the man and his works, making for some complex dialogue. Furthermore, a working knowledge of the life and works of Shakespeare will help in fully enjoying the production. For instance, during one brilliant and hilarious monologue, Jessica discredits and cheapens the entire works of Shakespeare by breaking his plays down into modern entertainment clichés. The brilliance of the joke — as well as many others in a very wordy script filled with many literary and historical references — may be lost on those who don't have an understanding of classical theatre.
Wisely, the company hands out a short document as audience members enter Studio A, bringing the audience up to date on much of the necessary history and references needed to enjoy the production. In addition, director Smith opens the show with a short monologue that provides the audience with basic knowledge of Shakespeare, so that they can enjoy the production on its simplest level.
Smart, fast-paced, emotional, dark and funny, Shakespeare vs. the Merchants of Venom is a wonderful new one-act play that I hope finds life in other productions. It's a worthy contender for fringe festivals and theatrical competitions, and could hold its own in larger cities. Peterborough is lucky to be the first city to experience this clever and unique production.
Shakespeare vs. the Merchants of Venom runs from May 8 to 10 at The Peterborough Theatre Guild in Studio A. Tickets are only $10, but there's limited seating and only 45 tickets will be available for each show. So arrive early or get your tickets in advance form the Peterborough Theatre Guild Box Office.