I'm driving on a dark country road just north of Peterborough in the middle of a soft murky autumn drizzle. On my stereo, I'm listening to an advance copy of Caitlin Currie's album Waking Up, which I had received two days before. As I drive through the night, Caitlin's unique vocals are my only companion.
A song called "Timeline" particularly fascinates me. I begin to play it on repeat, listening to the words and trying to decipher their individual meanings. Focusing on every chord change and the changing tones of Caitlin's voice, I find "Timeline" beautiful, unlike anything I've heard in a long while. The song has me mesmerized.
Suddenly, as Caitlin's music continues to play, I realize I'm off the road. Through the sound of screeching tires and scraping metal, I can hear Caitlin sing "The girls concern their true loves and the boys concern the girls" as I try to regain control of my car. I crash into a highway sign and finally come to a stop. I sit for a moment, trying to catch my breath. All is quiet except for Caitlin's song.
As I get out of my car with shaky legs to inspect the damage, "Timeline" has started another cycle. The damage is pretty bad, but it could have been a lot worse. Caitlin's music catches my attention once again and I think If Caitlin Currie's singing was the last thing I ever heard, I'd be good with that.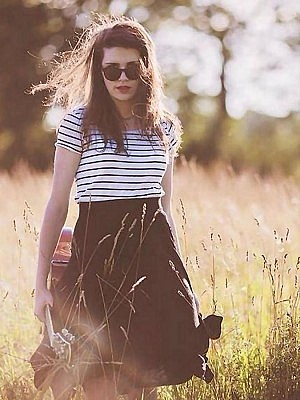 That's just how good "Waking Up" is. It's music worth dying to.
Since hitting the local music radar in 2013 with her debut EP All a Dream, Caitlin has gained a devout following of fans made up of both listeners and music professionals. All a Dream received strong reviews, including a 2014 Wire Award nomination, and Caitlin was called a "female equivalent to Leonard Cohen" with "the potential to be the darling of Canadian bohemians everywhere." But despite the success of All a Dream, the album has become almost impossible to find.
"You can get it on-line, but you can't get it anywhere else anymore," Caitlin explains. "We burnt it all ourselves and folded the covers and you can only have so much manpower. After a while, I was moving on to the next album so I really didn't want to promote the first album anymore."
Waking Up — which comes out on November 12th — is a natural evolution to what listeners fell in love with in All a Dream. Caitlin's personal style is unchanged and her meaningful well-crafted songs are as strong as ever. However, the album has a much fuller sound this time, and the dramatic mood of her music hits a new level. According to Caitlin, Waking Up is an album that has come out of a year of personal struggles.
"All a Dream has a lot of flowery words. It was written as a poem," she says. "All of my songs are still written as poems, but a lot of the songs on Waking Up are more literal. It's been a terrible year and some terrible stuff has happened, but it's resulted in some good songs."
Caitlin goes on to say that songwriting is a way to honestly express herself where conversation fails her.
The first track from Waking Up
"I'm terrible at expressing myself by saying things," she explains. "So music is the only way I can really communicate. That's the beauty of some of the songs on Waking Up. They're blunter — there's a very rare moment where I was able to perfectly say exactly what I wanted to say."
Through nine songs, Caitlin shares a very personal emotional journey with listeners. Caitlin states that her favorite song on the album is the third track, titled "Crazy".
"I'm so happy the way it came out," she says. "The main lyric in the chorus is 'Maybe I'm just crazy and you're not loving me at all.' It's a really simple lyric, but I love it so much."
While Waking Up came out of personal struggles, it doesn't necessarily have a sad vibe to it.
"I might be making it sound like all the songs are about me being dumped, but they're not — just the good ones," Caitlin laughs. "A lot of the songs reflect on friendships and family and people leaving and growing, and there are songs about happier experiences and moving on."
For Waking Up, Caitlin worked with a full band made up of Sean Leckie on drums, Sam Quinn on bass, Brayden McGregor on piano, and Andrew Shedden (who also produced the album) on guitar.
"The band's favorite song is called 'The Rest of the Night'," Caitlin tells me. "It's the grittiest song. It has very simple chords but it's very dark. The song ends in a huge jam session: Sean is going nuts on drums, Andrew is guitar soloing. The first lyric is 'Intoxicated and running through the room.' When I think about that song, I think about being drunk, about guilt, about bad decision-making — which I like because it translates well into the vibe of the song."
And what about "Timeline", the song that hypnotized me to the point of smashing my car?
"That's my Leonard Cohen song," Caitlin replies. "The guitar sounds turned out really nice. The whole song is just a really big story. There are no verses or choruses. It fits nicely in the framework of the album."
Both powerful and sensitive at the same time, Waking Up shows an evolution in Caitlin's music while still staying true to what fans have always loved about her. But Caitlin says she's not very concerned about writing songs that everybody is going to like.
"I don't write for people to like it, I just write hoping that they will," Caitlin explains. "When I'm doing a show, I'm doing it for other people. I'm up there performing. But when I write and record, I'm not doing it for other people. I'm doing it for myself."
Caitlin has nothing to worry about. People are going to love Waking Up. It's a powerful, honest, and beautifully crafted album. It's an album that will haunt listeners and that they won't soon forget. Take it from me — I have the dents in my car to prove it.
All photos by Heather Coughlin of Calluna Studios.