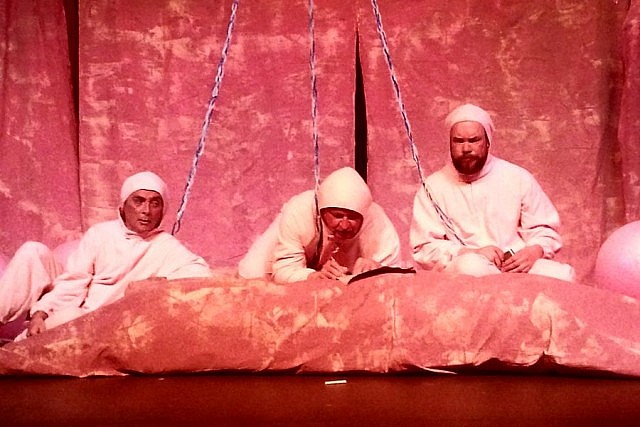 There couldn't be two plays more dissimilar than Deliver Us Not and Essay, which both open at the Peterborough Theatre Guild on Friday, January 16th. Different in tone and subject matter, the two one-act plays directed by Bea Quarrie seem completely mismatched: the first is a surrealist comedy while the second is a hard-hitting drama.
Most likely the reason they are paired together is that Quarrie recognizes them as interesting shows that are well worth an audience, but too short to be featured on their own.
One thing the two shows do have in common is that they are both well-executed and feature strong performances, and have the potential to open up individual ideas and discourse — leaving audience members thinking well after they leave the theatre.
For the first production of the evening, Deliver Us Not (or Birth, Where is They Sting?) by Lee Howard and Greg Gamble, the Theatre Guild stage is transformed into a giant pink womb where three whimsical fetuses — played by Roy Braun, Chuck Vollmar, and Marlon Hazelwood — contemplate the meaning of life after birth.
Part philosophy and part theology, Deliver Us Not is a clever show where concepts such as afterlife, atheism, and life and death are turned on their head while the fetuses try to figure out what will happen to them when they leave the womb that they know.
Does birth involve being transplanted to another existence where you live peacefully forever without pain, as the Marlon Hazelwood fetus thinks? Or is life in the womb all you get and then you cease to exist after birth, ase the Roy Braun fetus thinks? Or is there a simpler explanation where birth is just a journey from one existence to another, as the Chuck Vollmar fetus contemplates?
We know the answer of course, but the discourse becomes a parody of how we contemplate and obsess over ideas and concepts that have haunted humanity for centuries.
Dressed in white hooded pajama-type costumes, the three performers play off of each other with comedic ease in a hilarious performance, with Marlon Hazelwood being the delightful optimist, Roy Braun being the aggressive pessimist, and Chuck Vollmar floating between being the buffoon and the voice of reason.
From getting high from being cut off their feeding tubes, to their fear of the birth canal, to one hilarious attempt at suicide, Deliver Us Not is extremely clever and proves to be a bold and surreal production that the Theatre Guild executes brilliantly.

For the second production Essay, written by Canadian playwright Hannah Moscovitch, the Theatre Guild stage goes from being a giant pink womb to being a bleak university office.
Essay is a cerebral and abrasive production that raises questions about the sexual and intellectual politics in modern universities. Hindered by the masculine egos of the show's male characters, it's questionable if any of these questions are truly answered or any conflicts are truly resolved.
Justin Boyd plays Jeffrey, a fourth-year PhD student and teaching assistant for a history of war course. Idealistic and hung up on his own intelligence, Jeffrey hits a wall when he turns down a proposal from female student Pixie Finlay (played by Julia Johnston) to write an essay about Elisabeth Farnese, an obscure 18th century Spanish queen. Not allowing her to sufficiently argue her reasons for her essay topic, Jeffrey wears Pixie down and eventually bullies her into writing a paper on Napoleon, on whom Jeffrey is writing his PhD thesis.
The meeting between Jeffrey and Pixie leads to a confrontation between Jeffrey and his supervisor, Professor Galbraith (played by Christopher Spear), resulting into an explosive debate about history, gender, sexual politics, and women's place in history.
Although Essay at first seems to be about sexual politics in the university, the subject eventually seems to get lost and the play becomes about intellectual elitism and male ego.
Justin Boyd is extremely effective as the young TA who, filled with his own grandiosity, immediately pigeonholes his student as "a feminist" who chooses her topic only because she is "a woman." When he is eventually forced to confront his intellectual snobbery at the hands of the more experienced — and potentially more biased — Professor Spear, Jeffrey begins to unravel and realizes that he is so focused on his own position in the education system that he may not be able to see the bigger picture of the needs of his students.
As Professor Galbraith, Christopher Spear gives the most complex performance and remains an enigma from his first appearance on stage to the final curtain call. The character's tone and opinions seem to change so much during the performance that the audience becomes confused about his true thoughts and intentions.
Is Galbraith an old-school misogynist who believes that the education system needs to appease female students so that "women can have their say"? Or is he creating an elaborate trap to string his TA up in a noose of his own biases in order to teach him a powerful lesson? Whichever it is, he plays Jeffery and Pixie off of each other like puppets in a cruel and insensitive battle of sexual and educational politics. Eventually, Galbraith turns the tables on Jeffrey, dismissing and bullying him exactly the way the TA dismissed and bullied his own student.
Julia Johnston is a modern ingénue caught between the intellectual egos of two pompous scholars. Her performance is often painful to watch, as she often seems like a mouse being batted between two hungry cats. The real tragedy is that the two men fail to recognize that Pixie Finley is actually a bright and strong student with out-of-the-box ideas that challenge traditional viewpoints of historical documentation.
Forcing unflattering female stereotypes onto her, the two men don't seem to be as interested in Pixie's ideas or point of view as they are in proving her wrong. It's a strong message about hostility towards women in the traditional university system.
While Don't Deliver Us and Essay have nothing in common in theme or tone, they are both extremely well-produced with fantastic performances by all the actors involved. It makes for an interesting and thought-provoking, albeit juxtaposed, night of theatre.
Don't Deliver Us and Essay run from January 16th to 31st at the Peterborough Theatre Guild at 364 Rogers St in Peterborough. Call the Box Office at 705-745-4211 for tickets.
Photos by Sam Tweedle for kawarthaNOW