Singer Missy Knott has been a familiar voice in the Peterborough music scene since she released her first album, For No Reason At All, in 2009. A fixture on the Peterborough stage, she has become a local favourite. However, in recent months Missy's career has been filled with incredible opportunities that have allowed her to spread her wings far beyond the Kawarthas.
Since taking her first singing lesson at the age of 11, Missy's dream was to become the First Nations version of the celebrated Mexican American singer Selena. After releasing her debut album at the age of 19 and then going on to win the Peterborough Folk Festival's Emerging Artist Award, it seemed Missy was on the way to realizing her dream.
Now, through a career development grant from the Ontario Arts Council in conjunction with Kagita Makim Aboriginal Training and Services, Missy has been working in Nashville with the award-winning Canadian country music artist Crystal Shawanda. Together, Missy and Crystal have written and recorded a trio of songs that Crystal produced at her Nashville-based studio at New Sun Records.
Earlier this month, Missy spoke to me from her hotel suite in Nashville.
"I'm having a great time," Missy tells me. "It still doesn't feel real yet."
Although Missy isn't known as a country music performer, it's difficult to pin down the genre of Missy's brand of soulful music.
"As much as my music didn't start off as country, my roots are based in country," Missy says. "That's what my family listens to when we're outside in the summer. It's Hank Williams, Loretta Lynn, and Patsy Cline. This is in my heart."
The pairing of Crystal Shawanda and Missy Knott is a natural one.
"Crystal has had a big influence on me for a long time," Missy says. "I don't think people know how Crystal has really set the bar here. She's one of the first Native American artists ever to have a number one hit on the Billboard charts. She's signed to RCA and she's worked with some of the biggest managers in the music business. I'm learning a lot from her and her team."
Crystal seems to be a fan of her new protégé as well. When posting the video for Missy's tune "Corrigan Hill" on the New Sun Records Facebook page, Crystal wrote, "We are so excited to be working with this talented artist, and can't wait to share more of her music with you all! Missy Knott is a breath of fresh air, a free spirit baring her soul in every song!"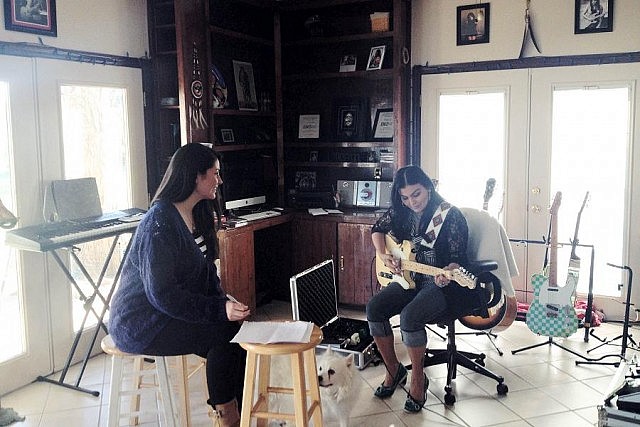 The Ontario Arts Council grant has had huge benefits for Missy as an artist and for Crystal as a producer.
"The grant covered the cost of me to come to Nashville and put together an EP which allows both of us to shine," Missy explains. "Crystal gets to shine as a producer of a new artist, and I'm able to shine as a rising artist and to grow and learn from an established artist like Crystal."
It was last fall that Missy announced that she would be leaving for Nashville to record, but a number of roadblocks got in the way that slowed her plans down. However, as Missy sees it now, the wait helped prepare her both mentally and emotionally for this opportunity.
"At the time I considered it waiting," she says. "But looking back, I'm thankful that I had all that time in-between because I am the person I am now."
Missy's personal growth hasn't just been about music, but about conquering some of the more self-destructive elements of her persona.
"I've been sober since last year," Missy says. "That was really important for me to do. I was getting trapped in that lifestyle and I didn't think I had the strength to change. For a long while I was stuck in sadness, so if I can come out of relying on cigarettes, drugs, and alcohol then maybe something real will come out of this."
"When I sleep my dreams are back," she continues. "For a long while I didn't even dream. It's kind of like I lost my spirit a little bit. My experience down here would be different if I were drinking."
Missy says that her sobriety has a lot to do with the impact on her work in Nashville.
"It's sort of ironic," Missy laughs. "Crystal says 'Nashville is a drinking city with a music problem.' By midnight, I'm ready for bed. Before I could have gone all night, partied with god knows who, and ended up wherever — because I love adventure. But that's not the adventure for me anymore. The adventure is finding it in the music and who can I learn from next."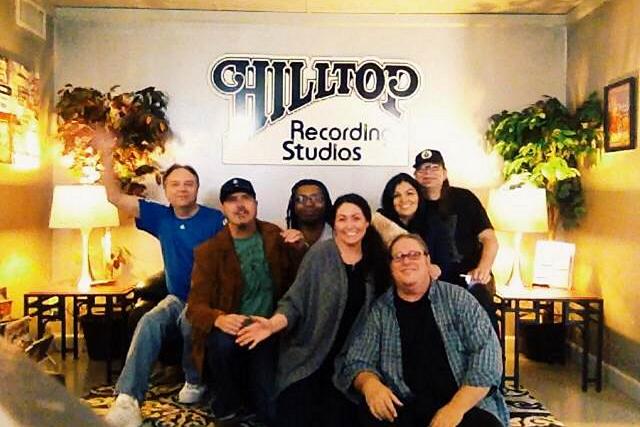 So far, Missy and Crystal have written and recorded three tracks that were inspired by Missy's return home, after spending part of 2014 living in Toronto where she studied at Coalition Music.
"The three songs that we recorded are really a true reflection of last summer living in Curve Lake," Missy says. "I learned a lot about my community and the people in my grandmother's and my mom's life, and got really close to them."
It may be a while before the public hears the recordings. Originally intended to be released as an EP, the partnership between Missy and Crystal has become so successful that they have decided to continue working together with a larger final goal.
"We want to make it a full length album," Missy explains. "We weren't sure what working together would be like. We weren't sure if the trust factor was there. It was mostly about knowing each other, and by the end of it we were best friends."
Missy also wants to take the time she needs to make sure the songs are the best they can be.
"I always rushed things and I don't want this to be just another thing that slips away from me," Missy says. "I've learned so much from my past albums. I didn't quite give those songs the attention that they deserved, so I really want to push this in all the right directions."
But despite her busy recording schedule, Missy has managed to take in some of the sights and sounds of Nashville.
"It's exactly what you'd expect," Missy says. "You walk down the street and every single venue has loud country music playing and everybody is dancing."
She also had a chance to see a show at the Grand Ole Opry at the end of March.
"I got really emotional," she says. "Connie Smith sang Amazing Grace. Eric Paslay performed — he's becoming one of my favourite songwriters right now because I can relate to his music. The Charlie Daniels Band closed the show, and that was like being a little kid again. Seeing 'The Devil Went Down to Georgia' live was incredible."
With new developments in her career and a vibrant new outlook on life, Missy is preparing to head back to Nashville later this year to continue work on the album. I ask her if the changes in her life will affect the Missy Knott that we've come to know.
"I'm still crazy and I'm still loud," Missy assures me. "But it's a matter of being a healthier version of that."
---
Corrigan Hill" – Missy Knott