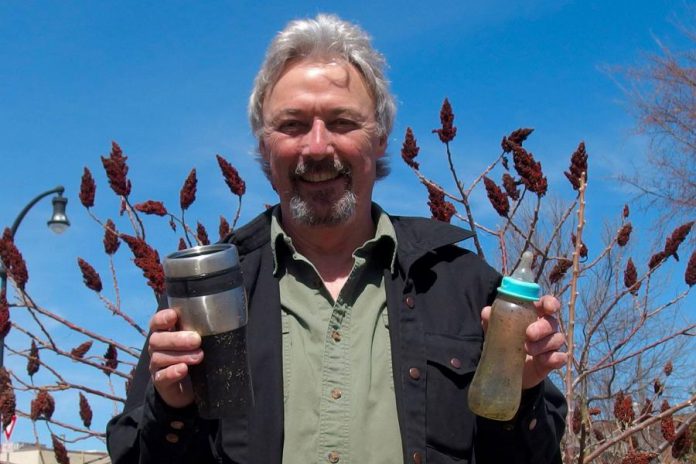 One thing I'm continually amazed by when taking the dog for a walk is the amount of garbage that accumulates on roadsides. While throwing litter out of the car window is a modern day faux pas for most people, for a small minority the idea of properly disposing of trash still hasn't caught on.
The most common offenders seem to be disposable coffee cups and fast food bags, but I've seen everything from personal care products to lingerie littering the roads. The most disturbing find was last weekend, when I came across several locations where someone had dumped their cat litter. While that doesn't sound so bad, the clumping type of litter was used — which when saturated with water turns into grey goo — making a real mess.
Now's the time of year to clean up after those who litter our roadsides, parks, and other recreational areas. To help with this, there are several spring clean up events and other green activities planned in the coming weeks in our area.
The annual Super Spring Clean Up, which is organized by several local Rotary Clubs, will be happening on Saturday, May 2nd from 10 a.m. to 12 p.m. The city will be divided into strategic sections, with each having a meeting centre. People are to meet between to receive garbage bags and instructions. Tim Hortons will provide coffee and hot chocolate.
The Rotary effort extends into the county with Bridegnorth, Ennismore, and Lakefield also participating. The BEL Rotary Club and the Lakefield Trail Stewardship Committee are the organizers in those areas. To register for the Super Spring Clean Up or learn more, visit their website at superspringcleanup.ca.
Happening this Saturday (April 25th) is the annual Jackson Creek Clean Up, which is hosted by Otonabee Conservation. Volunteers will help clean up Jackson Park and the Trans Canada Trail to celebrate Earth Month, and to help make every day Earth Day. Bags and gloves will be provided.
Since 1999, over 1,500 people have participated in the Jackson Creek Clean Up and removed nearly 40 tonnes of litter from Jackson Park and the Trans Canada Trail. This is a family-friendly event and will be held rain or shine, so be sure to dress for the weather. The clean up will be running from 10 a.m. till noon. You are asked to meet at the main entrance to Jackson Park, located at Monaghan and Parkhill Roads. For more information, contact ORCA's Meredith Carter at 705-931-4935.
If you're cleaning up around the house, you'll be happy to know that the City of Peterborough is hosting an Environment Day on Saturday, May 9th at the Evinrude Centre. This is your chance to dispose of — free of charge — items that aren't normally accepted at the curb.
The City will be collecting the following types of items:
Bulky plastic items like lawn chairs, kids toys, clothes baskets or broken pet carriers. You are asked to remove non-plastic components and keep the size under 1 metre.
Used electronics like old computer monitors, keyboards, cell phones, computers and Wi-Fi routers.
Anything with a cord including toasters, microwaves, hair dryers and other small appliances.
Scrap metal like old filing cabinets, bicycles, coat hangers, etc. They won't accept fridges, freezers, air conditioners, dehumidifiers or water coolers, however.
Electronic media like VHS tapes, cassette tapes, CDs, DVDs,
Hard cover books.
Carpeting that is dry.
This is also a great time to dispose of your personal documents. Crime Stoppers will be in attendance to shred any paper documents that contain personal information. You'll also be able to buy blue boxes, composters, and blue in the loo bins with cash only sales.
GreenUP Ecology Park's annual Leaf Untuck is also scheduled for Saturday, May 9th. Volunteers are needed to help remove the protective blanket of leaves from the park's plant nursery. This is a great, family-friendly activity that gives you the opportunity to give back to the park.
The event gets underway at 1 p.m and goes until 4. You can stay for an hour or the whole afternoon. If you have questions or want to confirm your attendance, get in touch with Karen Elcombe at Karen.elcombe@greenup.on.ca or by phone at 705-745-3238 x202.