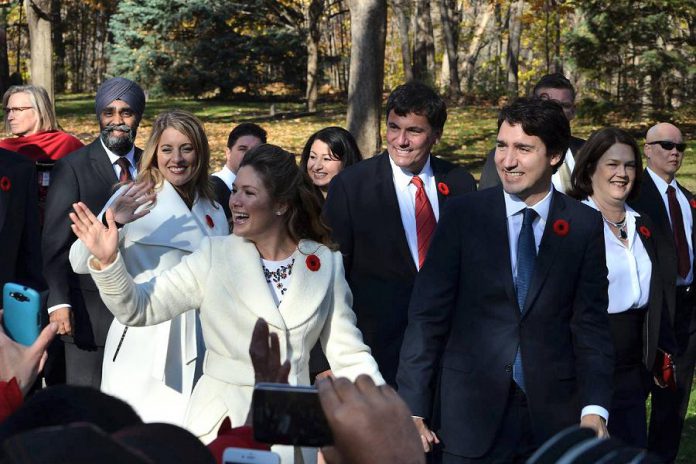 We're a fickle bunch. We bitch and whine and moan about the way things are and then, when we change things, we bitch and whine and moan about it being different. Don't agree? I give you the 2015 Federal Election.
During the 11-week campaign, we were inundated with ridiculous over-the-top and often completely fabricated memes, quotes, and campaign commercials. Facebook was awash with people telling me that if I voted for Harper I hated women, and if I voted for Trudeau I hated my own money. Day in, day out — the same monotonous dribble.
October 19th came and went and Canada answered the question of who would be our next Prime Minister with a giant red flag. I wasn't surprised, and the only way you could have been is if you had lived in a bubble those last three weeks of the campaign.
Harper bumbled his campaign from the start like he wanted to lose. He announced the election early, frustrating a lot of voters, and by doing so he gave his opponents more of an opportunity to capitalize on some of the less favourable things he'd done and said.
His focus on non-issues like the niqab did nothing but further cement the resentment that a lot of Canadians felt towards him. What made it worse was that he claimed his fight against the wearing of the garment during certain ceremonies was in part for women's rights. A Prime Minister who had long ignored the growing epidemic of missing and murdered First Nations women claiming he was fighting for women's rights was laughable.
He added a dunce cap to his kick-me sign when he suggested that we have a hotline for reporting "barbaric cultural practices" — an idea that was clearly not aimed at the culture of "old stock" Canadians. I remember reading about this and thinking that we already had this tip line for ages, but instead of giving it a dumb name we'd called it 9-1-1.
Why would we need a tip line for "barbaric cultural practices"? Well, if you're going to stimulate spending on the fight against terror and ISIS, you need to build that effort on a solid foundation of bullshit propaganda.
When the dust settled, the petty and poorly run Conservative campaign lost ground — a lot of ground. They lost 60 seats and more than 7% of the vote. The NDP, under the leadership of Thomas Mulcair, didn't fare well either. Mr. Mulcair rode into the election on the "Orange Crush" high from the previous election, and limped out of the election having lost 51 seats and more than 10% of the vote.
Locally, we saw Maryam Monsef elected as our next MP over Conservative Mike Skinner and NDP Dave Nickle. Ms. Monsef had of course run for Mayor last year in our municipal election and had lost to incumbent Darryl Bennett.
On November 4th, Ms. Monsef — already the first woman elected as Peterborough's Member of Parliament and Canada's first Afghan-born one — was sworn in as Minister of Democratic Institutions in Prime Minister Justin Trudeau's cabinet.
It's a tough role considering some of the challenges that lay ahead. Electoral reform was a big topic during this election and no doubt Minister Monsef's focus will include reforms to introduce proportional representation to our electoral system.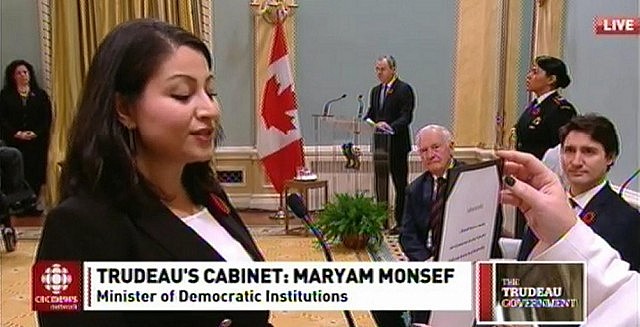 The irony of Ms. Monsef heading up such an important file in our government is not lost on me. She fled from the Taliban in Afghanistan as a child and came to Canada for a new life with her family. Now, she's the Minister of Democratic Institutions — full circle, if you will.
Her achievements should be applauded regardless of the flag you fly. Yet there are people saying she's too young, too inexperienced, and too naive to have such a role.
There are people who have spread rumours about her (and other candidates for that matter) throughout our community that are false and born of hate. There are people who posted memes to Facebook trying to convince me that Stephen Harper is a working class guy who drives an old Malibu while Justin Trudeau is a trust fund kid without a brain. There are people who spoke of this past election as if the only two issues were a balanced budget and ISIS.
Then there are the people who voted for a change in government. People who voted for a Prime Minister who will do the unthinkable: let the media ask him questions. People who believe that the issues of our country go beyond a balancing the budget and fear mongering. People who believe that, no matter how "socialist" the Right might think it is, the fabric of who we are as a nation is stitched together by how we treat those around us.
I'm not saying for a minute that Justin Trudeau and his newly appointed cabinet ministers are the Second Coming. In four years, we may look back and think that Prime Minister Trudeau and his MPs were sitting ducks.
But this I can tell you — in the first few weeks since the election, Canada is starting to feel like Canada again. The Canada that I know is progressive and inclusive, not withdrawn and secretive. The Trudeau government still has a lot of time to screw things up, but I'm hopeful and optimistic that they won't.
So now that the election decision has been made, let's move on from the memes and the overreactions. I'm tired of it and I'm sure a lot of you are too. Let's collectively stop with the dumb posts about how Harper drives a Malibu or how Ms. Monsef "isn't ready" because, in truth, Harper once spent $1.2 million of your money to ride in limos in India and Ms. Monsef has done 100% more than most of us to try and change our country for the better over the next four years.