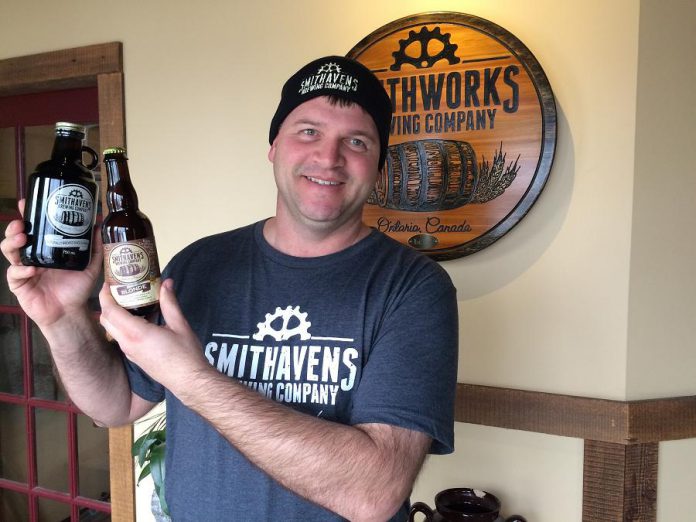 This month, food writer Eva Fisher notes that Smithworks Brewery is changing their name, explains what yogurt soda is and why Peterborough is its leading producer in North America, recognizes two local businesses that received sustainability awards, and gives you some options for enjoying Pad Thai in Peterborough and the Kawarthas.
---
Smithworks Brewery becomes Smithavens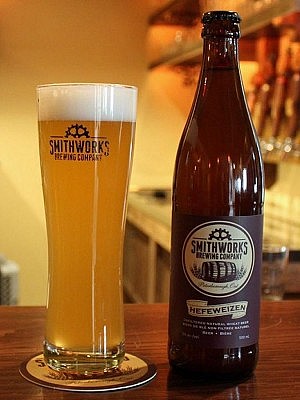 Smithworks Brewery is changing its name to Smithavens.
"It will still be the same great beer," co-owner Randy Smith notes, "made for beer lovers by the same beer lovers named Smith."
Smithavens is owned and operated by the Smith family: Randy, his wife Kelly, his uncle Ron and his brother Graham — the Brew Master.
Smithavens specializes in European-style beer, and Randy says that authentic ingredients are important.
"For our Dunkelweisen we import the exact same hops, malt, and yeast from Bamberg Germany that they use to make it there," he explains.
Smithhavens also "bottle conditions" all of its beers, which means that they finish fermentation in the bottle to carbonate.
"Bottle conditioning is extra work," Randy says. "It costs a little bit more to do, but it creates unique flavours in the beer."
The sediment at the bottom of the bottle is a natural side effect of bottle conditioning and harkens to a traditional European-style beer.
Randy encourages you to rouse the yeast: pour half of the beer and then swirl it to make sure you get all of that great flavour in your glass.
Smithhavens' new slogan "Discover your haven" will soon be visible on some beer packaging and T-shirts, ball caps, and fleece tops worn by staff at its licensed tasting room and store.
Although the Smith family is careful not to name names, I think we can all guess which Irish brewing giant prompted their name change from Smithworks to Smithavens.
Let's hope the Smith family have found their haven with their new business name.
---
Peterborough is North America's leading producer of yogurt soda … so what's yogurt soda?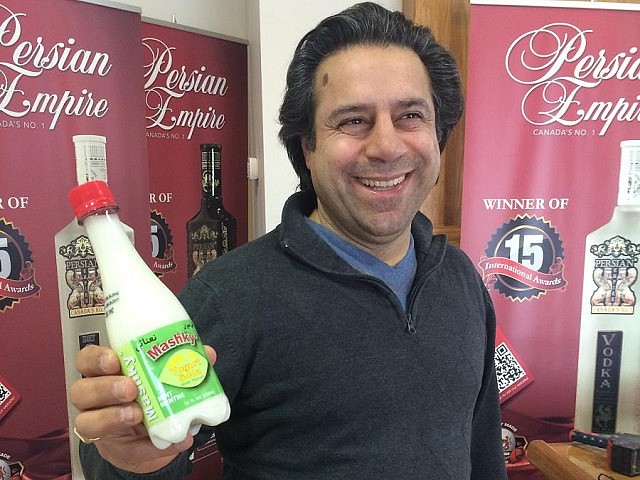 Did you know that Peterborough is the largest producer of yogurt soda in North America? In 2015 alone, 2.3 million litres of Ontario milk was processed in Peterborough by CDC Inc. (636 Queensway Crt., Peterborough, 705-750-0662) to make Mashky yogurt soda for the wholesale market.
Product developer Sarah Khabbazi says that their commitment to local sourcing goes beyond their milk.
"We try to keep our business local because we love Peterborough and we want to help the economy to grow here and develop more," she says.

CDC Inc. — better known as Persian Empire Distillery and Mashky Yogurt Soda — made headlines in early February when they opened their expanded new facility on Queensway Court. They are best known locally for their "Persian Empire" line of spirits, including a cashew nut liquor known as fenni and an apple vodka made with 100% Ontario apples.
For owner Bruce Khabbazi, yogurt soda is a family tradition — his father made yogurt soda in Shiraz, Iran.
The name "Mashky" comes from the tradition of storing yogurt drinks in a goatskin pouch. Merchants would load the pouches of yogurt onto a donkey and call out to people to come and buy. People would bring buckets and pitchers to fill from the pouch. Mashky is an Armenian word that can roughly be translated to "skin".
Yogurt soda is an ancient drink popular in many middle eastern countries. Mashky produces five different flavours of yogurt soda inspired by the multicultural regions of Iran — each province has its own traditional taste, and that is what Sarah and Bruce try to capture with their products. These include a low-salt version, a mint version, and even a lactose-free option.
The taste is light and refreshing, with gentle carbonation from the active bacterial cultures in the yogurt. It would be excellent as an accompaniment to lamb, souvlaki, or spicy food.
It can also be mixed with Arak, an unsweetened anise liquor available from Persian Empire — if you prefer your yogurt soda with a kick.
Inside CDC Inc.'s Mashky plant

---
Local food businesses honoured at inaugural Sustainable Peterborough awards
The food sector was well represented at Sustainable Peterborough's first-ever partnership awards ceremony held on Tuesday, March 1st.
Elmhirst's Resort (1045 Settlers Line, Keene, 705-295-4591) won in the Agriculture and Local Food category. A fine example of farm to table: Angus beef, Pekin duck, and turkey are all raised on the property for use in their restaurant.
Elmhirst's also grows between 5,500 and 7,000 pounds of vegetables every year. Tomatoes are grown in a tomato tunnel to extend their season, and heirloom seeds are saved for the next year's harvest. They also preserve tomatoes for sauce.
They stock exclusively Canadian wines in their wine cellar. President and Manager of Farm Operations Peter Elmhirst says that this just makes sense. "If you're going to raise your own beef, why would you bring your wines from Australia?"
Try their farm-raised Pekin duck, served over polenta with honey lavender glazed carrots, or order one of the five cuts of steak served in their Hearthside Dining Room.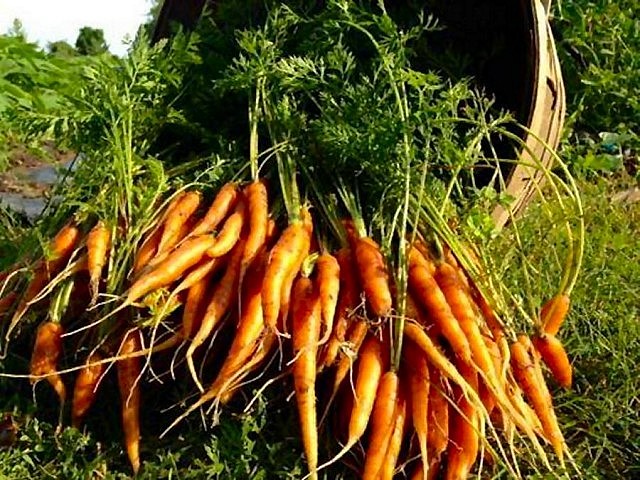 The Food Forest (135 Hunter St. W., Peterborough, 705-874-1888) won in the Waste category. The gluten-free vegan cafe — which moved last spring from its George Street location into the former Maggie's Eatery location in downtown Peterborough — only produces a bag of garbage each week.
Because all of their food is plant based, they are able to compost all of their food scraps. Owner Katie Tuma says that they send their scraps out to local gardeners and farmers.
"We're diverting that from landfill by sending it to people who can use it to grow more food through healthy soils," she explains.
In addition, their takeout containers are made with compostable ingredients. Handtowels and toilet paper are also compostable.
Try their hand-pressed vegan burgers. They offer a black bean and chickpea burger with roasted pumpkin and sunflower seeds, parsley, carrot and caramelized onions with hints of smoked paprika and oregano. Alternatively, you can order a toasted pecan, mushroom and lentil burger, which has hints of chipotle. To date, they have served over 5,000 of these burgers.
"That's huge because we've offset that many meat-filled burgers," says Katie.
This is key to sustainability because, in addition to consuming more water and land than plant-based agriculture, animal agriculture is one of the leading sources of emissions of greenhouse gases contributing to global warming.
---
Many great Pad Thai options in the Kawarthas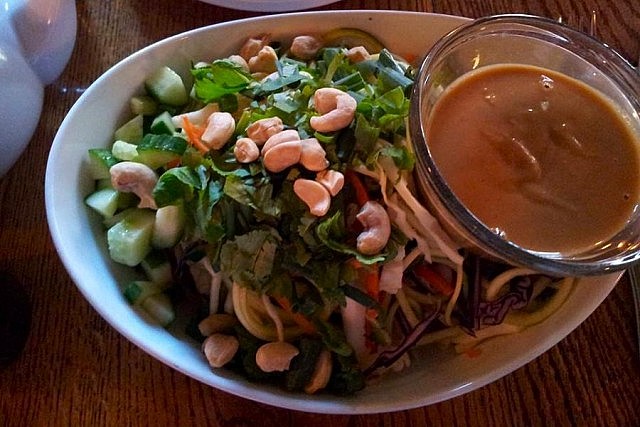 Pad Thai — a flavourful blend of rice noodles, tamarind paste, chilies and fish sauce — first achieved popularity in the 1930s as a part of a political campaign.
Former Prime Minister of Thailand Plaek Phibunongkhram wanted to promote a sense of Thai identity to the world. At the time, wheat noodles were more popular than rice noodles in Thailand, but the Thai grew rice — so it was important that rice noodles be part of the dish.
From there, it has become one of the most popular Thai foods in the world, with many delicious examples of the dish available in the Kawarthas. Here are a few highlights …
Chef Nutsara Abel at Jasmine Thai Cuisine (195 Simcoe St, Peterborough, 705-743-9799) started cooking in the night market of Khon Kaen, Thailand when she was a young girl to help her family. She makes her Pad Thai with the same recipe you would find at a Thai street market: chives instead of green onions and enough real tamarind sauce to make a moist, authentic Pad Thai.
At Karma's Cafe (217 Hunter St W, Peterborough, 705-748-5451), they make a traditional Pad Thai with tamarind sauce, crunchy bean sprouts and nuts: a blend of tangy, sweet and salty. Their Pad Thai can also be made vegetarian, served with tofu and without fish sauce.
Vegetarian Pad Thai lovers will also want to check out the "Nutty Pad Thai" at The Food Forest (135 Hunter St. W., Peterborough, 705-874-1888). Instead of rice noodles, they use spiralized zucchini noodles, shredded cabbage and julienned carrot topped with a cashew lime sauce, green onions, cilantro, sprouts, and crushed cashews.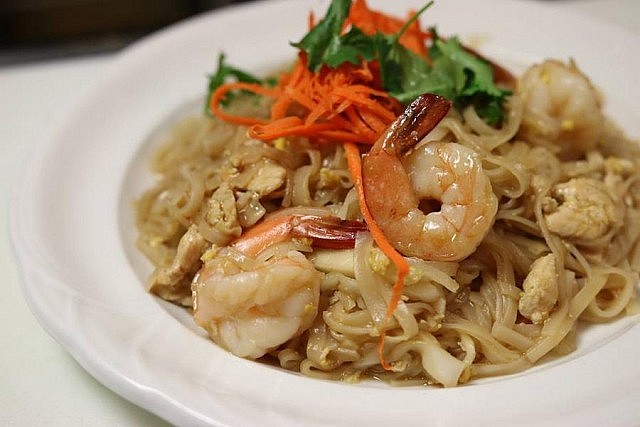 Cosmic Charlie's (170 Charlotte St, Peterborough, 705-741-6491) makes a traditional Pad Thai but they incorporate a secret ingredient: their homemade cilantro paste. Cosmic Charlie's is the longest-standing Thai restaurant in Peterborough.
Orchid Thai Bistro (12 May St, Fenelon Falls, 705-887-3333) uses fresh jumbo tiger shrimp, fresh chicken breast, and fresh eggs to make their Pad Thai. They insist on Chantaboon Rice Stick noodles because they have the softest texture and they sprinkle the dish with freshly roasted and ground peanuts. Owner May Theethamma describes it as a "complex interplay of four fundamental tastes: sour, sweet, salty and rich."
Phibunongkhram would be proud.