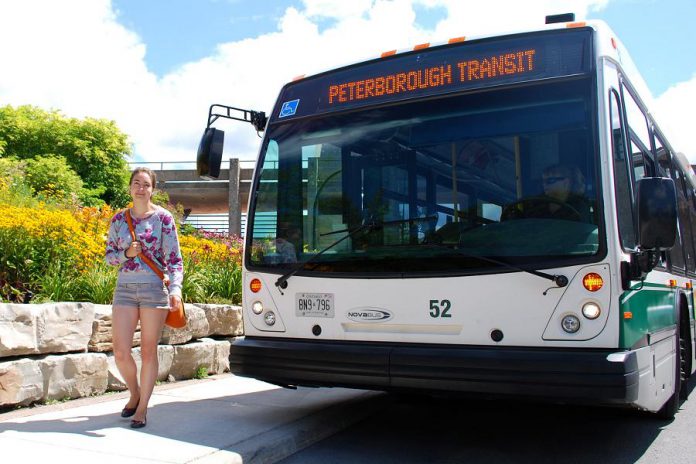 March break is next week! If you're not packing your bags to head out on a vacation in the sun, you may be looking for ways to keep the kids busy with activities here in town. There are plenty of camps and activity days available for younger children, but once kids hit the 'tween years, they may want to make their own plans.
If the thought of driving the kids all over town for the week seems less than ideal, why not encourage them to use public transit? Peterborough Transit provides a safe and accessible alternative to driving and the Peterborough area is full of fantastic places for older kids to visit and explore on their own. After all, as they approach the teenage years kids begin to expand their horizons beyond their immediate neighbourhood and can start to move more independently around the city.
Active and Safe Routes to School Peterborough is giving every grade eight student in the City of Peterborough a free transit pass through the Grade 8 Transit Quest program. Passes and transit maps will be delivered directly to school classrooms this week. Grade eight students with Transit Quest passes can ride the bus for free over the March break, from Friday, March 11th to Sunday, March 20th.
Learning how to read a transit map and schedule — and using these resources to plan a trip — is a life skill that will help prepare students to move independently through their community. Peterborough Transit is a system that kids can use safely and independently to get to the movies, soccer practice or, in a year or two, to a part-time job. It provides an independent alternative to getting a ride from a parent.
Grade 8 Transit Quest provides students with an opportunity to learn how to use our local transit system. They can take a city tour with a few friends, ride a few routes from the downtown terminal, and try to figure out which route leads to their chosen destination: shopping at Lansdowne Place Mall, a hike at Ecology Park, or a trip to the library.
For the March break, students with Grade 8 Transit Quest passes can also use special offers and discounts at several destinations around town, including Zap Attack Laser Tag, Busy Brushes Pottery Painting, Bowlerama, the YMCA, the Peterborough Sport and Wellness Centre, and Trent Athletics Centre.
"Learning how to use the local transit system can help prepare students for experiences they will have with other transit systems when they move to other cities for college or university, or for work or travel," says Lindsay Stroud, Coordinator of Transportation and Urban Design Programs at GreenUP. "If students become familiar with Peterborough's local bus service now, they will feel more comfortable using systems like the GO or Greyhound buses to get from city to city when they're a bit older."
"Also, youth who use public transportation systems early are likely to become confident with navigating more complex transportation services in bigger cities like subways and streetcars."
Check out www.greenup.on.ca for more information about Grade 8 Transit Quest or contact Lindsay Stroud at lindsay.stroud@greenup.on.ca or at 705-745-3238 ext. 209.