This weekend, take a trip back in time to 1931 as The Theatre on King (TTOK) in Peterborough is transformed into The Vagabond Theatre in playwright and spoken word artist Cathy Petch's brand new show Mel Malarkey Gets the Bum's Rush.
Written and performed by Cathy Petch and directed by Em Glasspool, Mel Malarkey Gets the Bum's Rush is a potent look at the final days of vaudeville through the eyes of a woman who mourns its demise.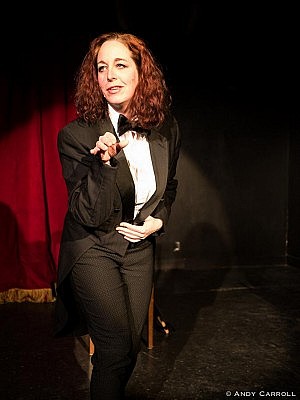 Cathy Petch plays theatre owner Mel Malarkey, the proprietor and master of ceremonies of The Vagabond Theatre. Although jovial on stage, Mel has a secret — she has recently sold the theatre to the Odeon and it's to be turned into a movie house. As she introduces the acts and banters with the audience on stage, off stage she laments the death of vaudeville in a series of sad poems and passages.
The result is an interesting juxtaposition of comedy and pathos that squeezes the heart of anyone who has performance in their soul.
With her brilliant performance touching on a range of topics, Cathy not only covers the death of vaudeville and the rise of the movie houses, but also the sexual politics of the theatre during the vaudeville era.
She also manages to create a number of colourful characters that we never see. Characters like Victor the Crooner, Marlene DeDick, Gerta the Flerta, and the Hurdy Gurdy Dirty Birdies becomes so vibrant in our minds through Mel's descriptions and enthusiasm that they gain the audience's affections without ever having a physical presence.
Through her words alone, Cathy manages to create an entire vaudeville community that we never see but are bound to love.
Furthermore, Cathy highlights her unusual talent of the musical saw. If you've never experienced the art of the musical saw, this may be your only chance.
The show also features Em Glasspool as Cathy's drunken musical accompanist Dickie, and TTOK's Ryan Kerr is roped into the evening as the lighting man.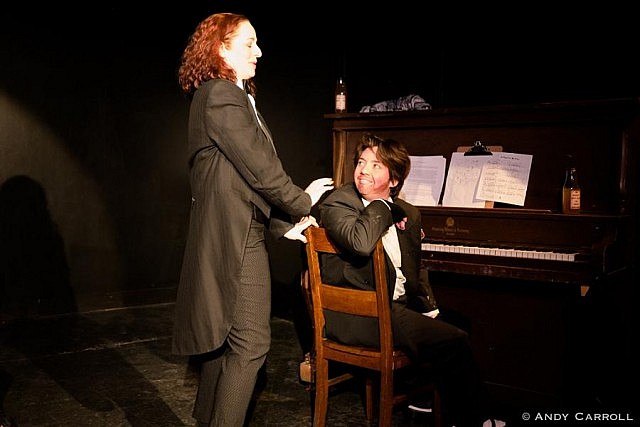 This highly interactive performance is completed with vintage music from the era.
Mel Malarkey Gets the Bum's Rush is a wonderful show that deserves to have a life of its own. Hopefully, Cathy and Em will take this one on the road. It's a show that can work on any stage in any theatre and is one that needs to be seen by audiences in communities other than Peterborough.
Mel Malarkey Gets the Bum's Rush runs from Thursday, March 24th to Saturday, March 26th at TTOK (Suite #120, 159 King St. Peterborough). Shows start at 8 p.m. and admission is $10 at the door.
All photos courtesy of Andy Carroll.