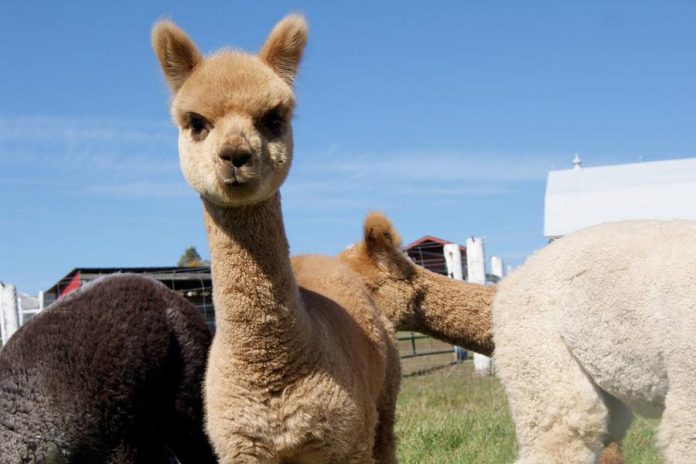 This is a story about unlikely meetings, unusual creatures, and a 100-acre farm on the outskirts of Peterborough.
It is the story about how Kathy McConnell and Donna Simmonds each came to a new industry from separate worlds, and how they have created a lucrative partnership with the fuzzy-faced alpaca at its centre.
It all begins in 2002, with a 74-year-old family farm on Lily Lake Road that began as a wedding gift to Kathy's grandparents, and, long after having passed from the family, went back on the market in 2002, right when Kathy and her husband Larry Hubbert were looking for a rural property.
It's also the story about opportunity. Kathy and Larry bought that farm, and when trouble began to brew in the beef industry, they looked beyond the traditional — to the alpaca.
Indigenous to the High Andes of South America, alpacas were domesticated more than 5,000 years ago. Quiet and peaceful, they are extremely hardy and adaptable to different climates while being easy to handle. They get along with other livestock and with pets, are safe around children, and require little space.
And the true prize of the alpaca is the fibre it produces. It's as fine and luxuriant as cashmere, but much stronger, and it's warmer than sheep's wool. Alpaca fibre is used in products ranging from duvets and landscape fabric to socks, insoles and dog and cat beds. South of the border, alpaca fleece is even being used to produce home insulation.
Hubbert Farms was born: a 100-acre alpaca farm that would eventually be home to a herd of 70 alpacas.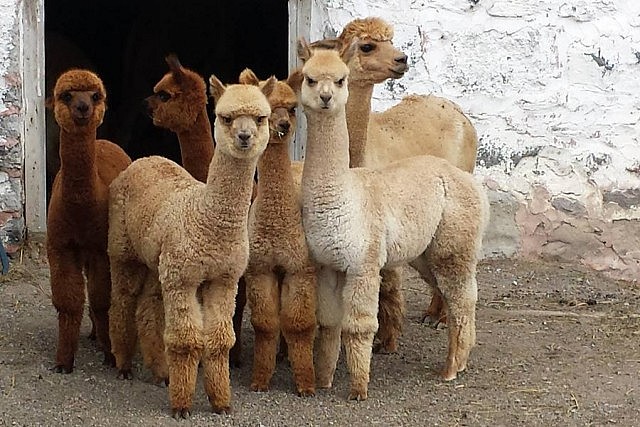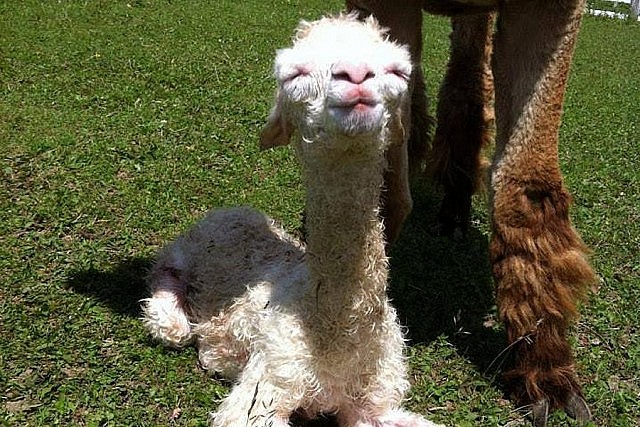 Enter Donna Simmonds, who happened into an alpaca product shop in Lakefield in 2006, and was "enchanted" with the products and the alpaca.
"I talked to the owner for two hours. How do I get them? What do I have to do?" she says now, remembering her introduction to what has become her life. At the time, she and her husband owned a farm on Crowley Line, and Donna bought two alpacas as pets for her daughter.
Before long, the farm became Averegan Alpacas: a barn, 46 acres, and two gelded males. By 2012, the herd count stood at almost 50.
Donna, whose simple method of farming included a "four-wheeler and a poop cart," met Kathy in 2008. The pair soon realized another opportunity was on their doorsteps. They would form a partnership, each raising females on their own farms, and sharing the male alpacas between them. They started importing new males from the U.S. to broaden the bloodline of their herds.
And, on a logistical level, each brought complementary strengths to the shared vision: while Donna delights in research, Kathy — who runs her own mortgage broker business — breezes through paperwork.
What began as two separate visions, two separate farms, two separate families, two herds of alpacas, is slowly becoming one. Donna recently sold her farm and moved to a smaller property in Cavan.
While Kathy continues with the alpaca operation at Hubbert Farms, Donna helps runs The Alpaca Shop. The store opened in 2014, when four local alpaca farms — Averegan Alpacas, Datrix Alpacas, The Great Canadian Alpaca Ranch, and Hubbert Farms — came together to sell alpaca-related products.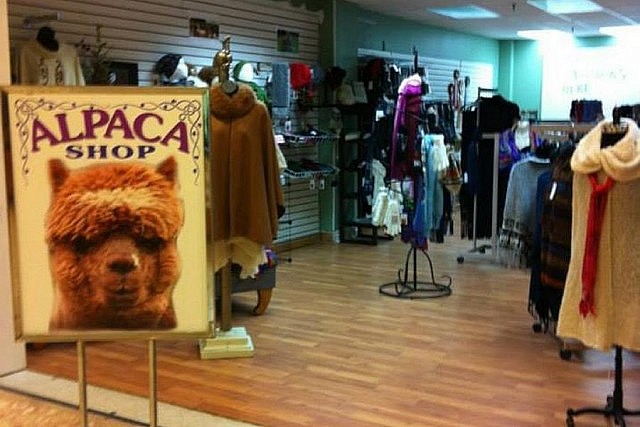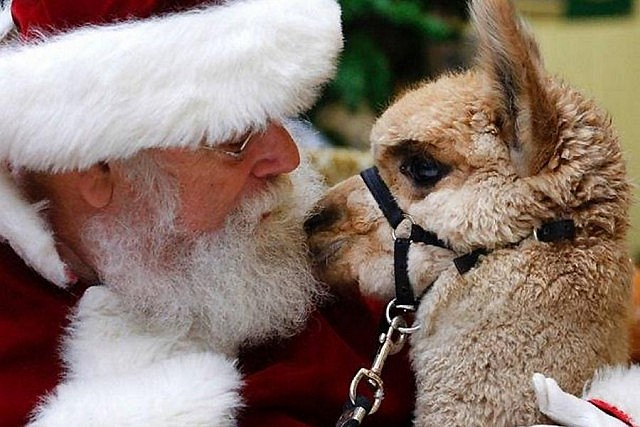 The shop hosts a robust social media presence on Facebook and, each November and December, operates a retail loation at Peterborough Square where shoppers can select from a number of alpaca-related products, with socks and insoles being the biggest sellers.
That venture also sees them bring alpacas to the mall, transported in a handi-van they bought from the City of Peterborough at an auction. As you'd expect, the arrival of the alpaca bus in downtown Peterborough is a hit with anyone close enough to catch a glimpse of its passengers.
"It's good promotion," Donna says. "While the kids are looking at the animals, their parents are gravitating towards the products."
At other times of the year, you'll find The Alpaca Shop at the Peterborough Farmers' Market.
And the product is as unique as the creature from which it's shorn.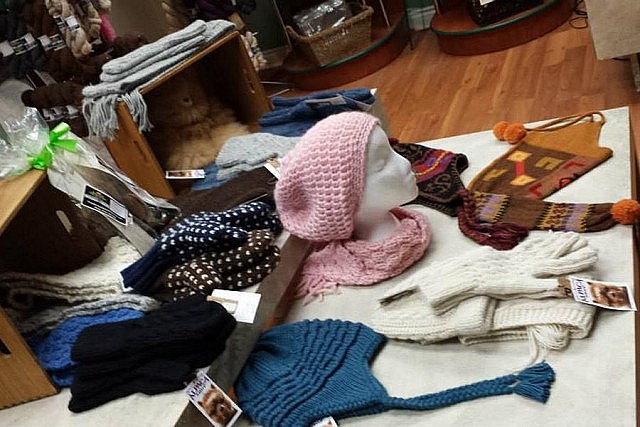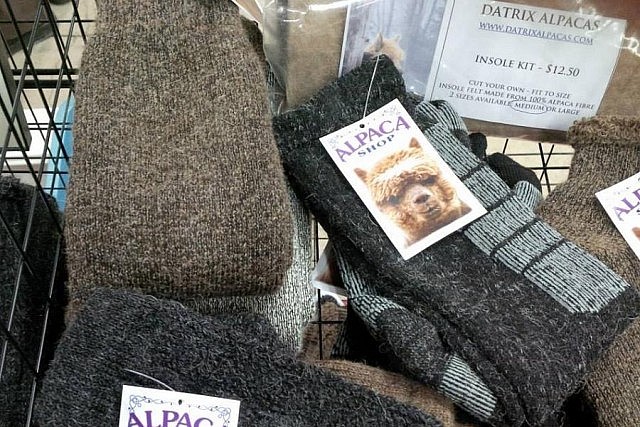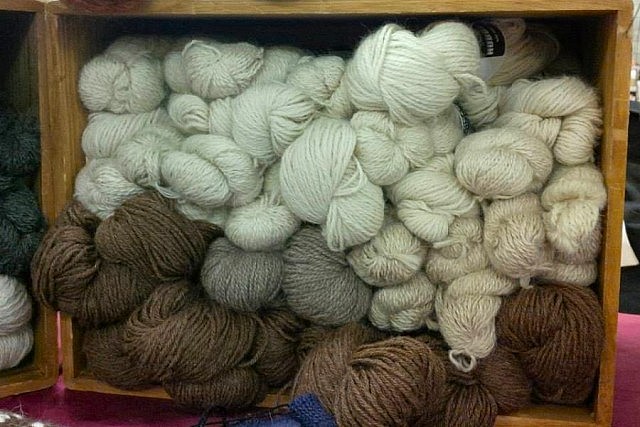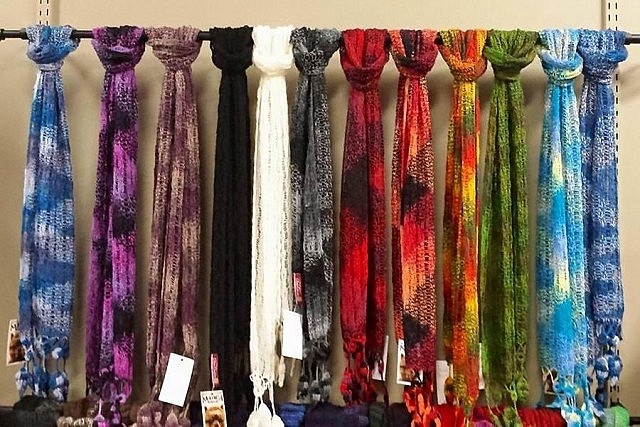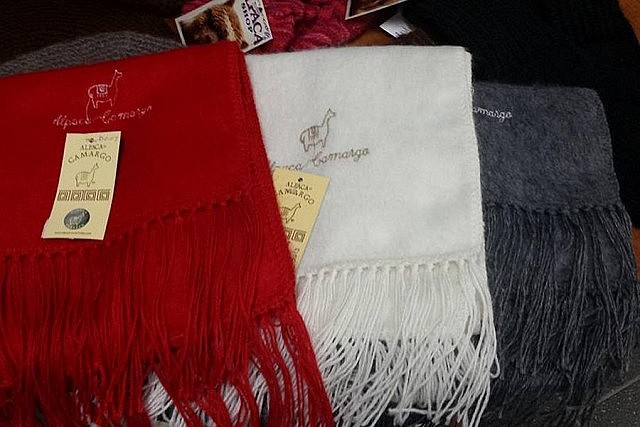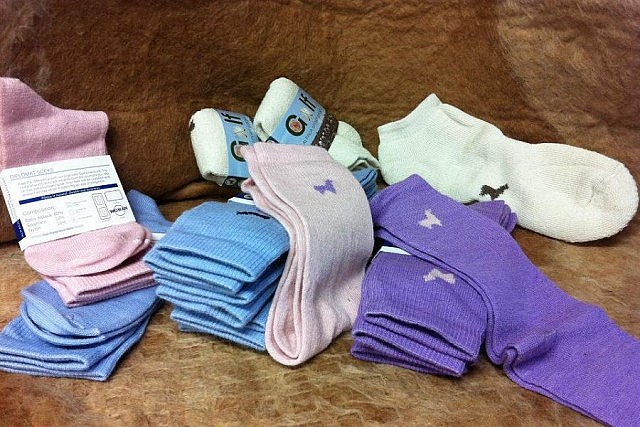 "It's an incredibly warm product," Donna says. "It's a hollow fibre, so it retains heat but it also takes moisture to the outside of the product. It's very strong. You can have a really nice cashmere sweater but you have to be very delicate with it; alpaca is a much stronger fibre."
In addition to breeding alpacas and producing alpaca products, Hubbert Farms also found a niche four years ago as one of a handful of approved locations in Canada to quarantine alpacas. In fact, Hubbert Farms was one of the first alpaca farms in Ontario to quarantine animals from outside the country.
As well as raising alpacas, Kathy and Donna also participate regularly in annual alpaca shows.
"We got into the whole showing business when the kids were little," Donna says. "It was fun. Now it's serious." So serious in fact that the pair has earned the prestigious "Best in Show" award seven times over the last four years.

While both Kathy and Donna have full-time jobs off the farm, raising alpacas is clearly their shared passion.
Recently they delivered the tenth baby of one of their alpacas, named Kalibaut (all alpacas are registered by name). It was a challenge as the alpaca baby — known as a cria — was breeched. With the vet still some time away from arriving, they had no choice but to deliver the baby themselves.
Some 20 other crias are expected this spring.
"They're beautiful animals," says Donna, clearly still smitten years after that first introduction. "They're aloof with strangers but they're very intelligent and very trainable. They learn routine very quickly."
Kathy adds that alpacas are also easy on the land.
"They're environmentally friendly and they give you a product that is better than any other product out there," she says. "Everyone is looking at natural products now."
For more information about Hubbert Farms, visit their website at www.hubbertfarms.ca or their Facebook page at www.facebook.com/HubbertFarms/. For more information about The Alpaca Shop, visit them on Facebook at www.facebook.com/thealpacashopptbo/.
You can email Kathy McConnell at info@hubbertfarms.ca and Donna Simmonds at averegan@gmail.com.
---
Inside the Alpaca Industry
All photos courtesy of Hubbert Farms and The Alpaca Shop.