"Pop music is aspirin and the blues are vitamins."
While no doubt known more for his pop music antics as a guitarist with The Monkees than his deep wisdom, Peter Tork pretty much nailed it with this astute observation.
John Cranfield would certainly agree with his take on the blues.
It was back on June 11, 2012 that Lucky Peterson fronted his band in the Showplace Performance Centre's intimate Nexicom Studio — the inaugural Elite Blues Series concert. In the room that night was John, then the president of the Showplace board but more notably a blues music fan who, lamenting what he saw as a decline in blues music events in Peterborough, initiated the series.
"There are some local acts, and the odd big act comes into town, but nothing sustained. We're hoping this (the Elite Blues Series) addresses that," noted John at the time.
That it certainly has. Since that first concert, a host of blues music's biggest names, from both sides of the border, have played the venue. Ana Popovic, Brandon Santini, Chris Thomas King and Monkeyjunk come to mind quickly. And, in a real coup, John enticed Scotland's Black Diamond Express to make a stop.
Now, four years on, the Nexicom Studio is preparing to welcome two powerful female blues artists in the form of Angel Forrest and Grainne Duffy. Forrest will close out the current Elite Blues Series season on June 9th while Duffy will open the 2016-17 season on September 15th.
---
Angel Forrest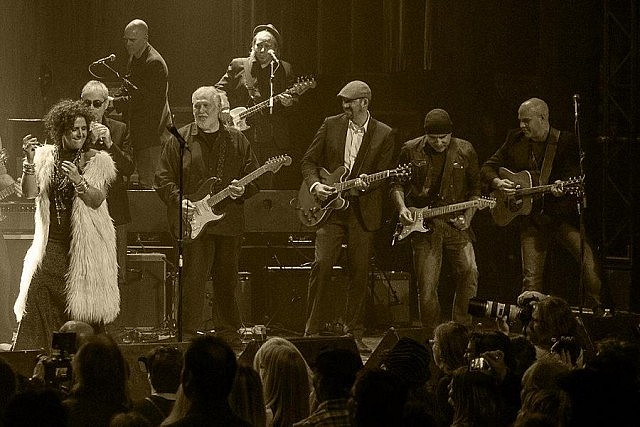 Forrest arrives in Peterborough on the heels of the release her ninth album, Angel's 11 — the album's title a reference to the 11 guitarists featured on the album.
Over her 27-year music career, the Quebec-based singer has earned numerous industry accolades, including three consecutive Maple Blues Awards for Female Vocalist of the Year (2013-15).
In addition, she remains a much sought-after performer on the festival circuit in both Canada and Europe, and has shared the stage with the likes of Jarvis Church, Burton Cummings, and Eric Burdon.
Tickets to Forrest's 8 p.m. performance cost $29 at the Showplace box office, reserve at 705-742-SHOW (7469) or order online at www.showplace.org.
More information about Forrest, and audio tracks of her work, can be found at www.angelforrest.ca.
Angel Forrest at FestiBlues 2015

---
Grainne Duffy
In Grainne Duffy, the Elite Blues Series kicks off its new season in a big way, bringing the singer-songwriter and guitarist to Peterborough from her native Ireland where she is nothing short of a fixture — a status initiated by the release of her critically acclaimed debut album, Out Of The Dark, in 2007.
Test Of Time followed in 2011 and, three years later, Duffy was named Best Female Vocalist and Best Live Performer in 2014 by Blues Matter Magazine. Guitarist Magazine has described her as "deliciously soulful voice and gutsy blues inflected guitar work in one compelling package."
With a voice that's been compared to Bonnie Raitt's, Duffy comes to Peterborough one year after the release of Grainne Duffy Live.
Tickets to Duffy's performance cost $32, again at the Showplace box office, reserve at 705-742-SHOW (7469) or order online at www.showplace.org.
More information about Duffy, and samples of her music, can be found at www.grainneduffy.com
"Bad to Worse" – Grainne Duffy