The summer season is always a unique time for the Peterborough Theatre Guild. Slotted between the annual musical spectacular and the beginning of the next season, the summer season always seems to be a bit low key and the shows risk slipping just under the radar due to competition from a plethora of local events that compete in attracting tourists.
With this in mind, it'd be criminal if the Guild's current show went unnoticed. Directed by Steve Russell, A.R. Gurney's What I Did Last Summer is one of the finest shows performed at the Peterborough Theatre Guild during the 2015-2016 season. A charming coming-of-age dramedy that manages to capture the romance and spirit of seemingly endless summers from days gone by, What I Did Last Summer may be one of my favourite shows so far in 2016.

First staged Off-Broadway in 1983, What I Did Last Summer is to the stage what films such as Summer of '42 and The Last Picture Show are to the cinema. Taking place during the summer of 1945, the play focuses on 14-year-old Charlie (Quin Shearer) and his family and friends at an upper-crust vacation colony on Lake Erie. With the final months of World War II as the show's backdrop, the Germans have already surrendered but the fighting in the South Pacific rages on.
Charlie is a good kid who is at that awkward age where he's highly impressionable. With his father away fighting, Charlie's mother Grace (Heather Ross) brings her daughter Elsie (Bethany Heemskerk) and Charlie to the same vacation spot they've always gone to over the past few years in an attempt to maintain a sense of normalcy.
Charlie is reunited with summertime pals Ted (Liam Parker) and Bonny (Lily Gordon), but things are not as they were in previous years. The days of reading comic books and selling lemonade are long gone; the three kids are a mess of hormones they do not fully understand.
In an attempt to look more mature to Bonny, Charlie calls upon local bohemian Anna (Marlys Kerkman), known by the community as "the pig lady", for a job. Considered to be an "undesirable" by the local elite, Anna takes Charlie under her wing and becomes the boy's unlikely mentor, teaching him life lessons that he won't find on the tennis court or at dances and parties attended by prep school snobs. However, there is an unspoken past between Charlie's mother and "the pig lady," and soon a tug-of-war for Charlie's time and loyalty begins between the two women.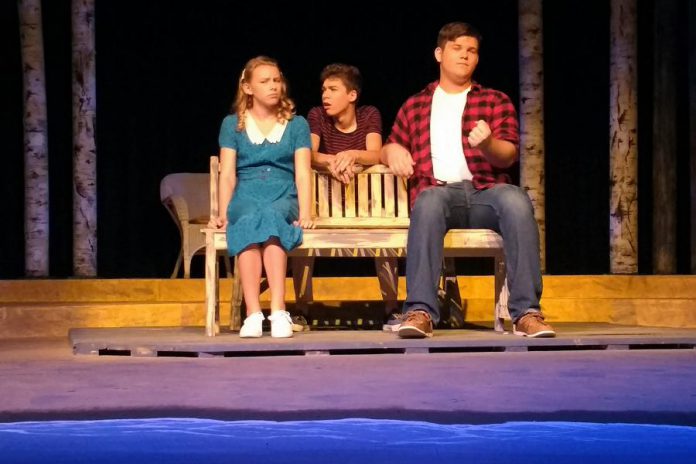 Does Charlie belong among the society that his mother wants him to be a part of, or will he find the answers back in the woods? Throughout the show all of the characters involved will learn and change, making the summer of 1945 the most important summer of their lives.
Out of all the shows I've seen at the Theatre Guild this year, few have worked their way into my heart and mind as much as What I Did Last Summer. I'll admit I'm a sucker for coming-of-age stories, but Steve Russell has assembled a wonderful cast for this show. Only being familiar with a few of the actors in the show, I became an instant fan of those I was not so familiar with.
Throughout the show the cast, with the exception of Marlys Kerkman, break the fourth wall and address the audience directly. These small vignettes allow each of the performers to not only have a moment in the spotlight, but to connect with the audience in a unique way. The result is that a bond is created between the characters and the audience, who begins to believe in and care about them.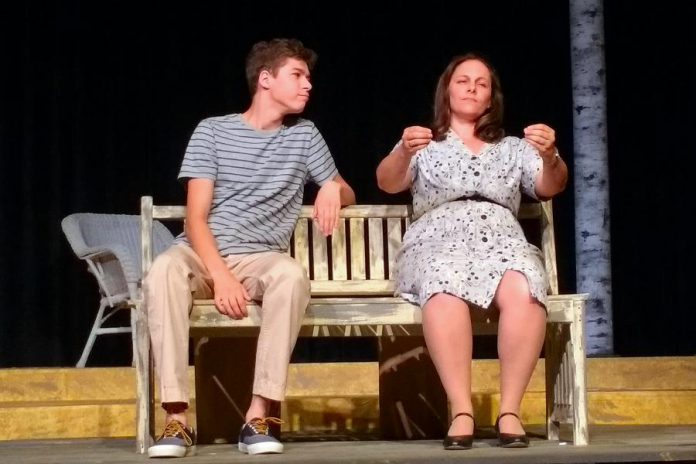 I can only remember seeing Quin Shearer (who plays Charlie) on stage once before, in a non-speaking role. In What I Did Last Summer, Quin has a lot more to say and it is a great pleasure to see him in a role with plenty of emotional depth. Quin is a wonderful actor, and he is perfectly cast as a young boy in that awkward age between comic books and girls. Quin gives an endearing performance and is an instant hit with the audience. I can't wait to see more of Quin on the stage in the future and am curious to know what his next project will be.
Meanwhile, Heather Ross is wonderful as Charlie's mother Grace. A well-meaning but flawed woman, Grace is living with the pressures of a husband away at war while trying to maintain a household for two children who don't seem to have the same values or vision that she has. Although she often misunderstands her son and his personal needs for her own, her heartbreak over Charlie associating with the dreaded "pig woman" is only natural — but it unwittingly makes her the show's antagonist as she tries to keep hold of her son by any means necessary. Despite this, Heather manages to endear Grace to the audience, who may not agree with her actions but can sympathize with her motives.
Grace's foil is the eccentric bohemian Anna, played by Marlys Kerkman. The polar opposite of Charlie's mother, Marlys manages to diferentiate herself from all the other characters in the show in every way possible. Anna symbolizes all the wonderful characters who come into someone's life when they are at an impressionable age, influencing them in ways that will change them forever. Both wise and misguided at the same time, Anna's influence on Charlie takes many shades of gray, but the connection between Marilyn and Quin is perhaps the most endearing pairing in the show.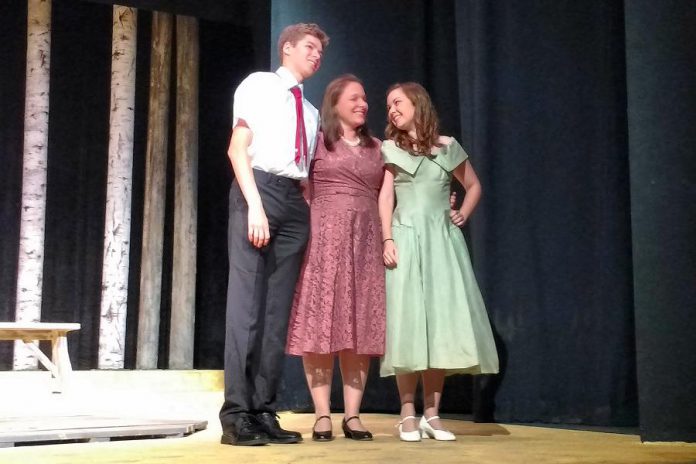 With that cute "girl next door" appeal, Lily Gordon is simply adorable in the role of Bonny and embodies every summer crush any teenager has ever had. But she is much more than just the romantic interest in the show. She gives a three-dimensional performance of a girl who is still very much a little kid, even if the boys she used to pal around with are looking at her a little different. Just as Quin endeared himself to me in this show, so does Lily and I hope it won't be long before I see her again on the stage.
Perfectly cast in the role of Ted, Liam Parker is an incredibly versatile actor who I have been following for years primarily in musical theatre. It's great to see Liam in a role of this caliber. A year older than Charlie and Bonny, Liam's character Ted feels a widening divide between where he is emotionally compared to the other kids. Both Charlie's friend and his foil, Liam Parker brings a lot of depth to the character of Ted. There's an interesting dynamic between Ted and the other characters, who were once close friends but have become separated by just growing up.
I must give a shout-out as well to Bethany Heemskerk in the role of Charlie's sister Elsie. Throughout the show Elsie says "this play is not about me" and she's right. It isn't. But Bethany is a delight to watch and she plays a perfect supporting character to a show of big personalities who often compete against one another. Elsie is one of my favorite characters and is instantly relatable to anybody who was never the centre of attention. Witty, sarcastic, and with her own subtle anxieties, Bethany shines each time she steps on stage.
Beyond the story and the actors, high praise goes to the production of the show, including the simple yet multi-functional set created by Greg MacPherson and the costumes assembled by Cynthia Wardrope. I also took notice of the carefully selected music that set the mood for the show, including songs by Bing Crosby, The Andrew Sisters, and Danny Kaye. These are fantastic touches that add to the overall production of the show.
---
What I Did Last Summer promotional video
---
The only thing wrong with What I Did Last Summer is that, when the show was over, I found myself wanting more. I wasn't finished with these characters. What happened next summer … or the summer after that?
Although you get a sense of what happens to Charlie moving forward, I found myself wanting to know what happens to Bonny and Elsie and Ted and especially Anna. This cast made me fall in love with these characters and I wasn't ready to let go of them as I left the theatre. Is it too late for A.R. Gurney to write a sequel?
What I Did Last Summer is one of the most endearing shows I've seen thus far in 2016. With so many events to go to in The Kawarthas the summer, make this show one of your priorities in July.
What I Did Last Summer runs until Saturday, July 23rd at the Peterborough Theatre Guild (364 Rogers St., Peterborough). Shows start at 8 p.m. with a 2 p.m. matinee on Sunday, July 17th. Tickets are $20 for adults, $18 for seniors, and $11 for students, and can be ordered by calling the box office at 705-745-4211 or online at www.theatreguild.org.