Retired Canadian astronaut Colonel Chris Hadfield is set to deliver his inspirational keynote address at Lindsay's Academy Theatre on Thursday, May 11th at a fundraiser for the United Way for City of Kawartha Lakes (CKL).
"Our goal is to host a successful and entertaining event to show our support for the United Way," says Barb Truax, one of the three co-chairs for the United Way for CKL's fundraising campaign.
"When the idea was spawned to find an outstanding and interesting keynote speaker, Colonel Chris Hadfield was our immediate first choice. He often speaks to much larger crowds and in much larger venues. We are just thrilled that he will join us here in Lindsay for an intimate evening in our beautiful, historic Academy Theatre."
Called "the most famous astronaut since Neil Armstrong," Hadfield achieved worldwide fame in 2013 by sharing his photos, stories, and music while on board the International Space Station during a five-month mission — in particular his orbital rendition of David Bowie's iconic song "Space Oddity".
VIDEO: "Space Oddity" by David Bowie performed by Chris Hadfield

Astronaut Chris Hadfield's video of David Bowie's "Space Oddity", recorded at the International Space Station in 2013, made him the world's most famous living astronaut. It has almost 35 million views on YouTube.
His celebrity capped a 21-year career as an astronaut, which included three spaceflights and 2,600 orbits of Earth. Hadfield, who was inspired to become an astronaut as a child in southern Ontario when he watched the Apollo 11 Moon landing on television, became Canada's first fully qualified Space Shuttle crew member in 1992 when he was selected by the Canadian Space Agency as a NASA Mission Specialist.
Three years later, aboard Shuttle Atlantis, he was the first Canadian to operate the Canadarm in space, and the first Canadian to board a Russian spacecraft as he helped build space station "Mir." In 2001, aboard Shuttle Endeavour, Hadfield performed two spacewalks — the first Canadian to do so — and, in 2013, he was Commander of the International Space Station — the first and only Canadian so far to ever command a spaceship.
Hadfield's many awards include the Order of Canada, the Meritorious Service Cross, and the NASA Exceptional Service Medal. He was named the Top Test Pilot in both the US Air Force and the US Navy, and has been inducted into Canada's Aviation Hall of Fame.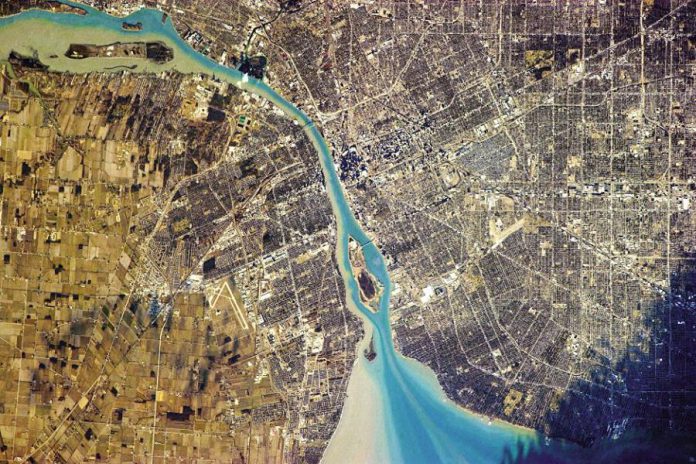 Hadfield is also the author of three internationally bestselling books: An Astronaut's Guide to Life on Earth, You Are Here, and his children's book, The Darkest Dark. He also released his music album, Space Sessions: Songs From A Tin Can, in 2015. Hadfield has been commemorated on Canadian postage stamps, Royal Canadian Mint coins, and on Canada's newest five-dollar bill (along with fellow astronauts Steve MacLean and Dave Williams).
"This is an amazing boost for our area," says Penny Barton Dyke, Executive Director of the United Way for CKL. "Colonel Hadfield is internationally renowned and so inspirational. We are excited to have his visit coincide with both the 150th anniversary of Canada and the 50th anniversary of our United Way. We are grateful to the Three Chairs Committee and the sponsors that have made this fundraiser possible."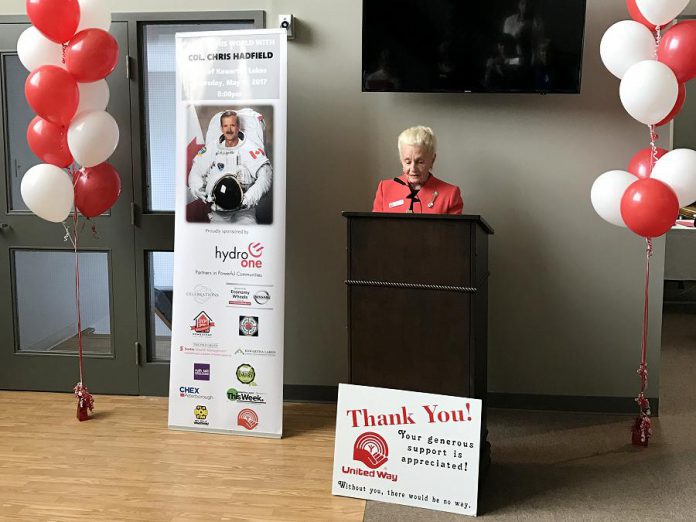 The Three Chairs Committee comprises three members of the community-oriented Truax family: matriarch Barb, her daughter Sherry Giltenan, and her son Tim Truax. Together, they are the co-chairs for the United Way for City of Kawartha Lakes 2016-2017 Fundraising Campaign.
"The three of us talked it over and wanted to push the boundaries of our honourary role," Barb says. "We set the goal of creating a special fundraising event. Hence, the Three Chairs Committee was born. We truly appreciate the effort and support of our other committee members and of our event sponsors. It's so exciting to have Colonel Chris Hadfield coming to our community … we urge everyone to get their tickets early!"
Tickets to "Out of This World with Col. Chris Hadfield" are available now for $100 per person at the Academy Theatre box office by calling 705-324-9111 or online at academytheatre.ca.
VIDEO: Wringing out Water on the ISS – for Science!

Astronaut Chris Hadfield also produced a series of science-related videos while about the International Space Station. Here he performs a simple science experiment about water surface tension in micro-gravity, designed by grade 10 students from Fall River, Nova Scotia, who won a national science contest held by the Canadian Space Agency.