This month, Eva Fisher finds a local source for alcoholic ice cream and desserts, learns more about life at the farm with Chef Kevin McKenna, tries filling yet budget-friendly food at Sophia's Kitchen, and learns more about an exciting plant-based business opportunity in downtown Peterborough.
---
New patisserie and bar to feature alcohol-infused desserts
Gin and rosemary macarons, alcohol-infused ice cream, margarita layer cake … Hannah Howey's upcoming dessert bar Sweet Spirits (261 George St. Unit #130, Peterborough, 705-745-4540) offers desserts with a twist — and you might want to make yours a double.
For the past year Sweet Spirits has been selling baked goods at farmers' markets and events, but Hannah is opening a new dessert bar in downtown Peterborough this May.
"We're selling alcohol, mostly locally sourced, and we're pairing it with made in store homemade desserts," Hannah says. "We're patisserie style: a little bit more elegant but super fun."
The new bar will be located on George Street beside Riley's, at the location previously held by Subway.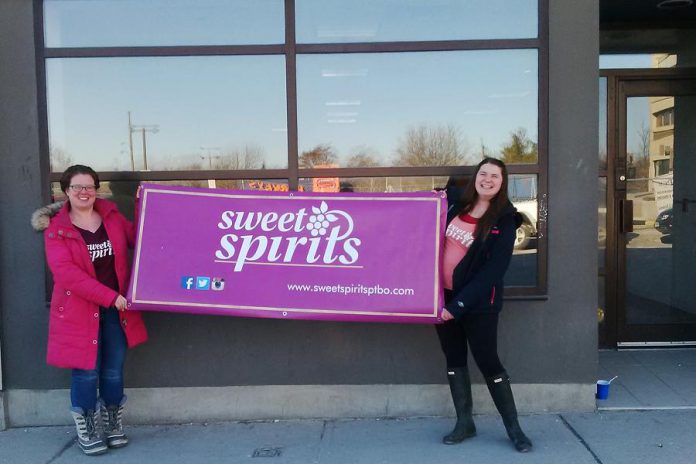 Many of the desserts will be infused with spirits after baking, so they will retain their alcoholic content. That means that treats like chocolate raspberry tarts with Bailey's mousse and Oreo-inspired sandwich cookies will also pack a boozy punch. The menu will include a scale to show how much alcohol is in each dessert.
Sweets and Spirits also plans to offer brunch, with a menu including crepes and waffles with berry compote and rum caramel sauce.
For more information, visit www.sweetspiritsptbo.com
Chef Kevin McKenna joins the team at South Pond Farms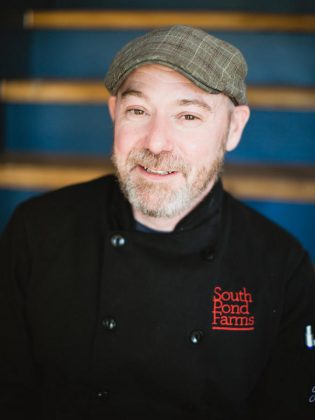 South Pond Farms (1020 Gray Rd, Pontypool, 705-277-1649), owned by Danielle French, is both a scenic farm and a popular wedding and event venue that hosts regular culinary events.
Recently Chef Kevin McKenna has been added to the South Pond Farms staff. Kevin has an impressive resume. His recent experience includes a three-year tenure as Executive Chef at Viamede Resort. He also is one of the Tres Hombres, a culinary team that stages innovative culinary events throughout the Kawarthas.
South Pond Farms was a good fit for him.
"My philosophy is to be as local as possible," he says.
According to their website, South Pond Farms derives over 65 percent of all of its food for its menus from its own and neighbouring farms.
"My style is farm to table and South Pond Farms is not your standard restaurant or hotel. It's exciting."
Downstairs at the farm they have preserving and drying facilities.
"We have so many things going: Danielle's farm flavours retail line, her spice blends, and her preserves. I'm really excited to be a part of it and to learn from Danielle and to help grow these lines."
Lately, Kevin has been experimenting with brisket.
"We've been smoking brisket over cherry wood and I've been using Danielle's Manvers Station spice blend. It's a meat seasoning that she created herself and named it after the area of Manvers Station."
Kevin added sumac, an ingredient which can be found growing along side roads and fields throughout the Kawarthas. Kevin says that it has a nice citrus flavour and a pretty colour.
VIDEO: Chef Kevin McKenna makes a South Pond Farms sandwich

Kevin originally left Viamede Resort to start a restaurant in downtown Peterborough, Hunter County Cuisine, but that project has been put on hold indefinitely. "It was not my time to open a restaurant."
He was happy to find an opportunity locally with South Pond Farms.
"I have a strong connection and roots that I'm building and growing in Peterborough. I'm very proud and supportive of the town. I didn't want to leave."
You can find South Pond Farms online at www.southpondfarms.ca, where you can learn more about their upcoming culinary events.
Sophia's Kitchen brings budget-friendly flavour to the corner of Parkhill and Water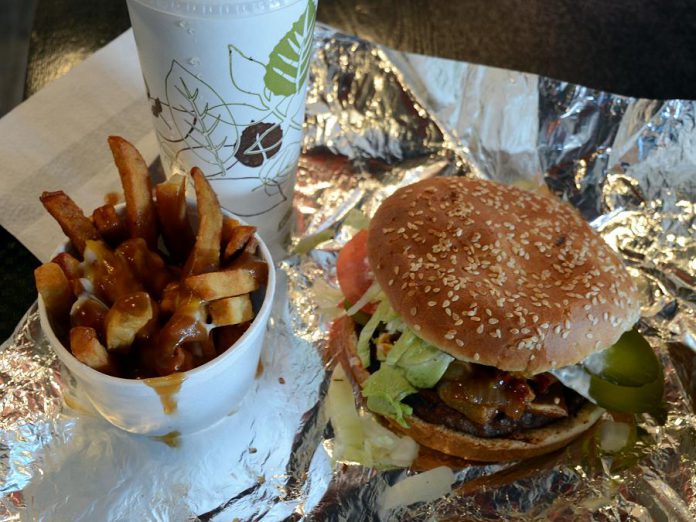 Pat Nelson's mission is to provide affordable food to students and the community. Her restaurant Sophia's Kitchen (724 Water St., Peterborough, 705-741-1911) serves what she calls "fast casual" food from the corner of Parkhill and Water, previously the location of the Delta House and the Original Greek.
Pat says that her favourite part of running a restaurant is watching the students leave happy and fed.
"They have a sandwich or burger, they have fries and a beverage, they get change from $10, and I know these kids have eaten well. That makes me so happy because they're somebody's kids. They may not be my kids but they're somebody's kids and to function well at school they need affordable food."
Pat previously owned a restaurant in Mississauga. Her mother Sophia would watch her two daughters while she worked into the early morning — her restaurant was open until 4 a.m. When her mother died in 2008 she had a tough choice to make.
"My kids had never been with a babysitter. I chose to sell the restaurant instead."
But once her daughters got old enough to go to university she was ready to start again, so she bought her new location in Peterborough.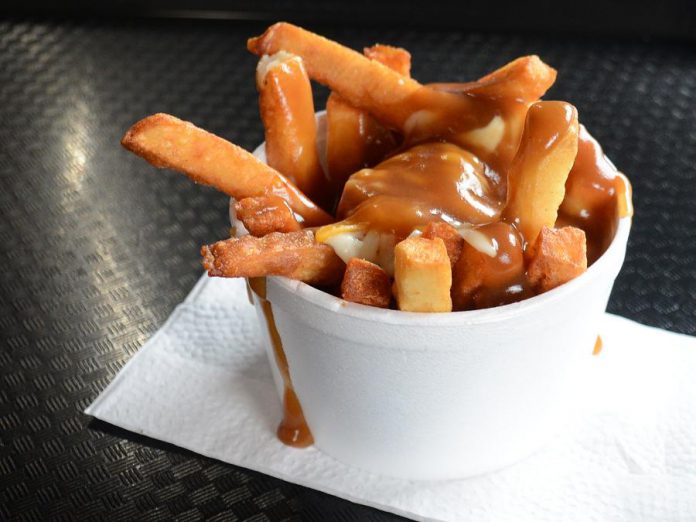 Sophia's Kitchen offers souvlaki, steak sandwiches, burgers, salads and veggie burgers. They also sell old-fashioned milkshakes and floats, and plan to offer ice cream sundaes and desserts shortly.
The gyros on a pita with feta is their number one seller. They serve it with their homemade tzatziki, which Pat says is very popular.
"We make with two different yogurts and grated cucumber. We made four batches this past week. People in Peterborough absolutely love our tzatziki."
Other popular items include the poutine and the onion rings.
"We have people coming here just for our onion rings. They look like huge huge doughnuts."
Sophia's Kitchen is open from Monday to Saturday, from 11 a.m. to 9 p.m. You can see the menu on their Facebook page.
The Food Forest is for sale (but isn't closing)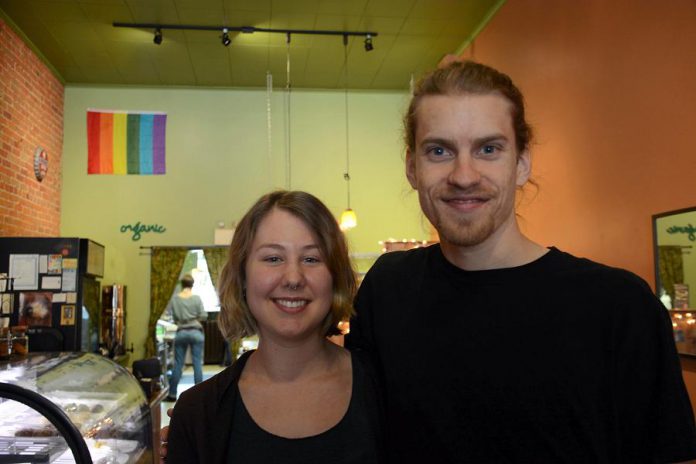 Plant-based foodies take note: The Food Forest (135 Hunter St. W., Peterborough, 705-874-1888) is for sale. After three years in the business, owners Katie Tuma and Adam Deck are looking to start their next chapter. The Food Forest will stay open until they find a buyer.
Katie and Adam started the business without much restaurant experience, but they knew that they had something important to add to the Peterborough restaurant scene: a delicious plant-based and gluten-free option.
"The more delicious the food, the more apt people are to choose that type of food. So that's really important to us, because we're obviously trying to steer people away from eating animal products and to care more about their health."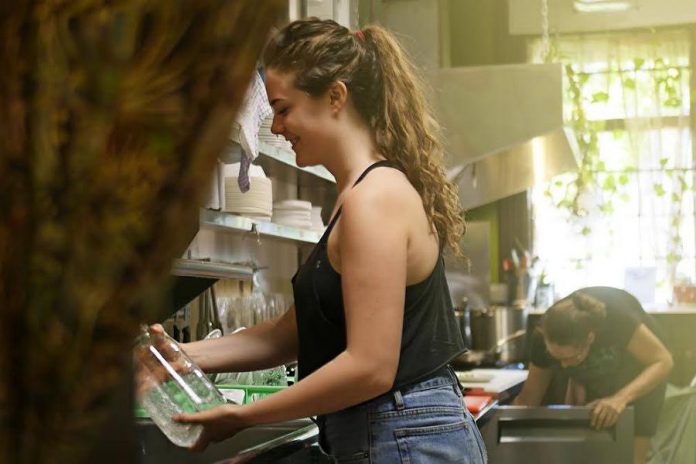 During their time at The Food Forest, Katie and Adam have been very successful. In April of 2015 they moved into a larger location in downtown Peterborough to accommodate the demand for their food.
"Jumping into this endeavour without any previous experience and seeing the success of it is super humbling. We're very proud of that."
They are also proud of their environmental awards. The Food Forest operates on a zero-waste model: with compostable takeout containers and entirely plant-based foods, everything can be composted.
Katie says that they are looking for a buyer who shares their ethics and ideals: "Someone who would keep it plant based. Someone who cares about the environment and cares about animals and people and nutrition. Someone who could be passionate about it and likes cooking, who likes all of the things our business stands for, and is looking for a challenge."
Until they find that person they will continue to operate The Food Forest indefinitely.
"We're not closing. We're willing to stay open and run it, because we're still enjoying it. It's amazing. We just wanted to passively put it out there because we'd like to find the right person."
For more information, visit their website at www.foodforestcafe.com.