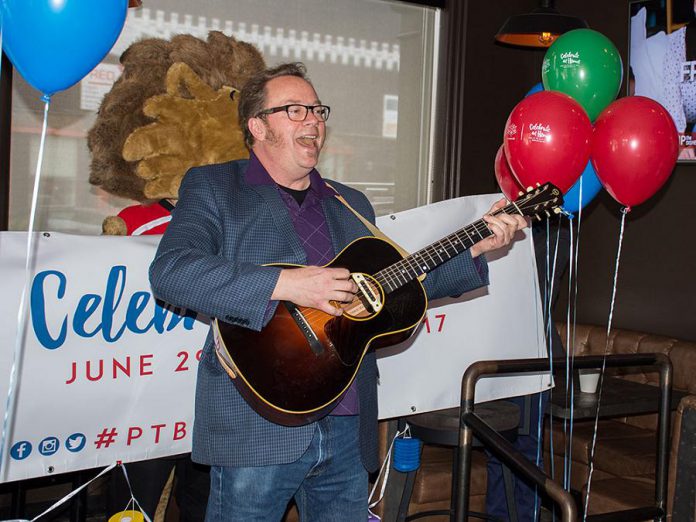 Funny thing about a party: Once word gets out, everybody wants to come.
As is becoming increasingly clear, everybody is coming, to Peterborough's over-the-top Canada 150 party scheduled for four dates in late June/early July. And that's just those who will musically entertain and visually delight. Never mind the thousands their combined talents are sure to attract.
On Thursday (March 30) at One Eighty Sports Pub (180 Hunter Street West, 705-874-0989), the Peterborough's Downtown Business Improvement Area (DBIA) revealed its significant contribution to Peterborough 150, with DBIA executive director and organizing committee member Terry Guiel leading the charge.
The crowning event will be The Bash 150, a Hunter Street West live local music showcase on Friday, June 30 starting at 4 p.m. with Washboard Hank followed, in order, by Mayhemingways (Josh Fewings and Benj Rowland), Rick Fines, Melissa Payne and the full blues sound of the brassy Rocket Revue, joined by Juno Award-winning guitarist Jack de Keyzer and harmonica master Jerome Godboo.
Earlier, throughout day and night on Thursday, June 29th, Downtown Pop-Up will feature performers doing their thing at a number of downtown venues, inside and out. There are some familiar names here — Danny Bronson, Sean Conway, Bobby Watson, Mike Graham, Rick & Gailie and The Citiots Improv comedy troupe led by Ray Henderson are among those scheduled.
"Downtown will be animated and a lot of fun," promised Guiel, standing in front of a banner highlighting the event theme, Celebrate At Home.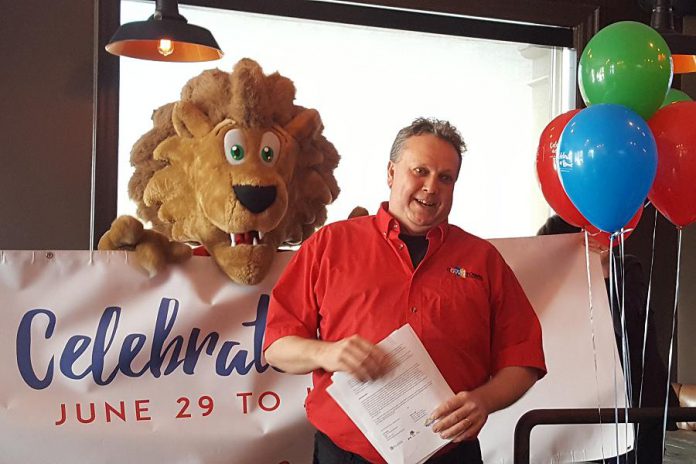 But it's not just about music over the two days. Local media and visual artists will also highlight their talents on June 30th via a showcase initiative presented jointly by the Electric City Culture Council (EC3) and Artspace. Themed "New Visions, Old Land", four new commissioned works be featured, again on Hunter Street West west of George Street.
"I think each of the works is going to bring something new and different to the idea of what it means to be a Canadian; what it means when we say the word 'Canada,'" said Su Ditta, EC3 executive director.
"This a great chance to give them an opportunity to really think about new visions for a very old land. We wanted to bring something more futuristic to the celebrations, so part of the challenge of these commissions will be to think about the future and link our past with it."
"We have a lot of award-winning visual and media artists here. I think they're not as well known as musicians. (Trent University president) Leo Groarke, speaking at our AGM two years ago, said even when he wasn't living in Peterborough, he knew we had a reputation for punching way above our weight when it comes to arts and culture. This is a city of 80,000 people and we probably have 40 professional arts organizations. That's a pretty high ratio."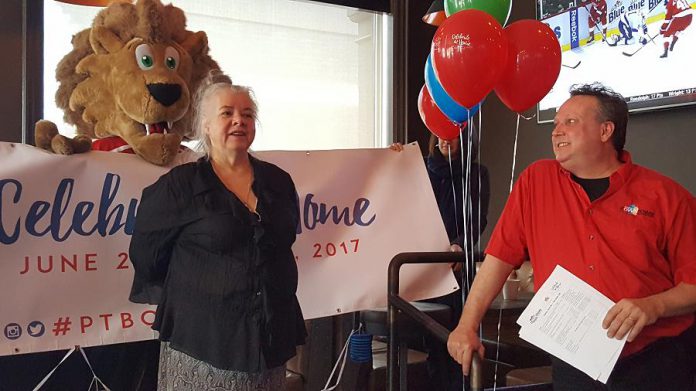 Each piece, she explained, can only be five minutes in length and each artist will have funding to commission live musical or sound performance as part of their piece. As well, Artspace is donating the services of its media lab, which equates to free technical support and equipment use.
Getting all well into the right spirit at the reveal was Fines, who performed "This One Day", a track on his latest album Driving Home. He said afterwards that he's "thrilled" to be asked to perform as part of The Bash 150.
"Over the last eight years, I've literally gone from Bonavista (Newfoundland) to Vancouver Island, from the Arctic Circle to the Great Lakes, every year. I love this country, especially The North, so to be involved with the anniversary is a treat and an honour."
VIDEO: Rick Fines performs "This One Day" at media announcement (video: Jeannine Taylor)

Those planning ahead are reminded the two-day DBIA-presented portion of the celebration represents just half the schedule.
Peterborough Musicfest has announced that Canadian rock/pop music icon Kim Mitchell will open its 31st season Saturday, July 1st at 8 p.m. at Del Crary Park, followed by fireworks. Earlier that same day, Peterborough's Canada Day Parade will roll on George Street starting at noon and the annual Multicultural Canada Day festivities will held, also at Del Crary Park.
And, on Sunday, July 2nd — if you still have any energy — the Peterborough Museum atop Armour Hill will host Heritage Day activities for the entire family.
For more details on what's scheduled over the four days, and when and where, visit www.peterborough.ca/PTBO150.
---
Thursday, June 29 – Downtown Pop-Up
| | | |
| --- | --- | --- |
| Event | Time | Location |
| Indigenous Celebration – The Gathering for Youth of Nogojiwanong | 10 am – 12:30 pm | Millennium Park, 1 King St. |
| Canada 150 Kick-Off: Public Energy and PSO String Quartet presents Unity Indigenous Vocal Ensemble with Dancer Jade Willoughbyt | 12 – 2 pm | Millennium Park, 1 King St. |
| Celtic Harp Trio (Tanah Haney) | 1 – 3 pm | Simply Delicious Bistro & Bakery, 191 Charlotte St. |
| Peterborough New Horizons Band | 3 – 4 pm | Peterborough Square Courtyard, Water and Charlotte streets |
| Peterborough Concert Band | 4 – 6 pm | Peterborough Square Courtyard, Water and Charlotte streets |
| Peterborough Pop Ensemble | 6 – 7 pm | Peterborough Square Courtyard, Water and Charlotte streets |
| Live chainsaw carving with Champion Chainsaw Woodcarver Steve Kenzora | 3:30 – 4:30 pm | City Hall front steps, 500 George St. N. |
| L.I.V.E Peterborough – Young Musicians Showcase | 4 – 9 pm | The Spill, 414 George St. N. |
| Free Caricatures by artist Jason Wilkins | 3 – 6 pm | Natas Café, 376 George St. N. |
| Country Music Artist Dean James | 5 – 8 pm | Champs Sports Bar patio, 203 Simcoe St. (Charlotte Mews) |
| Danny Bronson: Gordon Lightfoot Tribute | 5 – 8 pm | The Brickhouse Craft Burger Grill patio, 123 Simcoe St. |
| Rob Phillips Jazz Trio | 5 – 8 pm | Kettle Drums patio, 224 Hunter St. W. |
| Sean Conway | 8 – 11 pm | The Garnet, 231 Hunter St. W. |
| Acoustic Rock Duo Travis Berlenbach and Josh Gontier | 6 – 9 pm | Riley's Pub rooftop patio, 251 George St. N. |
| Blues and R&B with Bobby Watson | 7 – 10 pm | Historic Red Dog patio, 189 Hunter St. W. |
| Bring Your Can-Con (Canadian Music Contest), Hosted by The Wire Megazine | 4 – 9 pm | Dr. J's BBQ & Brews, 282 Aylmer St. N. |
| Interactive Art Experience | 6 – 9 pm | Gallery In The Attic, 140 Hunter St. W., 3rd floor |
| Mike Graham Gypsy Jazz Trio | 7 – 10 pm | The Lounge by Lignum, 442 George St. N. |
| Citiot's Improv – Comedy Troupe (adults only) | 7 – 9 pm | Catalina's, 131 Hunter St. W. |
| Elements – Live Fire & Circus Show | 7:30 – 9 pm | Millennium Park fountain area, 1 King St. |
| Canadian-Themed Event | All Day | Hunter Street Books, 164 Hunter St. W |
| Oldies with the Rick & Gailie Band | 5 – 8 pm | The Blackhorse Pub, 452 George St. N. |
Friday, June 30 – The Bash 150
Event
Time
Location
Electric City Culture Council (EC3) & Artspace present
"New Visions/Old Land" – a Media Arts Exhibition
10 am – 4 pm
Peterborough Square Courtyard, Water and Charlotte streets
Live and Local Lunches with Catfish Willie & Washboard Hank
12 – 1 pm
Peterborough Square Courtyard, Water and Charlotte streets
Colouring Contest hosted by Peterborough Public Library
3 – 6 pm
Peterborough Square front entrance, 340 George St. N.
Tim Holland – The Puppet Tamer
3 – 3:30 pm
4 – 4:30 pm
5 – 5:30 pm
Peterborough Square front entrance, 340 George St. N.
Free Canadian-Themed Face Painting from Faces By 2
4 – 8 pm
Millennium Park, 1 King St.
The Paddling Puppeteers
5:30 – 6 pm
Millennium Park, 1 King St.
J's Magic – Children's Magic Show
6:30 – 7 pm
Millennium Park, 1 King St.
Ben van Veen Summer Family Film Series – children's movie in the park
Dusk
Millennium Park, 1 King St.
Friday, June 30 – The Bash 150 Street Dance
| | | |
| --- | --- | --- |
| Washboard Hank | 4 – 5 pm | Hunter St. W. |
| Mayhemingways | 5:15 – 6 pm | Hunter St. W. |
| Rick Fines | 6:15 – 7 pm | Hunter St. W. |
| Melissa Payne | 7:15 – 8 pm | Hunter St. W. |
| The Rocket Revue – Featuring Jerome Godboo and Beau Dixon | 8:15 – 10 pm | Hunter St. W. |