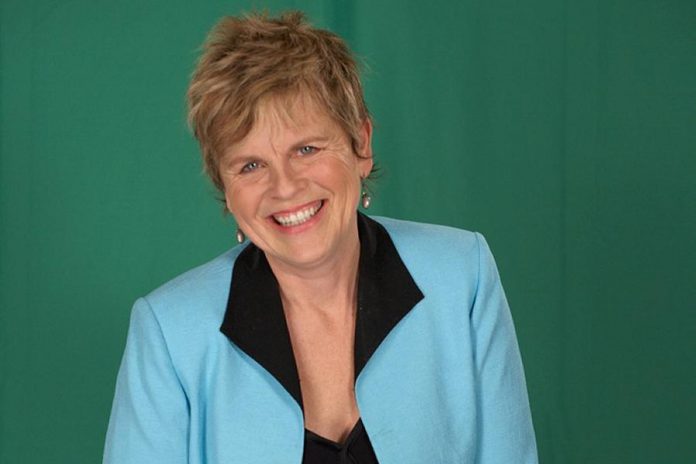 While teaching a writing workshop, Toronto-based writer and comedian Deborah Kimmett received a message that her younger brother Kevin had been diagnosed with cancer. The unexpected journey that followed has become the basis for Deborah's brand new one-woman show The Year of The Suddenly.
Directed by Linda Kash, the show is being called part standup comedy and part eulogy. Deborah, a Second City veteran and a regular on CBC Radio's The Debaters, will perform her monologue at Catalina's in downtown Peterborough for one night only on Saturday, June 3rd.
"I was in the middle of teaching a writing class about the word 'suddenly' when suddenly my whole life changed," Deborah recalls. "So, as a writer, I was trying to write this story in my head as it should go. But as I started getting closer, it didn't go that way at all."
"The Year of The Suddenly is this journey of how I got the news that my brother had cancer, and I thought I was going to bring the casseroles and be a good sister. But I ended up having this other thing happen with my brother."
Deborah admits that, despite knowing her brother his entire life, she really didn't know him at all. The show she has written is about the new relationship created between herself and her brother at the end of his life.
"The premise is that this is a love story with a person who I didn't know very well my entire life," Deborah says. "One of the lines I use is 'I found the brother I didn't know I had.'
"You have this incredible love for your family, but you think you have enough time to be indifferent. It's not that you hate anybody, but you put them in a category and they put you in a category. And then, a lot of people move around now, so you may have moved away twenty years ago, but your family still thinks of you the same way you were when you left.
"You just think you have time to not work this stuff out. I didn't think in a million years this story would evolve the way it did. It was a surprise to me as a person that I could feel the way I felt towards my brother, in terms of the way it shifted in our relationship."
Although the show deals with her brother's illness, Deborah stresses that The Year of The Suddenly is not a show about cancer: it's about the relationship that formed between two siblings in a backdrop where time is running out.
"At first I was just writing about what that process was all about because it was absolutely epic," Deborah explains. "But as I got into it more, I realized it was about a brother-sister journey and not a cancer story at all. I really don't deal with my brother's treatments.
"It's also about that idea of when are you going to show up for life as it is. It was like there was a time limit, so we had to make our peace. But I had no idea of the things that were going to happen that were going to challenge me."
Part of the development of the show came from notes that Deborah kept after having phone conversations with her brother during his illness. It was through these conversations that she began to get to know Kevin in a way she never had before.
"We got to know each other through a series of phone calls, and after we'd get off the phone I'd write these things down that he'd say because they were so profound," Deborah says. "I asked him if I could write them down and he said yes, because he wanted people to know what he could see now that he couldn't see before in his life.
"He was an engineer and he was just an amazing guy. He was very smart and very funny and had a lot of wisdom. Even at the very end, he had a lot of insight into life. That was a surprise for me — not knowing him at that level until the end."
For the past few months Deborah has been traveling to Peterborough to develop the show with Linda Kash, and she performed an excerpt in April at Linda's annual fundraising event for Hospice Peterborough called "Paul's Left Ball", which also celebrates the life of Linda's late husband Paul O'Sullivan, who died in a tragic car accident in 2012 at the age of 48.
"Linda has been good to work with because she lost her husband and we just knew the sensibility that we wanted to have about it," Deborah says. "This is not just some sort of 'precious piece.' When these things happen it brings out the best and the worst in people. It's been fun to develop it with Linda because she has that same sensibility."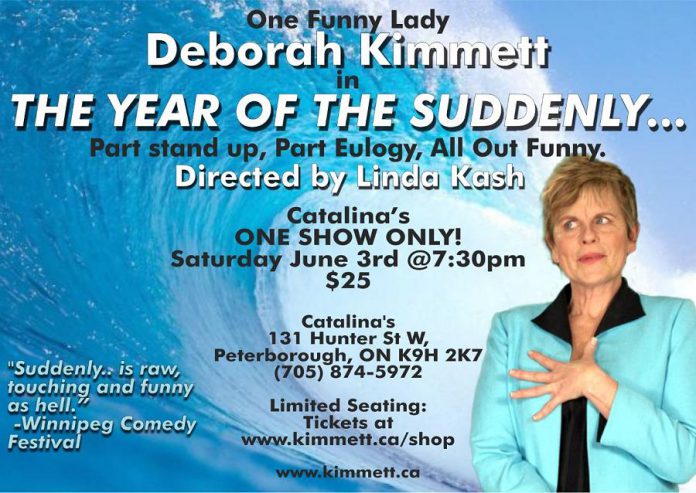 Although cancer and loss are sensitive topics, Deborah has also been able to find comedy in the story.
"This show walks that tightrope between humour and drama because everything is heightened by what's going on," Deborah says. "Where the comedy comes in is when life doesn't happen as you plan it. We have expectations of ourselves when someone is sick, and we also have expectations of how a dying person should act. It never goes the way you thought, and life is often very messy.
"I don't think you can make jokes at the expense of a person, but I think it's always funny that in the middle of something so tragic there can be the most ridiculous behavior that happens. I make fun of how badly we treat things. The humour comes in the human condition butting up against something serious. There's humour in how we are all incompetent in how we soothe and comfort each other at the time that we need it the most. As a comedian, I find the humour in my own incompetence and then I laugh at that."
Deborah will be premiering the show in Toronto at Second City's John Candy Box Theatre on May 27th and 28th before bringing it to Peterborough on June 3rd. There are possible plans in the works to continue performing it in other cities as well.
All proceeds from the Toronto performances of The Year of The Suddenly will be going to The Kensington Hospice in Toronto. So that Deborah can donate all the ticket proceeds to Kensington Hospice, she has created a crowdfunding campaign to raise $2,500 to help her cover the fixed costs of doing the Toronto shows. You can donate to her campaign at www.gofundme.com/kevin-suddenly.
"Linda says I'm very brave for telling this story," Deborah says. "I don't feel brave. I don't know if it's brave or not. It's just got a lot of nice conversation going on about it already. I just want to work it out and see what we have."
The Peterborough performance takes place at 7:30 p.m. on Saturday, June 3rd at Catalina's (131 Hunter St. W., Peterborough) and will also feature musician Jack Nicholson providing accompaniment. This is a rare opportunity to see a newly developed show in our community before it travels to larger cities.
Tickets for The Year of The Suddenly are $25 and are available in advance from Deborah's website.