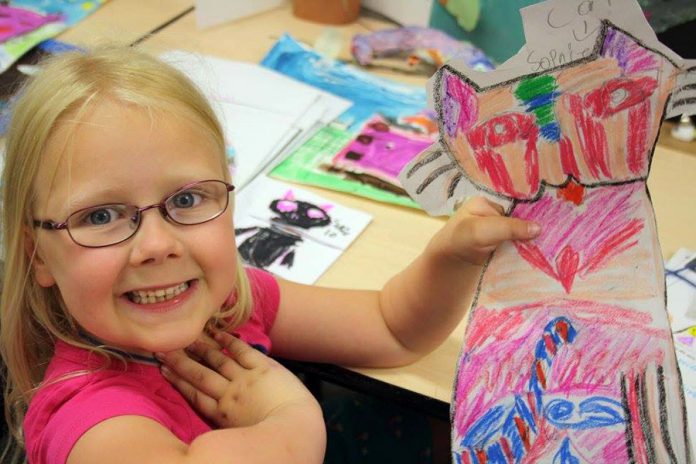 Summer is the time to let your child express themselves and try something new — whether that be ceramic arts, stop motion animation, or horsemanship — and there's no better place to nurture it than these following summer camps in the Kawarthas.
---
Art School of Peterborough aims to connect children with their creativity
Albert Einstein once said, "Creativity is contagious. Pass it on." For Jenni Johnston, Executive Director at the Art School of Peterborough (174A Charlotte Street, Peterborough, 705-742-3221), the quote remains as relevant as ever and is the mantra that drives the school to help shape and build an individual's passion into a creative outlet.
"Many people say 'I'm not creative,' but we are all creative in some way," Johnston explains. "It doesn't mean you have to have a pencil in your hand or a paint brush and canvas.
"People need to get past that and think outside of the box. Creativity takes all sorts of forms and sometimes it just takes another person to bring that out in someone and to show them what they are capable of doing."
For over 20 years, the Art School of Peterborough has been offering the community the opportunity to explore their creativity and build visual art skills. The school is a place where over 500 students per year — children, youth, and adults — channel their imagination in a flurry of colour and texture. This includes their Youth Summer Art Camps that run from July 1st to September 1st.
Over the summer, children ages five to 12 can tap into their creativity through a number of weeklong art programs, led by local artists and instructors, where they can construct and create to their hearts' content that will give them the opportunity to explore new mediums and create personal works of art.
Each week, the camp explores a new theme (we're talking exotic animals, the mighty jungle, world travel, girl power, when pigs fly, the ocean, to name a few), and a variety of materials that allows the children to experiment with painting, drawing, pottery, sculpting, mixed media and crafts. An hour a day is also spent outside doing physical activities in a nearby park.
Johnston says children receive premier art instruction from local artists with high quality art materials, in a friendly studio space, and it shows in the end result of the child's artwork.
"The children use all the materials an artist would use," says Johnston. "You wouldn't expect to see the quality of work that a child can do. A five-year-old can do just as well as a 12-year-old. It's quite impressive."
At the end of each week, the camp culminates in the display of an art show for proud parents.
Unique experiences
She says for children who have not been exposed to new types of art materials, art camp can be very exciting for them as they are trying something unique.
Johnston uses their very popular pottery camp, enrolment of which fills up the fastest, as an example. She explains that clay is not something that is used in public schools, especially clay that needs to be fired.
Children learn a variety of pottery techniques such as pinching, slab-building and coiling. Using a potter's wheel, they also get their hands dirty by forming, shaping and molding soft clay into fantastical whimsical shapes and forms.
They then apply glaze or paint with underglaze to further decorate their projects before taking them home.
"The potter's wheel is fascinating for the children," says Johnston. "They get the opportunity to throw on a wheel and feel the clay move and grow in their hands."
Benefits of art
Johnston says that while children are having fun, they are also improving social and motor skills, personal expression, and visual communication.
"With life in general, sometimes it's easier for children to express themselves through a drawing, for example, than it is with words," Johnston says.
"Some children really struggle and need art to function and filter through things. Because of that, I do hope that parents see the benefit of children expressing themselves through various forms of art."
Johnston says their summer programs are continuing to grow. In the past three years, the art school has doubled in camp enrollment now teaching up to 400 children in the summer.
If you are interested in registering your child, act fast as spots are filling up quickly.
If you become a member, you can receive a 10 per cent discount off camps, courses, and workshops for an entire year from the date of purchase.
2017 Youth Summer Art Camps Schedule
Here's the schedule for summer art camps, with the number of spots available as of the date of this story. For program descriptions and fees, follow the links below or visit the Art School of Peterborough website.
July schedule
August schedule
Follow the Art School of Peterborough on Facebook and Twitter.
Six reasons to horse around at Partridge Horse Hill summer camp
When you sign up for summer camp at Partridge Horse Hill (531 Hwy 35, Pontypool, 905-852-4665), you experience way more than riding: you discover partnerships with horses.
At the Partridge Horse Hill equestrian facility, campers ages seven to 18 have opportunities to develop a special partnership with their horse, learning to work together as a team both on the ground and while riding, expand their knowledge of horsemanship, improve their riding skills, and meet new friends.
Did we mention kids get to work with equine movie stars?
Here are six reasons you should sign your child up for Partridge Horse Hill Summer Camp.
1. Build partnerships
Partridge Horse Hill is the only summer camp in Ontario to teach a method called Harmony Horsemanship, a combination of natural horsemanship techniques that use communication and leadership rather than fear to train horses, and centred riding skills to help riders be in balance with their mounts.
Campers are taught how to connect with horses, to gain their trust and respect, explains Lindsey Partridge, trainer and owner of the equestrian farm.
"We teach campers how to connect with their horse, how to understand their horse, and how to play with their horse on the ground and in the saddle so they can have a safer and better riding experience," says Partridge.
"We don't use crops or spurs on the horses. Instead, we use a lot of positive reinforcements."
Each camper is paired with a horse for the entire week.
"That's their horse for the week. They get to bond with it and do everything with and for that horse including riding, brushing and feeding the horse, as well as cleaning the equipment that the horse uses.
"This gives the kids a deeper and more comprehensive experience and bigger picture of what it's like to have your own horse."
2. High safety standards
The camps are taught by experienced and professional staff, who all have knowledge of harmony horsemanship and reinforcement-style training.
Riding instruction requires one coach for six students, and they often exceed safety standards by having two staff assigned to a group of six students.
With beginners and young children, their support ratio is often one to one or one to two.
3. The most time with horses
Other than breaks and lunch, campers spend all day with the horses doing a variety of riding and ground activities, such as roping, jumping, bareback riding, games, trust-building exercises, obstacles courses, and western-style events.
Campers learn how to get their horse from the paddock safely, get the horse ready to ride, play with them on the ground, and ride.
Beginners will get a lot of supervised play and riding with horses to boost their confidence and help them learn. Advanced riders will get time to practice more advanced skills.
"Everything about our camp is all about horses," Partridge explains. "There is no craft time or barn work like the other camps. For the child, it's all about caring and bonding with their horse over the week."
4. Obstacle Park
Release your inner cowboy or cowgirl at the farm's obstacle park, the ultimate place to play with horses.
It's reserved for the western-style lessons like the mountain trail or extreme cowboy activities including bridges, ditches, water crossings, rock scramble, and a cave.
"The obstacles are set the way they are to challenge the trust, bond and confidence between the horse and the rider, and test their abilities," says Partridge.
"It basically takes riding and leading the horse to a new level because they're navigating an obstacle. Whether its logs they have to walk over or a ditch they have to drop down into, a camper can do it on the ground or in the saddle."
5. Hang out with movie stars
Meet Dreamer, Kahleesi, and Angel — the equine celebrities you'll find at the farm.
When they're not stealing the spotlight on the set of an upcoming movie called The Ranch, the thoroughbreds can be spotted posing for photographs with campers on the farm.
A promotional poster for the recently released movie Unbridled, where palomino quarter horse Dreamer has a starring role, is on display at camp showing the horse hugging the main actor.
Partridge says sometimes they let the campers sit on a chair and have Dreamer approach them for a cuddle — reenacting the poster for a photo op.
"Our horses make great movie horses because they are so well trained and safe around people."
6. Build your child's confidence
There are many physical benefits for children linked to horse riding including strengthening their muscles and improving balance and coordination. "It's a full week of physical activity so the kids are feeling energized while at the same time being really active and engaged," says Partridge.
She says learning to ride such a large animal can be really empowering for children and also helps build their confidence, leadership and communication skills, and body language.
"Horses constantly respond to a rider's body language and campers learn to work in sync with the horse. At the end of the week, kids are much more aware of their body language around horses," says Partridge.
2017 Partridge Horse Hill Summer Camps Schedule
Novice Camp
Ages 7-15 — July 10-14
Gives campers a variety of experience with horses including ground games, English-style riding, Western-style riding, riding games, jumping, and horse care. It is intended for campers that are comfortable being around horses. If you have been to camp before or done riding lessons, then this would be suitable for you.
Novice – Intermediate Camp
Ages 8-16 — July 24-28
Geared to kids that already have some riding experience and can, at a minimum, confidently ride at the trot. Campers will get to make a goal for the week (jump, try bareback, etc.) and will do a variety of activities as they try to accomplish their goal.
Novice – Intermediate Camp
Ages 8-16 — July 31- August 1
Geared towards riders that have experience already and can, at a minimum, ride confidently at the trot. Campers will get to try a variety of skills from English to Western-style riding. They can set a goal at the beginning of the week and work towards achieving that goal.
Young Kids Camp
Ages 6-10 — August 8-11
Geared to our youngest riders and beginners. We have the most staff on hand for this week so that riders get one-on-one attention and have a lot of time to learn safely in small groups.
Jumping Camp
August 14-18
Teach campers about jumping from a variety of lessons such as jumper, hunter, free jumping, confidence building, and more. Riders can be experienced jumpers or new to jumping and want to give it a try. This camp week is best suited for campers that are confident riding, walking and trotting at a minimum.
Teen Camp
Ages 12-18 — August 21-25
Available for just for teens or pre-teens. Campers get to choose a goal for the week to accomplish and will take part in a variety of activities like bareback, jumping, obstacles, and games. This week is about fun with friends and horses!
Registration
For prices and to register online, visit www.partridgehorsehillsummercamp.gr8.com.