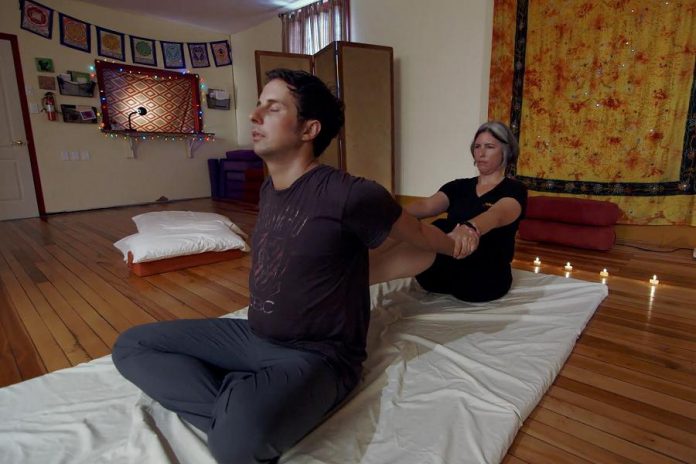 The Township of Asphodel-Norwood is featured in the next episode of the popular CBC Television comedy series Still Standing, to be broadcast on Tuesday, August 22nd.
The series stars comedian Jonny Harris, who has been travelling across Canada to explore small towns that are "on the ropes" and meet with the people who, despite economic hard times, remain fiercely proud of their communities.
Harris and his 14-member crew spent a week in Asphodel-Norwood last September, culminating with a stand-up show at the end of the week at a packed Norwood Town Hall.
VIDEO: Trailers for Still Standing Norwood episode


If you can't see the video above, you can view it at www.cbc.ca/stillstanding/episodes/season3/norwood-ont.
In the episode, Harris visits local businesses and attractions including Wavelengths Yoga Studio, the Eastern Ontario Fire Training Academy, the Indian River Reptile Zoo, the Norwood Fair, and Entomo Farms — famous for raising crickets for human consumption. He also talks about the community's struggles to keep Norwood District High School open and meets with a local family.
Located east of Peterborough, the Township of Asphodel-Norwood had a population of 4,109 in 2016. It was created in its current form in 1998 when the township of Asphodel and the village of Norwood were amalgamated. Members from rock bands 3 Days Grace, Art of Dying, and My Darkest Days are Norwood natives.
This is the second time in the past two years that Still Standing has featured a small town in the Kawarthas. Last year, they broadcast a show about Omemee.
Harris, who is a native of Newfoundland, also plays Constable George Crabtree in CBC Television's Murdoch Mysteries series.
The show will be broadcast on CBC Television at 8 p.m. on Tuesday, August 22nd. After the broadcast, you can also watch the episode online at www.cbc.ca/stillstanding/episodes/season3/norwood-ont.