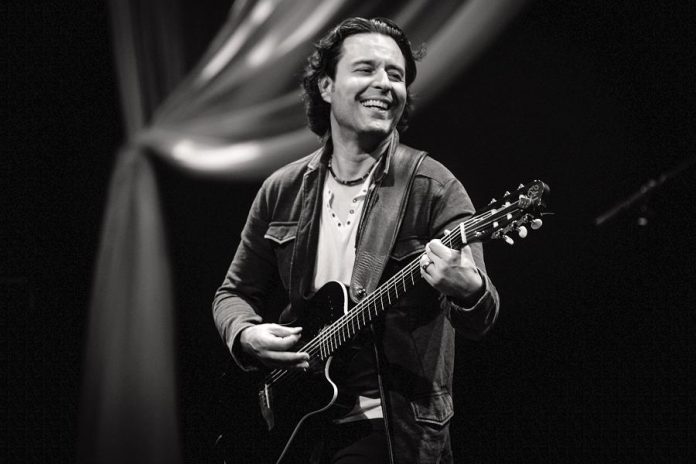 Rob Tardik is on a mission.
Truth be known, the multi award-winning guitarist has been has been hard at it for more than 20 years now, his goal simple but dripping with sincerity: expose as many people as he can to a form of "feel good music" that they're not typically exposed to.
That odyssey will bring Tardik and his music industry-hailed contemporary jazz/word music talent to Market Hall Performing Arts Centre on Saturday, September 23, with Peterborough's Mary-Kate Edwards singing two of his songs.
Tickets to the 8 p.m. show, a Market Hall Presents offering, cost $25 ($30 for cabaret table seating) at the box office, by phone at 705-749-1146, or online at www.markethall.org. Tickets are also available (cash only) at Moondance (425 George St. N., Peterborough, 705-742-9425).
"People are kind of force fed a diet of pop-driven music by the major radio stations," says Tardik, who recently captured first place in the instrumental category as presented by the International Acoustic Music Awards.
"I'm just really trying to expose people to an eclectic sound featuring a lot of different styles that they might not ever hear. You don't hear instrumental music. You have to go to a CBC channel or maybe Jazz FM in Toronto. If anything, I call my music pop instrumental with jazz and world and Latin influences."
VIDEO: Instrumental Guitarist Rob Tardik's Voyageur Music Video (2017)

However Tardik defines his sound, there's no denying it's a sound that has clearly resonated. With his sixth album, Synergy, set for release on November 3rd, he's continuing a progression that fully evolved with his 2011 recording B.E.L.L. — his "life acronym" that stands for Balance, Energy, Laughter, Love.
"When people come to a show, they really want to get a little bit of relief from their life," Tardik says. "They want to get away from their work and whatever else is going on and be transformed.
"I want people to leave on a positive note. I want to leave people with some balance, energy, laughter and love that they can bring to their lives that leads to limitless opportunities for them. We can all get to that bright spot in our lives, our dreams, but we've got to open those doors.
"Sometimes they're only slightly ajar but you've got to go after it. That led me to Moments, my fifth album. By trying to find B.E.L.L. at the right time, by taking risks and being limitless in our perseverance and hard work, that will present great moments in our lives."
VIDEO: "Moments" – Rob Tardik

Terming his discography "a tell-tale autobiography" with the theme of each album giving a clear indication of where he was at creatively and personally at the time of release, Tardik explains that Synergy speaks to what he's "collectively done" to this point in his life.
"B.E.L.L. is a synergy; all the elements coming together. Any moment in our lives is a synergy of many different things coming together to create that moment. The world needs more synergy. I'm trying to do musical moments. That's really where I'm at with this show."
Tardik is no one-trick pony. Currently a member of the guitar faculty at Centennial College of Applied Arts in Toronto, Metalworks Institute in Mississauga and the Merriam School of Music in Oakville, he's as much about educating others as he is performing. But make no mistake — songwriting is a passion-fueled obsession that excites him like nothing else.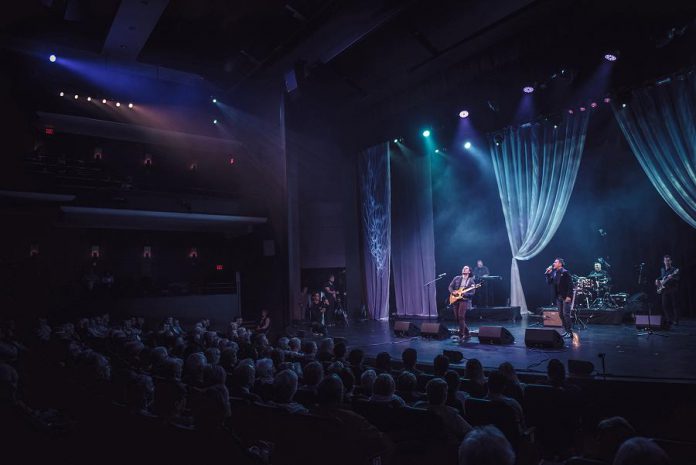 "I've had so many nights where I've jumped out of bed and wrote down a lyric or just jotted down ideas," he laughs.
"My excitement is bringing these to fruition, from album to album, and seeing the progression of my songwriting growth. I get excited when I have a little seed of something. I have a guitar in our living room. It's my main songwriting guitar; an old Yamaha classical guitar I bought for 300 bucks when I was 15. I actually recorded with it on the last album for the first time.
"On this album I recorded with it again because I wanted it to be immortalized. It has been such an important guitar to me. That guitar is the one I've done all my songwriting on. It has some kind of energy to it — the riffs come out, the melodies come out."
Reflecting on his upbringing in Etobicoke, Tardik clearly recalls there being music in the family home. His grandfather played guitar and his father played trumpet. In fact, in his native Hungary, his father performed after work on barges on the Danube River. Later, he exposed his son to genres of music beyond the pop realm such as bossa nova, Latin, flamenco and jazz.
"At a young age I just knew I wanted to play guitar," says Tardik.
"I didn't know where it would take me. If I could play my guitar and make a living, somehow turn this into a career where I could earn money from it, that was really where I was at. I wasn't naturally gifted or talented. I had to work hard and practice. But having a knack for writing original songs, maybe that was something I had in me that was unique. I just heard melodies in my head and still do. It's just the way I'm wired. I tell people I'm not crazy. I just hear things a lot."
Tardik has clearly heard the right things. In 2016, his songs "Christmas Moments" and "Eros (Passion)" debuted as the most-added tracks on the Billboard U.S. Smooth Jazz charts; his 2013 single "One World" zoomed to the top of that chart and stayed there for three weeks; and, in 2010, he captured Canadian Smooth Jazz Guitarist of the Year honours.
"It's great to go to the studio; grab some coffees and snacks for the day and hunker down. It's almost like 'OK, I've got to go to my job today.' But the live experience, sharing all that hard work, is equally important to me. You get up on stage and people hear all these little ideas and dribs and drabs that have come out, and I've got five, six, seven people synergizing.
"Originally it was just a little thing I hummed at five o'clock in the morning. It's surreal. You plant one seed and you get a whole crop from it. We just keep working and cultivating and nurturing in the studio, giving it all the energy it needs to do its thing."
VIDEO: "Eros" – Rob Tardik

Looking ahead to his Peterborough show, Tardik is excited to return to what he terms his second home. His family spent many summer days at a friend's cottage on the Otonabee River. Later, his parents bought and restored a cottage off Greenwood Drive that was once owned by the late Margaret Laurence.
"I'm not just coming to Peterborough and passing through. I have a real distinct tie to the region and I have some stories to tell. People there don't know Rob Tardik. My dad was not a celebrity of any kind. We were a family that owned a cottage like many other people. I just want people to have a good night enjoying some music."
"I look at my college students and I ask, 'Why are we here? What is the purpose of everything you see in this room?' The bottom line is it's about a song. Everything in music is to do with a song. That's what moves people. Music moves people of all ages. What's a guitar do? The strings are there to play a song. That's what it's all about in one word — a song."
"I really appreciate Market Hall taking a chance. Most of the acts passing through there have a sound that people know. A lot of times, if you want to hear jazz or Latin or world music, you're going to have a tough time finding it in small towns."
While in the city on September 23rd, Tardik will indulge his lifetime goal to educate by hosting a free guitar clinic from 4 to 5:30 pm. at Long & McQuade at Aylmer and Townsend streets. To register, call store manager Daryl Guy at 705-742-5332.