This month, Eva Fisher talks tarty tourism with the people behind the Butter Tart Tour Taste-Off, learns how Newcomer Kitchen is building community through food, tries some innovative flavours at Kyoto Coffee, and explores authentic clay oven dining at The Imperial Tandoor.
---
Butter Tart Tour Taste-Off this weekend
Get ready for the sugar coma — it will be worth it. The fifth annual Butter Tart Tour Taste-Off will be held at the Morrow Building (R.A. Morrow Memorial Park, Peterborough) from 9 a.m. to 1 p.m. this Saturday, September 23rd.
Judges will include Peterborough-KawarthaMP Maryam Monsef, who hails the butter tart as a point of pride for the Peterborough area.
"We have so much to offer here in Peterborough-Kawartha and this array of award-winning butter tarts is just one more delectable thing that puts our beautiful region on the map."
Tarts will be judged in five categories according to the following schedule:
9:00 a.m. – Best Plain Butter Tart
9:45 a.m. – Best "Canadiana" Butter Tart
10:30 a.m. – Best Gluten-Free Butter Tart
11:15 a.m. – Best Emerging Baker (for new bakers on the tour)
12:00 p.m. – Best of the Best (past winners compete in this category)
The "Canadiana" category features butter tarts with a Canadian theme, including one named after Justin Trudeau — a cross between a morning glory muffin and a butter tart to honour our health-conscious Prime Minister.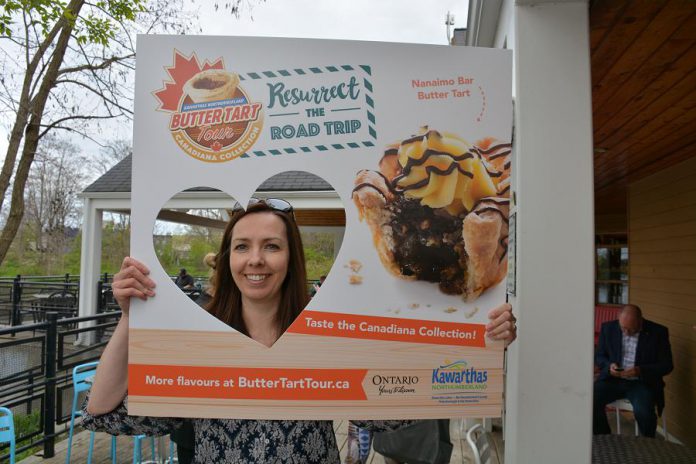 Brenda Wood, Executive Director of Kawarthas Northumberland (RTO8), says that butter tarts are a great way to encourage tourism because they are so ubiquitous: whether you're visiting the Warsaw Caves, Kawartha Country Wines. or taking in a play at the Fourth Line Theatre, there's a cool little independent bakery nearby handcrafting tarts.
"We have so many locations that make their own tarts, many of them with recipes that were handed down through generations," Brenda says. "It's something that is certainly Canadian. Each bakery makes them individually by hand, so it's just a really good fit."
Brenda adds that people visiting for butter tarts will also take in other local attractions.
"It gets people going to a location. They're piqued by sampling a butter tart, but then they can explore what else is around that bakery. Looking at the great places to stay and the trails and the Trent Severn Waterway, there's fishing, there are wonderful arts. It piques their interest to come and sample a butter tart and we're hoping that it will encourage them to explore farther and stay longer."
For more information about the Butter Tart Tour, visit buttertarttour.ca.
Newcomer Kitchen Peterborough creates community through food
Newcomer Kitchen is a new project designed to empower and support Syrian newcomers through cooking.
Reem Ali, Community Development Worker with the New Canadians Centre, is the project lead for Newcomer Kitchen. She says that eating brings people together because it's a universal experience.
"No matter where you are from eating is something that you do together with other people. It's something that we all depend on for comfort during different times in our lives."
Reem says that Newcomer Kitchen is based on a similar project in Toronto.
"The aim was to expand the project so that it can be replicated in any city."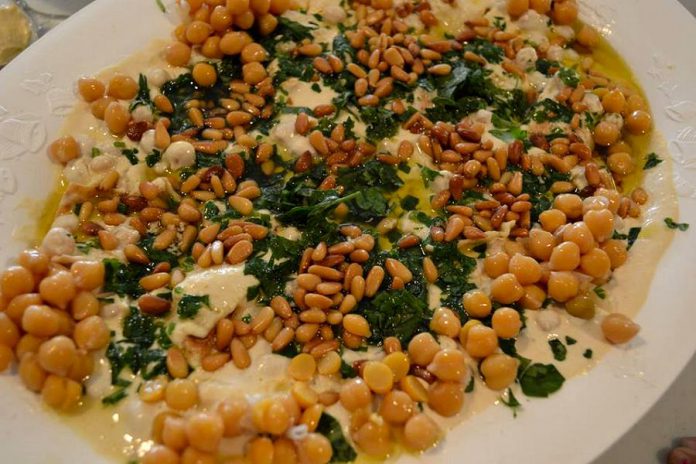 The program is designed to equip newcomers with business skills and some English language skills through practising in the workspace, but Reem says that fostering togetherness is a key part of the program.
"We provide them with a safe space to come together and create a small community for themselves."
This may ultimately evolve into a social enterprise run by the women involved, but Reem notes that "it's really early to say what the structure is going to be like."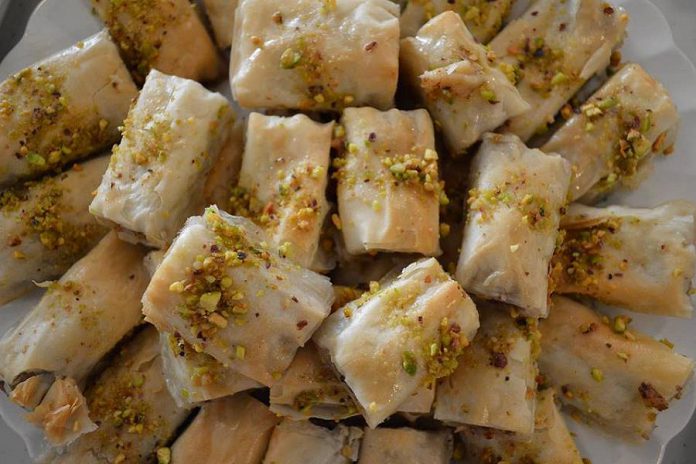 For now Reem is happy to help create a space to create and share delicious food.
"For these women, for them to be able to provide authentic Syrian food that is healthy, that is accessible, that is conveniently affordable for everyone, it's something that they're happy to do and to be able to share with everyone in the community."
For more information about Newcomer Kitchen Peterborough, visit www.facebook.com/groups/NewcomerKitchen/.
Kyoto Coffee makes flavoured coffee for people who can't stand flavoured coffee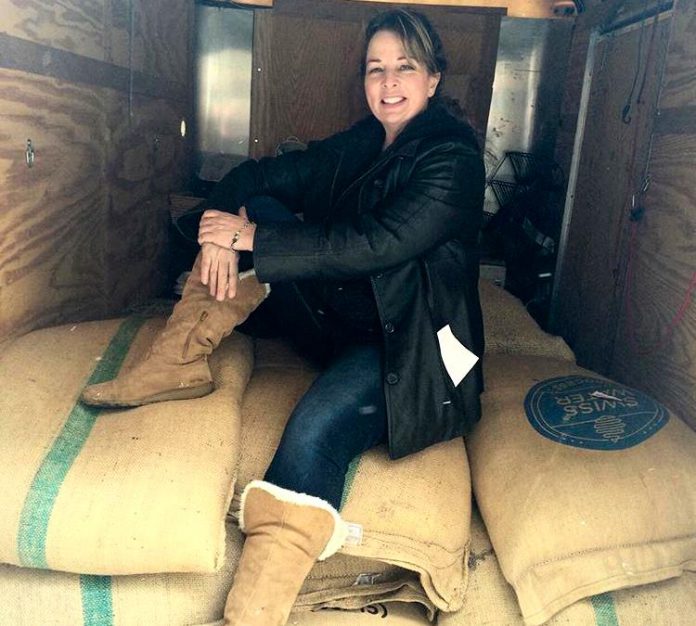 To some, flavoured coffee is a sin. Others can't wait for their morning cup of Irish Cream roast. Tracy Cosburn of Kyoto Coffee (2621 Lakefield Rd., Lakefield, 705-745-7329) is bridging that gap with complexly flavoured roasts made with authentic ingredients, not fragrances and flavours designed to obscure the taste of the coffee.
Tracy currently makes "about ten" flavoured coffees. When it comes to flavoured coffee, Tracy is uncompromising.
"I won't flavour a coffee unless I can do it naturally."
Her cinnamon coffee is tossed in a cinnamon oil that Tracy makes herself. She also adds a sugared cinnamon and a ceylon cinnamon to achieve complexity of flavour.
"There are layers of cinnamon."
She also makes a caramel peanut coffee. For that she makes a caramel oil, derived from a candy recipe her mom taught her, a carefully guarded recipe. She then adds powdered peanut butter and a peanut butter oil to complete the flavour. She says that this approach is contrary to popular flavouring methods.
"Most flavoured coffees smell really good, but they don't taste like anything. That's because there's not actually any real product in the bag. It's a chemical spray."
Kyoto Coffee is a coffee roaster and purveyor with a focus on environmental sustainability (the name is a nod to the Kyoto Protocol). Tracy and her team roast a variety of coffee with an emphasis on beans from organic, sustainable farms, and they strive for no waste packaging.
In addition to their flavoured offerings Kyoto Coffee currently carries 31 different varieties of coffee, with 16 additional blends and seven Swiss water decafs.
For more information about Kyoto Coffee, visit www.kyotocoffee.ca.
The Imperial Tandoor offers authentic clay oven cuisine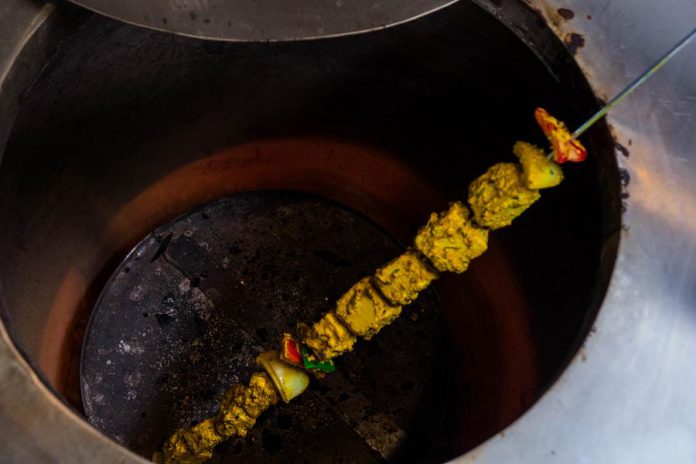 Meat cooked on a tandoor has a signature taste: when done right, it's tender and juicy with a subtle smokiness. Garlic naan and naan bread cooked fresh in the clay oven are deliciously chewy and slightly crisp with a hint of char.
Jim Grover, owner of The Imperial Tandoor (554 Lansdowne St. W., Peterborough, 705-874-5111) has brought an authentic and immersive tandoor experience to Peterborough. Guests can watch the chefs cooking in the tandoors through a showcase window.
"While they're dining, they can see the chef baking bread right before their eyes."
According to Jim, the butter chicken is one of the most popular menu items.
"We cook the chicken in the tandoor oven, then they mix it with the sauce. The amount of preparation, the amount of effort and the amount of spices that go into creating those special flavours is what makes it special."
Jim also recommends the Bengal fish curry and the lamb rogan josh.
While Jim is now a Canadian citizen, he felt that a restaurant was a great way to share his Indian heritage with the community.
"I come from India. India is known for its rich culture, food and hospitality. I can not think of a better way than a restaurant to present that experience to this great Peterborough community."
For more information about The Imperial Tandoor, visit www.imperialtandoor.com.