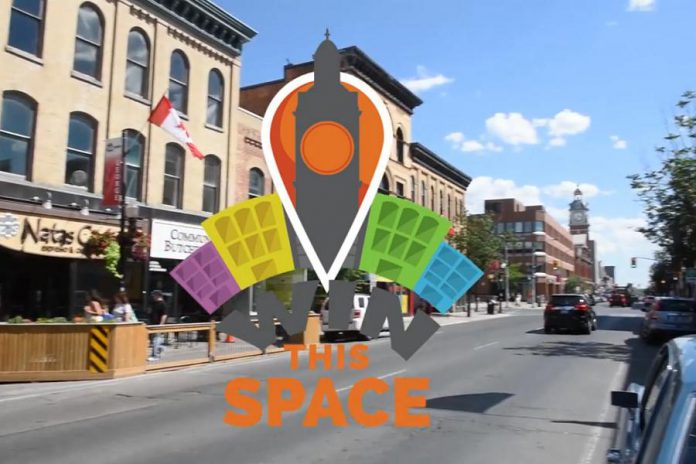 Win This Space, a competition where local entrepreneurs compete for a chance to win a free one-year lease of a downtown Peterborough storefront, has returned for its second year.
The launch event was held earlier today (October 17) at 182-1/2 Charlotte Street in downtown Peterborough — one of the seven spaces available to be won.
The contest is a partnership between the Downtown Business Improvement Area (DBIA), Peterborough Economic Development (PED), StartUP Peterborough, and Community Futures Development Corporation (CFDC), and is supported by almost 40 business, community, and media sponsors and partners.
Entrepreneurs have until 4 p.m. on November 25th to submit a one-to-three minute video pitching their business idea at winthisspace.com.
Entrants must be 19 years of age or older, legally living in Ontario, and have a business as sole proprietorship or in partnership (no franchises, cafes, or restaurants will be considered).
A panel of eight judges will then select the top 10 finalists by November 30th. After attending an orientation in December and three mandatory workshops in January, the 10 finalists will submit their business plans and make their final pitches to the judges in February, and the winner will be announced at The Venue in downtown Peterborough on March 1, 2018.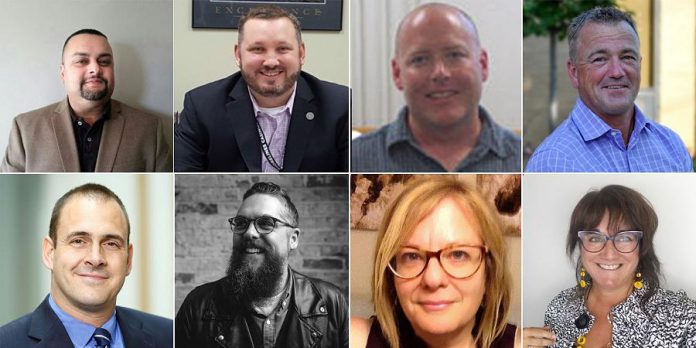 The successful finalist wins her or his choice of one of seven storefronts in downtown Peterborough, with a free lease for 12 months. To cover rent payments for the year-long lease, 12 sponsors will each adopt a month and contribute $2,000 towards that month's lease.
As well as the free lease, the winning entrepreneur will receive products and services from the competition's sponsors totalling more than $40,000.
The eight judges for the 2018 competition are Brij Sahni (Owner, Peterborough Inn and Suites Hotel), Bryan Buchanan (General Manager, Shorelines Slots at Kawartha Downs), Dean Findlay (Chief Building Official, Building Division, City of Peterborough), Jeff Day (Executive Director, Community Futures Peterborough), Michael Konopaski (Managing Director, Inclusive Advisory), Mike Watt (Owner, Flavour Fashion, Plush Boutique, S.O.S. Save Our Soles, Ptbo Northern Originals), Sandy Greenberg (Business Advisory Centre Lead, Peterborough & the Kawarthas Economic Development), and Sofie Andreou (Founder, Sofie Andreou & Associates).
Visit winthisspace.com/about/the-judges/ for more information about the judges.
The seven storefronts available in the 2018 competition are 183 Charlotte Street, 410 George Street, 194 Charlotte Street, 182-1/2 Charlotte Street, 447 George Street, 372 George Street, and 351 George Street #A/1. For more information about the spaces visit winthisspace.com/the-spaces/.
Win This Space concepts have been very successful in other Canadian cities, boosting economic development while stimulating new downtown storefront businesses and creating jobs.
"It's exciting to see all the creative ideas people have for their dream of what they would do with a downtown storefront," says Terry Guiel, Executive Director of the Downtown Business Improvement Area. "Win This Space is more than just filling vacancies or creating jobs, it's about inspiring the next generation of entrepreneurs to take that next bold step."
Tina Bromely of Tiny Greens, which produces edible microgreens, was the winner of the inaugural Peterborough competition in 2017.
Sponsors for the 2018 Win This Space competition are:
Monthly Adopters
Peterborough Downtown Business Improvement Area
Community Futures Peterborough
Peterborough Utilities Group
Atria Development
Ashburnham Realty
Trent University
Monkman Gracie & Johnson Insurance Brokers
Shorelines Slots at Kawartha Downs
Peterborough & the Kawarthas Economic Development
Inclusive Advisory
Gold Sponsors
XXIV Social
Strexer Harrop and Associates
Birchview Design
LETT Architects
Kawartha Local
Birchbark Media
Greater Peterborough Chamber of Commerce
Inclusive Advisory
Sofie Andreou & Associates
Ontario Carpet Supermart
Red X Technologies
Shaw Computer Systems
acorn30
Silver Sponsors
Scotiabank
Chalk Therapy
Numo
Marketing.Ink
Brant Basics
Studio-N
Media Sponsors
kawarthaNOW.com
Peterborough This Week
Oldies 96.7
90.5 Extra
Snapd Peterborough
The Wolf 101.5
CHEX Peterborough
Fresh Radi
100.5
PTBOCanada