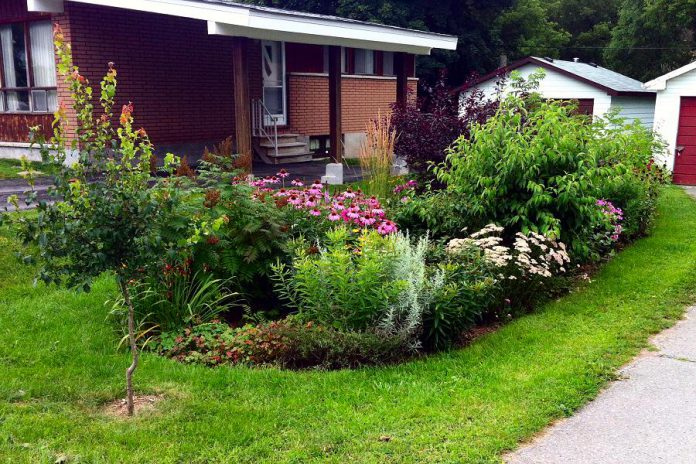 In 2017, GreenUP launched a new program, Sustainable Urban Neighbourhoods (SUN), in two Peterborough neighbourhoods: Kawartha Heights and East City – Curtis Creek.
Through the SUN program, GreenUP is connecting and working with residents, neighbourhood groups, and community partners in these areas to determine green actions that can enhance the aesthetics and canopy shade to enhance residents' well being and health.
Do you live or work in a SUN neighbourhood? If so, we would like to hear from you! There are many upcoming opportunities to learn more and help lead the direction for SUN greening projects.
We will be set up at Peterborough Snofest Carnival Day on Saturday, January 20th, between 9 a.m and 1 p.m. at Armour Hill. We will also be at the Peterborough Sport and Wellness Centre on Monday, January 22nd from 5:30 a.m. until 9:30 p.m.. At both events, we are eager to hear from residents about their concerns and priorities for their neighbourhood and determine how we can help.
SUN connects GreenUP staff with residents to learn about citizen interests and priorities for community enhancement projects. In 2018, SUN will bring residents' ideas to life through planting projects within the two selected neighbourhoods. We are excited to introduce SUN to the whole Peterborough community, and to highlight these two neighbourhoods as examples of how residents can engage in implementing green projects.
SUN offers five types of planting options to naturalize outdoor spaces: trees, community food gardens, pollinator plants, rain gardens, and native wildflowers. These projects will all be planted in the spring and fall of this year.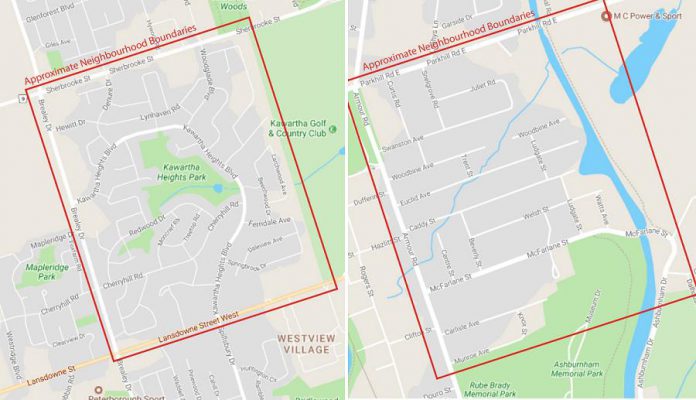 So far, community members living in the two neighbourhoods have indicated that they are pleased with their local parks, trees, and natural areas.
In East City – Curtis Creek, residents have been telling us that the Creek is an asset in their neighbourhood, and is of special interest to children who play in the area. In Kawartha Heights, Byersville Creek is the local waterway, but because it is flows mostly through adjacent parkland and under roadways, residents' interactions with the creek seem more limited.
In both neighbourhoods, residents indicate that the snowmelt and rainy weather can lead to seasonal flooding and that the 2004 flood affected both areas Hilly and sloping roads direct rain water into both the Byersville and Curtis Creek so we are paying special attention to this information, because trees and gardens installed through SUN can be placed to help manage rain water and reduce the impacts of flooding.
In the Kawartha Heights neighbourhood, Arthur Setka has already started taking action to manage water on his property. For example, he has planted a variety of native plants and groundcovers that absorb rainwater more efficiently than grass and has included drought tolerant plant species that can withstand the hot summer weather.
"By using water saving features such as water entrapment, I not only enjoy a beautiful garden but substantially less maintenance than grass requires," Setka says.
His garden features plants that are timed to bloom throughout the summer, making it ideal habitat for pollinators throughout the season and beautiful for human eyes to enjoy.
Rain gardens are one of the planting options available through the SUN program, and are specially designed to take in rainwater off of roofs or roads. However, all planting options will help with the efficient absorption of rain water.
Trees help to stabilize the soil with their deep rooting systems, and take up rain water preventing runoff to our storm sewers and then local waterways. Pollinator plants absorb rain water much more efficiently than grass, and many native wildflower species are tolerant to drought conditions, since they are locally adapted to our climate.
Food gardens require more tending than the other planting options, but are also more responsible for water usage. Herbs tend to be more tolerant to drought conditions, and mulching and combining soil with compost helps with effective water management.
Both neighbourhoods have also expressed an interest in more shade trees, which can help stabilize local environmental conditions. For instance, shade reduces the impacts of heat in the summer, and trees buffer against the wind in the winter.
If you can't make it to either of our upcoming events at Snofest on January 20th or the Health and Wellness Centre on January 22nd, we can also meet with you in person. We have a quick online survey that you can fill out at greenup.on.ca/program/sun and you are welcome to phone or email us at 705-745-3238 ext. 208 or jenn.mccallum@greenup.on.ca.
Even if you live outside of these neighbourhoods, we are still interested in hearing from you! Fill out our survey, come see us at our outreach events, or get in touch with us to learn more about greening our community.
We are also planning some educational events in the spring! Stay tuned to our social media and greenup.on.ca for more information, as these events take shape.
The SUN project is modelled on the Toronto Region Conservation Authority's SNAP program (Sustainable Neighbourhood Retrofit Action Plan) and is funded by the Ontario Trillium Foundation.