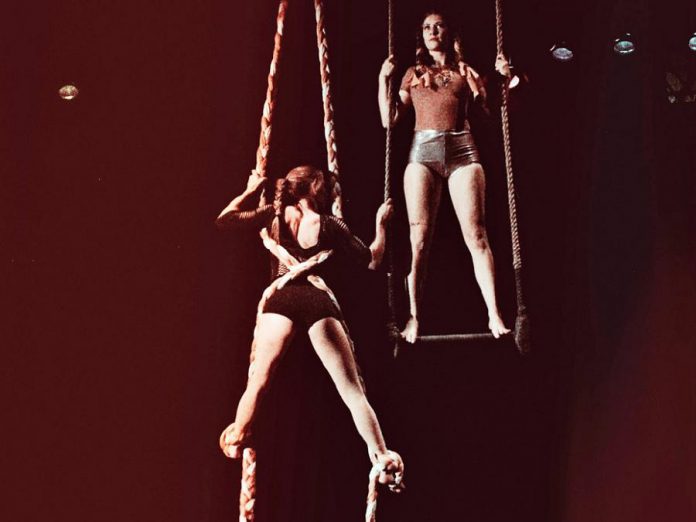 Featuring courageous new dance, theatre, and performance work by local artists, the Emergency Festival returns to downtown Peterborough from Thursday, March 22nd to Saturday, March 24th.
Public Energy is presenting the 22nd version of the Emergency Festival, which first launched in 1993 and is named to reflect its commitment to showcasing emerging work from both established and emerging artists. More than 200 performance works have premiered through the festival, and many of which have been developed into full-length pieces.
Emergency #22 includes both performance newcomers and veterans, with 13 new works distributed presented over three programs at the Market Hall Performing Arts Centre and The Theatre On King. This year's festival has something for everyone, including devised theatre, contemporary dance, belly dance, aerial circus arts, and multidisciplinary collaborations between professional artists and community performers.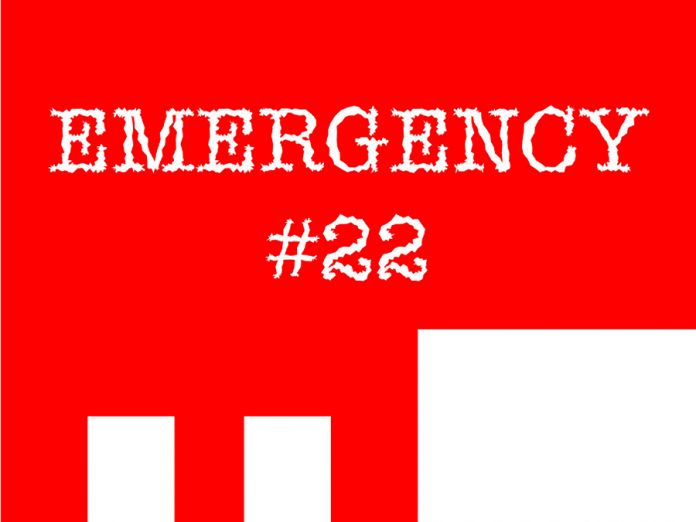 Devised theatre, where artists undertake all aspects of creation from concept to writing to performing, is represented by Charlie Petch with Daughter of Geppetto, an updated twist on the Pinocchio story, Anne White with Aberdeen, a work that examines her fraught relationship with a family home, and Hermione Rivison with Passings and Parting in which her clown, Joy, faces down death.
The Emergency festival has always been associated with contemporary dancce, and Emergency #22 is no exception. Returning artists include the team of Wes Ryan and Becca Partington with The Caregiver and Old Men Dancing with Unfolding, their ninth Emergency work. Newcomers this year include Sarah Rudnicki with Pulse, a contemporary belly dancing work for five dancers, and Robyn Smith who colloborates with percussionist Bennet Bedoukian in Unblocking, a look at the frustrations, discomfort, and ultimate joy in the creative process of collaboration.
Peterborough's busy circus community is also well represented with three works, each created by two artists and each involving aerial work that takes advantage of the height of the Market Hall stage. Thomas Vaccaro and Ethan Hinsehlwood present Parallels, Opal (Jen) Elchuk and Kayla Stanistreet perform Captive:ated, and Nicole Malbeuf and Nicole Kelly present Bad Days, Dark Days.
Collaboration is an important theme in Emergency 22, with three unique pieces featuring groups of five to 14 performers, ranging from eight years old to over 50, recruited from differing parts of the community. Mandy Livings presents Fly Away to Home with dancers from five different local dance studios, Leslie Menagh's Migration Stories has an all-female cast of individuals telling their migrations stories, and Kate Story's 0% is performed by an all-male cast.
Emergency #22 takes place in three programs, each approximately one hour long. Program A takes place at The Theatre on King (159 King St., Peterborough) on Thursday, March 22nd at 8 p.m., Friday, March 23rd at 9:30 p.m., and Saturday, March 24th at 2 and 6:30 p.m. Program B takes place at Market Hall Performing Arts Centre (140 Charlotte St., Peterborough) on Friday, March 23rd at 6:30 p.m. and on Saturday, March 24th at 8 p.m. Program C takes place at the Market Hall on Friday, March 23rd at 8 p.m. and on Saturday, March 24th at 6:30 p.m.
A full description of the performances in each program is available below.
Tickets are available for individual programs and for all three programs. Single program tickets are $15 each ($8 for high school students) or $35 for all three programs. Tickets are available from the Market Hall box office in person or by phone at 705-749-1146 (Monday to Friday from noon to 5 p.m.) or online anytime at markethall.org.
Program A – The Theatre On King
Thursday, March 22 at 8 p.m., Friday, March 23 at 9:30 p.m., and Saturday, March 24 at 2 p.m. and 6:30 p.m.. Approximately 70 minutes.
Passings and Partings – Hermione Rivison
Many people are bent on learning to live well. Yet each day brings us nearer to our demise. Joy, the clown, explores the art of dying well and plans for that day – whenever it might be. Created with the assistance of Deb Reynolds and her appraising eye.
Pulse – Sarah Rudnicki
Mixing elements of belly dance, fusion, street dance, veil work, and masks, Sarah Rudnicki explores the internal battle caused by the choice to show pain. The beauty of quiet strength, that which is soft can be strong. With a company of five dancers (4 trained in middle eastern dance) Pulse looks at our public and private faces, of how we wear invisible wounds.
Unblocking – Robyn Smith and Bennett Bedoukian
The hardest part is beginning, as performer Robyn Smith and percussionist Bennett Bedoukian explore the frustrations, discomfort and ultimate joy in the creative process of collaboration. Unblocking considers the risks we take in creating and the roadblocks that keep us from doing so, featuring both improvised and choreographed movement and sound, as the artists weave in and out of their comfort zones, alone and together.
Aberdeen – Anne White
Aberdeen is a house, a museum, a set, a family portrait, a fantasy. A current resident of Aberdeen wonders how much longer she can live there. And whether she should be fighting harder to save it.
Program B – Market Hall Performing Arts Centre
Friday, March 23 at 6:30 p.m. and Saturday, March 24 at 8 p.m. Approximately 50 minutes.
Captive:ated – Opal (Jen) Elchuk and Kayla Stanistreet
A twist on the Grimms Brothers' Rapunzel tales, this work of circus theatre employs trapeze and braided silks extending the full height of the Market Hall stage and, through the characters of Rapunzel and her captor the Enchantress, explores themes of control, surrender, attachment, desire, and power struggles in relationships.
Fly Away to Home – Mandy Livings
Mandy Livings, a veteran Peterborough dancer and teacher, has created a joyful work reflecting the talents of her diverse group: 14 dancers, aged 8 to 50+, who come from four different local dance studios and a high school dance program. As the name implies, Fly Away to Home expresses joy and freedom in movement.
The Caregiver – Becca Partington and Wes Ryan
Tapping into their experiences as caregivers and artists, Becca and Wes have created a dance illustrating both the beauty and toil (emotional and physical) of caring for a loved one. With original music by Glenn Pierce (also drawing on his work as a caregiver), the work connects viewers with the conflicting feelings that arise when providing support through life and illness.
Parallels – Thomas Vaccaro and Ethan Hinsehlwood
Parallels sees a mentor and his apprentice reflecting on their relationship. One dreams of the future while the other recalls his earlier self, determined to not let his young student down. Employing visual projections by collaborator Patricia Thorne and the circus arts that are at the heart of the teaching — cyr wheel, aerials, rope — the mentor finds that he learns as much form the student as vice versa.
Program C – Market Hall Performing Arts Centre
Friday, March 23 at 8 p.m. and Saturday, March 24 at 6:30 p.m. Approximately 65 minutes. Note: 0% by Kate Story contains mature content.
Bad Days, Dark Days – Nicole Malbeuf and Nicole Kelly
Bad Days, Dark Days is a dance and aerial work in two acts with cloth manipulations. It is an attempt describe the impossible – to breathe life into, and give shape to, depression.
Migration Stories – Leslie Menagh
With a series of personal interviews at its core, Migration Stories endeavours to both differentiate and unify the voices of its intrepid cast members. But when narration and navigation are disrupted, movement itself becomes the shared language. Featuring a cast of seven individuals with their own immigration stories, working with creator/director Leslie Menagh and choreographer Sylvie Dasné.
Unfolding – Old Men Dancing
Unfolding is about who we are and what we have done in our lives. It is Old Men Dancing – now performing in their ninth Emergency – unfolding the past into the present, a group initiative created in part with guest artist Jean Bellefleur.
Daughter of Geppetto – Charlie Petch
When Pinocchio finds Geppetto shipwrecked inside The Terrible Dogfish, the marionette realizes his creator cannot recall the days he once called him daughter and together they write the true-life tall tale, The Adventures of Pinocchio. Charlie Petch presents this reimagined story with light, silhouette, animation, music, spoken word, collaborating with choreographer Wes Ryan and projectionist Patricia Thorne.
0% – Kate Story
Choreographed by Kate Story with original music by Steafan Hannigan, 0% is a short dance work performed by five men. It explores the artists' reactions, emotions, and reflections in response to learning about CoSA (Circles of Support and Accountability), where community members play a direct role in the reintegration and risk management of those who have committed serious sexual offenses.
Emergency Festival #22 is made possible by Public Energy's corporate sponsors and season funders. Show sponsors are Christensen Fine Arts and Dave Robertson, Century 21 Real Estate. Season sponsor are TD Bank, Lett Architects, Hi Ho Silver, kawarthaNOW, and WE Design. Fundres are the Government of Canada through the Canada Council for the Arts and the Department of Canadian Heritage, Ontario Arts Council, and the City of Peterborough.