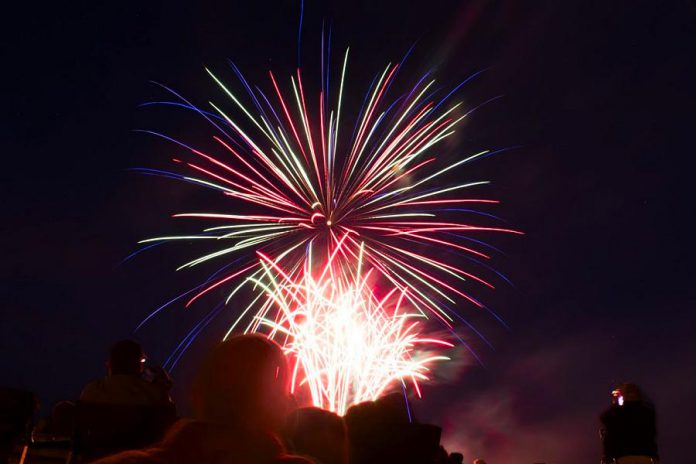 The 16th annual Rotary Victoria Day Fireworks and Family Night returns on Sunday, May 20th at Del Crary Park in downtown Peterborough.
Presented by the Rotary Club of Peterborough Kawartha and the Peterborough Rotary Club, the evening features live music, fun for the kids, food, and more — all capped off by a spectacular fireworks display beginning at 9:45 p.m.
This year's Rotary Victoria Day Fireworks & Family Night is made possible by Scotiabank and 45 local businesses and organizations.
"We are delighted to partner with ScotiaBank as the platinum sponsor," says Stephen Kylie, Rotary Fireworks Event Co-Chair. "With this sponsorship, we will have a tremendous fireworks display, local entertainment, and an expanded children's program."
Family Night begins at 5 p.m. with three musical acts presented by Peterborough LIVE: Nathan Bottomley, Paper Shakers, and Hillary Dumoulin & Brandon Humphrey. The Austin Carson Band will perform between 6 and 7:30 p.m. followed by Man on the Wall between 7:45 and 9:30 p.m.
While the musicians are performing, there will be bouncy castles and free face painting for the kids, with ice cream and popcorn provided free of charge (while supplies last).
There will also be five local vendors offering various food items for sale, and Rotarians will be selling glow stick products.
The fireworks display begins at 9:45 p.m.
The following roads around Del Crary Park will be closed from 4 to 11 p.m. on Sunday: Perry Street from George Street to Crescent Street; Lake Street from George Street to Crescent Street; Crescent Street from Romaine Street to Perry Street; and Lock Street from Romaine Street to Crescent Street. Local traffic will be permitted.
This event has been rescheduled from its original date of Saturday, May 19th due to forecasted inclement weather.