When GreenUP and B!KE began the Pulse Pop-up project four years ago, our aim was simple: take a space that was typically filled with vehicle traffic and transform it into one that placed people at the centre.
Our streets are our city's largest public spaces but, rather than being inclusive places for all people, streets across North America have been designed for cars. People in cars are still considered primary even on small, residential roads where children playing in the street are seen as guests who need to look out and move away quickly when a car approaches.
Pulse Pop-ups temporarily close a local residential street to vehicle traffic and open it up to the neighbourhood for walking, biking, playing, and gathering.
These events create safe, accessible, inclusive spaces where neighbours ride bikes, play basketball or street hockey, listen to music, and share good food right outside their front doors.
When planning the Pop-ups, we anticipated these events would also provide a space for neighbours to gather and discuss their hopes for their neighbourhood. We hoped the events would give neighbours a chance to meet someone new.
As it turns out, this last outcome is one that resonates with and motivates many neighbourhood Pulse Pop-up organizers and participants to plan a Pulse Pop-up for their neighbourhood.
"Growing up in East City, just a few blocks away on Armour Road, I knew everyone in my neighbourhood," says Jason Stabler, one of the organizers of the recent October 13th Sophia Street Pulse Pop-up.
"I want my daughter to grow up in that kind of environment. I want her to get to know people in our neighbourhood and to be able to step outside her door and play outside."
This doesn't come as a big surprise. In 2017, the Community Foundation of Greater Peterborough held more than 100 Vital Conversations to gain perspectives and suggestions for how to build a stronger community. In their resulting report, Ten Things To Do To Build a Vital Community, number one was Strengthen Community Connections.
"People really do want to feel a sense of belonging within their neighbourhood but struggle to find ways to connect with one another," says Hillary Flood, Coordinator of Pulse Pop-ups at GreenUP.
"The biggest barrier is that they often don't know where to start. Pulse Pop-ups have shown us the potential that neighbourhood gatherings have for building connections. They are small positive interventions that have the power to tangibly alter feelings of social isolation in each neighbourhood."
After the Sophia Street Pulse Pop-Up, Stabler remarked, "I've met more neighbours today than I have over the past five years of living on Sophia. It's great to have a chance to make some connections with people in the area."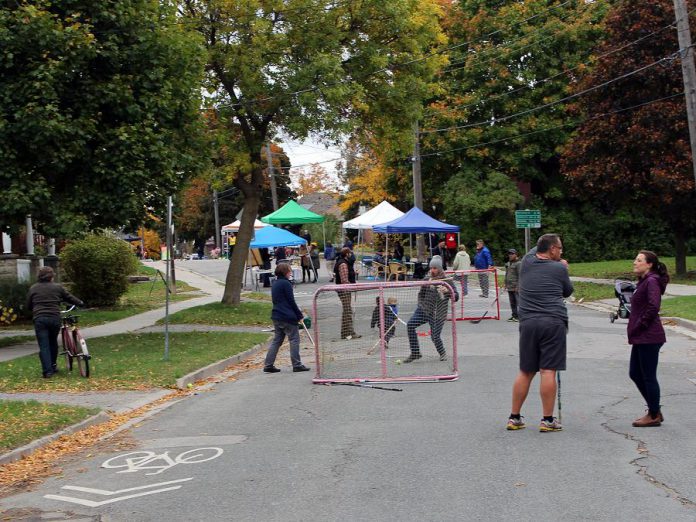 Neighbours at the Euclid Avenue Pulse Pop-Up on October 14th share similar sentiments about how these simple events create space for chance meetings that rarely happen on the street because we are wrapped up in life's day-to-day routines.
"Our Euclid Avenue neighbourhood street party was a huge success in my eyes but mostly in my heart," explains neighbourhood organizer Cathy Orr. "I honestly thought that it would be a day for the kids to enjoy. The kids were our big focus with face painting, pumpkin painting, big games, and instrument making, but the adults and seniors who attended had just as much fun."
"I have been on Euclid Avenue for over 25 years and I met two couples who had also raised their families on Euclid Avenue," Orr adds. "I knew their children because they would ride by on their bikes, but this was the first time that we, the parents, now empty nesters, had spoken. Wow!
"We need more events like this to gather our nearby neighbours so that we can get to know each other instead of watching each other drive by in our cars."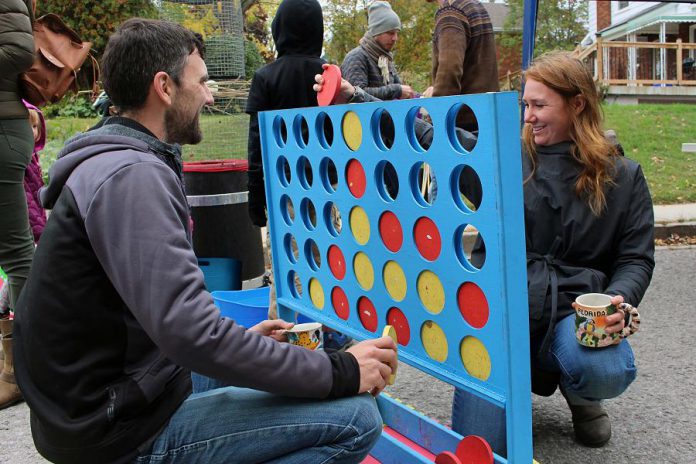 GreenUP and B!KE feel privileged to work with such motivated, creative, and caring organizers. We are endlessly inspired by the gatherings they dream up and the lovely moments that result.
So far, eight Pulse Pop-up community gatherings have been made possible with thoughtful, playful contributions of neighbourhood organizers, helpful assistance from City of Peterborough staff, and generous support from the Ontario Trillium Foundation.
Our primary funding for this project is coming to an end, but new plans are taking shape so we can continue to support neighbours with Pulse Pop-ups for years to come.
If you would like to learn more about this project or would like to indicate your interest in holding a Pulse Pop-up in your neighbourhood, please visit www.greenup.on.ca or contact Hillary Flood, Program Coordinator at GreenUP at hillary.flood@greenup.on.ca or 705-745-3238.