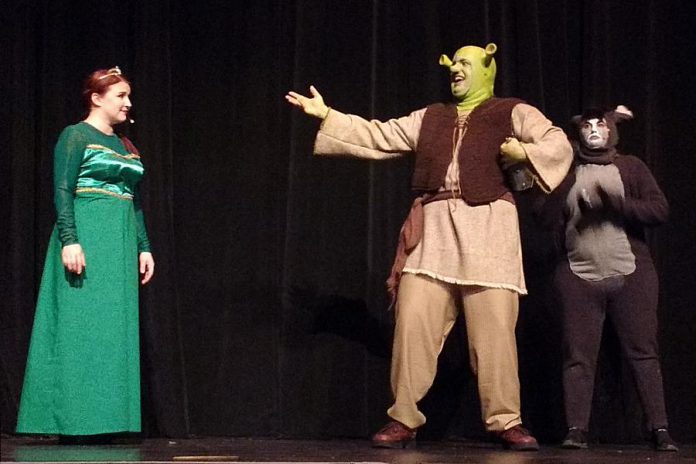 Opening on Friday, November 9th and running until November 17th, St. James Players presents its much-anticipated production of Shrek: The Musical, directed by Nate Axcell and Drew Mills and based heavily on the 2001 Oscar-winning animated film (as well as the original picture book by William Steig).
A cast of local favourites bring Shrek, Donkey, Princess Fiona, and all the familiar characters from the popular film series alive on the Showplace Performance Centre stage in another family-friendly production in the classic St. James Players tradition.
Less than a year after the film Shrek won the Academy Award for Best Animated Feature, a stage musical version began development under the creative team of director Jason Moore, writer David Lindsay-Abaire, and songwriter Jeanine Tesori. Keeping the basic story but including all-new music, Shrek: The Musical took nearly five years to develop before it opened as a test run in Seattle in 2007.
After a successful month-long run, the show made its Broadway premiere at the Broadway Theater in December 2008 where it ran until January 2010. During its initial run, it was nominated for eight Tony Award nominations and won 12 Drama Desk Awards.
Shrek: The Musical tells the story of a miserable and reclusive ogre named Shrek (Rowan Lamouroux) who lives in seclusion far away from the society that fears him. However, that peaceful but lonely existence ends when a group of fairy tale characters are displaced from their homes in the Kingdom of Duloc by the tyrannical and vertically impaired Lord Farquuad (Taylor Beatty).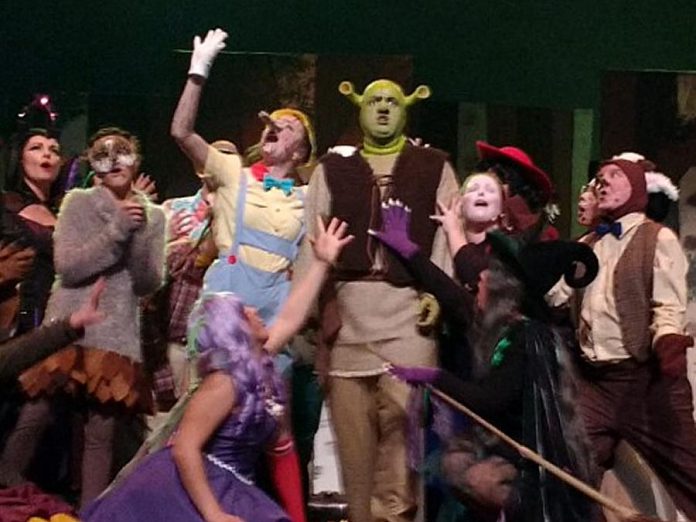 Determined to get his swamp back to the way he wants it, Shrek travels to Duloc to appeal to Farquuad to allow the fairy tale creatures to return to their homes. Along the way he comes upon an overly friendly donkey (Lindsay Barr), who decides to journey with him as his ever-talking travelling companion.
Upon arriving in Duloc, Shrek strikes a deal with Lord Farquuad to rid the swamp of the fairy tale invaders: so that Farquuad can marry her and become king, Shrek will have to save the beautiful Princess Fiona (Elizabeth Moody) from her imprisonment in a tower guarded by a dragon (Mallory McDonald) and her horde of skeletons. Taking on the quest, Shrek and Donkey go in search of the Princess and along the way discover friendship, acceptance, and love.
I am not overly familiar with the Shrek franchise and decided not to view the films prior to seeing the St. James Players production, so I could see it through the eyes of someone brand new to this fantasy world. As a stranger to the story, I found the narrative engaging, the characters charming, and the overall theme of the play to be uplifting. Shrek: The Musical is an imaginative fantasy filled with colourful characters and fun performances.
That said, Shrek: The Musical is also an unorthodox choice for St. James Players and a somewhat risky show to take on. However, the company steps up to the challenge and creates a show for the entire family.
One of the most interesting things about watching Shrek: The Musical is that all of the main roles are performed by actors who are not usually cast as leads in musicals. Made up of many of my favourite performers, all of the leads would traditionally be identified as "character actors." The result is a refreshing audience experience as familiar faces move into the spotlight.
Under heavy make-up and with a prosthetic nose, Rowan Lamoureaux has the right size and girth to bring Shrek to life in all his green glory. There is no denying that Rowan plays Shrek very well, and both young and old fans of the character will delight at seeing him come to life so realistically on stage.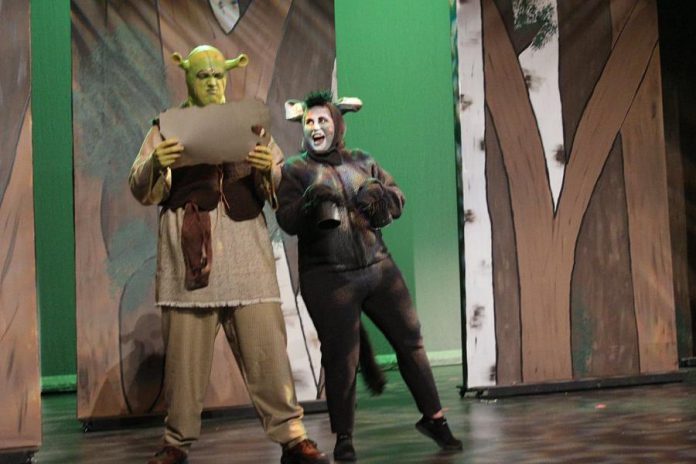 But Rowan is more of an emotional actor than a comedic one, and his portrayal of Shrek becomes far more interesting when he is able to work with deeper material, primarily within the second half of the show. Rowan's shining moment is during the second act musical number "When Words Fail", which is the goosebumps moment of the show. Rowan does an admirable job in bringing Shrek to life, but even a greater job at bringing heart and depth to the character.
With previous roles as diverse as Shelly in Evil Dead, Janis Joplin, and Captain Hook within her repertoire, musician-turned-actor Lindsay Barr brings her brand of high-energy performance to Shrek's comic foil Donkey. Filled with optimism and non-stop banter, Lindsay brings fun into every scene she's in. But where she really steals the show is during her musical numbers — but then that's what Lindsay does best.
Songs such as "Don't Let Me Go" and my personal favourite "Make Your Move" (where Donkey is accompanied by the Three Blind Mice) are standout musical moments showcasing Lindsay's dynamic showmanship. Donkey is a perfect role to showcase Lindsay's emergence as a true triple threat on the stage: she acts, she dances, and she can really sing.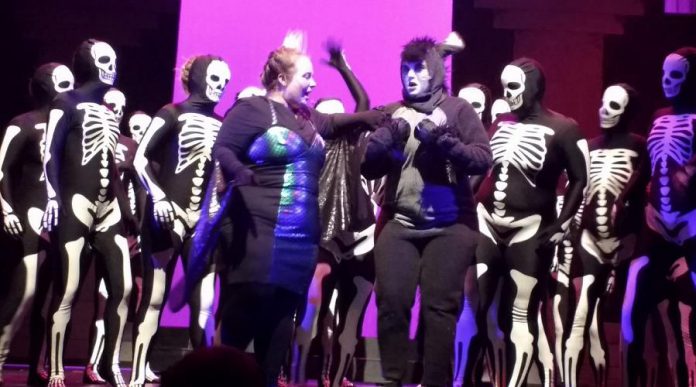 Shrek: The Musical is the first leading role for Elizabeth Moody, despite her long presence on the Peterborough stage. Elizabeth is perfectly cast as the sometimes sweet and sometimes ferocious Princess Fiona. Once again, Fiona is as odd as her co-characters, with Liz making a delightful albeit unusual ingénue. Her chemistry with Rowan is delightful, and Shrek and Fiona make an adorable pair.
Although Shrek and Donkey are supposed to be the comedic pairing, I found many of Rowan and Liz's interactions to be more comical and natural. Liz's standout musical performance is a delightful song and dance number, "Morning Person", at the beginning of the second act — performed with a delightful band of tap-dancing rats.
I'd also like to make mention of Liz's performance of "I Know It's Today" where she teams up with two of my favourite young stage performers: Macayla Vaughn, who played Jane Banks in last year's production of Mary Poppins, and Aimee Gordon, who is better known to Peterborough audiences as Boo in Planet 12 Productions' successful Boy Wonders. It's a charming moment in the show when three Fionas come together in song.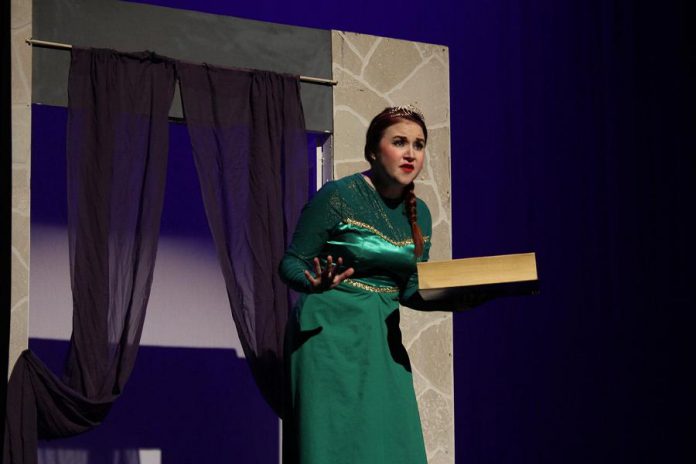 The comedic moment of the night goes to Taylor Beatty in his outlandish role as pint-sized dictator Lord Farquuad. Traditionally appearing in less family-friendly musicals such as The Rocky Horror Show and Sweeney Todd, Taylor returns after a long absence from the Peterborough stage as this unusual and devious character. What makes it such a fun role is the hilarious and clever costume that allows Taylor to believably become a four-foot-high tyrant with a giant ego but small legs. Taylor steals each scene he is in.
I want to give a shout-out to Mallory MacDonald in the role of the Dragon. I've watched Mallory in the background of many musicals, but I had no idea how much of a big voice she has. She blew my mind with her performance of "Donkey Pot Pie". Alongside a horde of dancing skeletons, Mallory stays toe-to-toe with Lindsay Barr in an outrageous duet. It's a golden moment, and Mallory is a standout who left me stunned. She should be cast in much larger roles — there is a superstar behind that voice.
But it takes a huge cast of colourful characters to make up the world of Shrek, and each member of the ensemble plays multiple characters who are unique from one another. The cast is filled with so many of my favourite performers from the local theatre community, and it's wonderful to see so many people I truly enjoy as both performers and people making up this cast.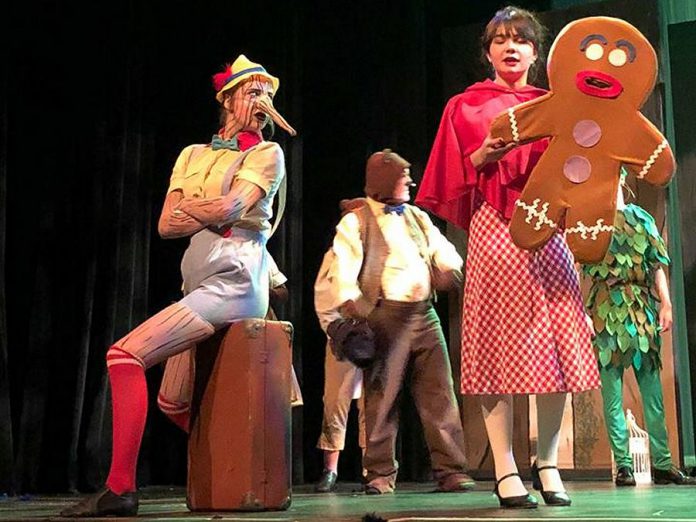 Standouts include the abrasive Pinocchio played by Kaitlin MacMillain, and the high-pitched Gingy performed by Grace de Mara (who also doubles as Little Red Riding Hood).
Meanwhile, the costumes for the fairy tale creatures developed by Rebecca Smith, along with the ambitious make-up designs by Christie Read and Liz Moody, make all of the characters in the show immediately identifiable and delightful to watch. It's fair to say that the costumes and make up may be the true stars of the show.
Although Shrek: The Musical is a family production, I couldn't help but find some interesting political and social subtext within the show that may go over the heads of younger audience members.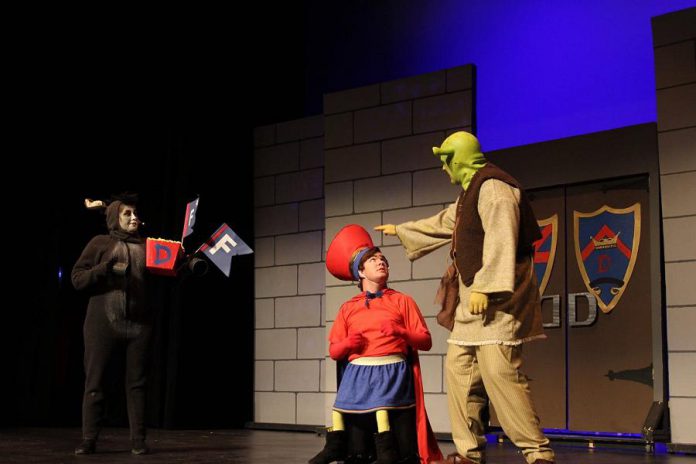 The lyrics to Lord Farquaad's musical number "What's Up, Duloc" read like an Aryan manifesto right out of the Third Reich, as the fairy tale characters are banished from their homes and into a swamp just as the European Jews were forced into ghettos. On the other hand, the fairy tale characters' rousing second act number "Freak Flag" could pass for an LGBTQ+ anthem and, not surprisingly, the rainbow flag does make a subtle appearance on the stage.
Finally, there's a message of unity and acceptance within the show. The finale is a call to celebrate one's uniqueness and differences and to accept everyone for who and what they are. It's an uplifting message in today's bleak social dystopia filled with fear mongering and xenophobia. We need strong uplifting shows like Shrek: The Musical right about now.
Shrek: The Musical may have been a risky production for St. James Players to take on, but the company has created a charming show filled with lots of imagination, fantasy, and fun. People familiar with the film will enjoy seeing the characters on the small stage, and those not familiar with it will become engaged in a new type of fairy tale.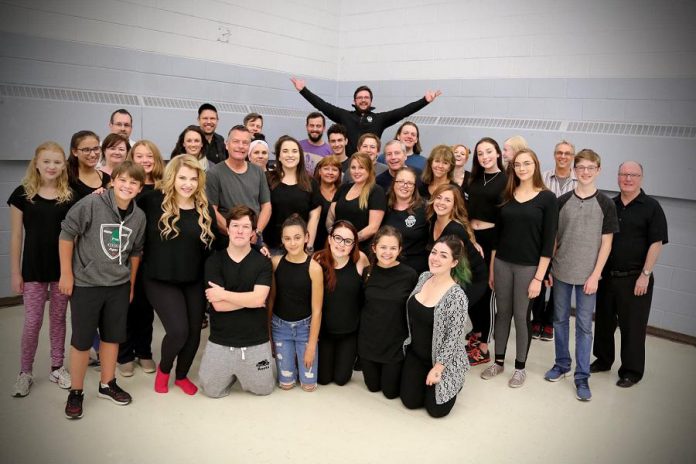 Now, if you'll excuse me, I think I'm going to sit down and finally watch the movie and discover this story all over again.
Shrek: The Musical opens on November 9th and runs until November 17th at the Showplace Performance Centre ((290 George St. N., Peterborough). Tickets are $29 ($26 for students or seniors and $23 for children under 13) and available in person at the Showplace Box Office, by phone at 705-742-7469, or online at www.showplace.org.