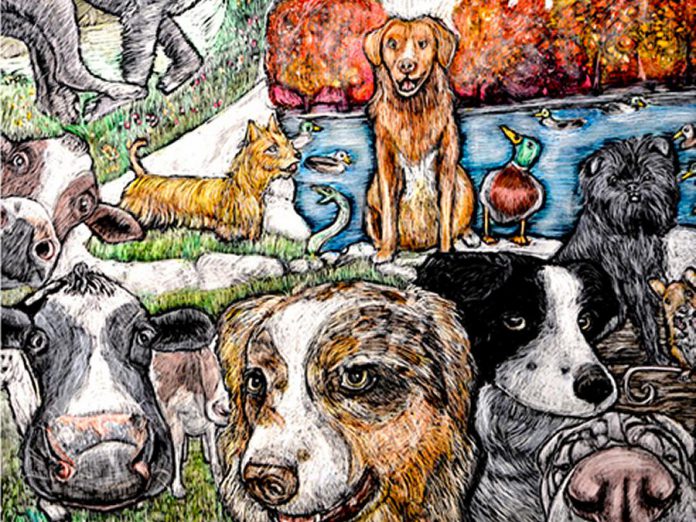 Peterborough artist Lisa Martini-Dunk is the winner of the third annual National Purebred Dog Day fine art and poster competition.
Her piece, entitled "Unlimited", is now the official poster for National Purebred Dog Day 2019, which takes place on May 1st.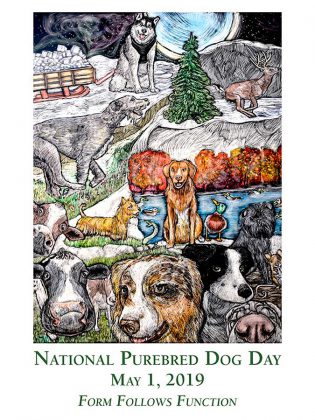 Martini-Dunk, who is the owner of artistic company L'immaginaria, is the first Canadian artist to win the competition.
American writer Susi Szeremy created National Purebred Dog Day in 2013 to help celebrate the heritage, diversity, and predictability of purpose-bred dogs.
More than 300 dog breeds exist in the world today, and some are at risk of vanishing in our lifetime. With its theme "form follows function", the 2019 poster competition encouraged artists to include different breeds that represent the American Kennel Club dog groups (sporting, hound, working, herding, and more).
Martini-Dunk's winning submission was done in scratchboard, a form of direct engraving that is one of her specialties.
"I wanted to show these purebred dogs doing what their function is in every environment and in all seasons," Martini-Dunk says in her submission.
Martini-Dunk's piece was selected as the winner by juror Tilly Grassa, photography manager and graphic designer for the Westminster Kennel Club Dog Show and former creative director at the American Kennel Club.
"Wonderful interpretation of the theme," Grassa write. "Breeds are well-represented in a creative way using a colorful and dramatic medium — very imaginative!"
Martini-Dunk wins $2,000 US in cash, as well as her artwork illustrating the official poster for National Purebred Dog Day 2019. As the illustration for the poster, Martini-Dunk's work will be seen by a large audience of purebed dog owners, show judges, fanciers, breeders, handlers, and other professionals.
Copies of the 18″ by 24″ poster are also available for $35 online at nationalpurebreddogday.com.