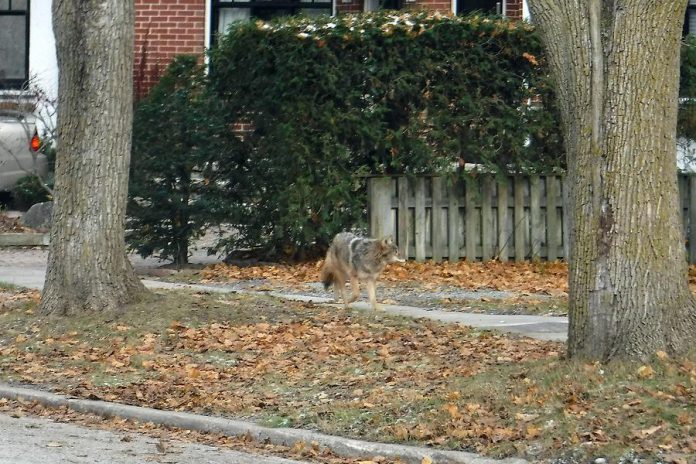 There's been a rash of recent sightings in the Peterborough area of what people are calling coyotes. In fact, Peterborough resident Rob Wilkes posted some photos earlier this month of an animal roaming his neighbourhood near downtown Peterborough.
What many people may not realize is that the animal is actually a coywolf — a made-in-Ontario hybrid species of coyote and wolf (and more recently dog) that originated a hundred years ago in Algonquin Park just north of the Kawarthas, and has now spread throughout northeastern North America, from Toronto to Montreal to Boston to New York to Washington D.C.
Zoologist Dr. Roland Kays of North Carolina State University and the North Carolina Museum of Natural Sciences estimates the coywolf population is now in the millions.
Peterborough field naturalist Dylan Radcliffe has created a Google Map consolidating anecdotal reports of recent sightings in the Peterborough area:
"The coyotes seem to be using the parkway corridor to travel around the city," Radcliffe writes on his website. "Sightings from the north end all the way to medical drive indicate active populations roaming the area. Neighborhoods in Monaghan Ward seem to have active populations surrounding the golf course. I can also personally corroborate an active population within and around Harper Park.
"It is equally interesting where there are an absence of coyote sightings. Almost no sightings have taken place in the areas on the East Bank sandwiched between the Canal and the Otonabee River. My guess is that it is a relatively highly populated area that lacks easy escape routes, so coyotes avoid the east bank."
While coywolf is a more descriptive term, you can still call them coyotes if you want — the coywolf is also known as the eastern coyote (scientific name Canis latrans x Canis lupus lycao). However, there's still some debate among scientists as to whether the hybrid animal should be considered a distinct species.
In the 2014 CBC documentary Meet the Coywolf, biologist Dr. Bradley White, Canada Research Chair in Conservation Genetics and Biodiversity at Trent University, explains the origin of the coywolf.
VIDEO: "Meet the Coywolf"

"To understand the history of the coywolf, you've really got to go back to before Columbus set foot onto the continent," White says. "From the Mississippi (river), this whole eastern part of North America would have been deciduous forest. The eastern wolf would have occupied all of this (area)."
When large numbers of European settlers arrived in North America and deforested the land, White explains, they not only reduced the habitat of the eastern wolf but began killing the wolves en masse to protect their livestock.
Over the next 300 years, coyotes from the southwest of the continent migrated to the north to the territory previously occupied by the wolves, eventually moving into the area now occupied by Algonquin Park. There, the depleted population of eastern wolves began to see the coyote, normally an enemy, as a potential mate. This led to the birth of the coywolf in the early 20th century.
As the coywolf population increased and moved into areas populated by humans, they also interbred with large domesticated dogs. Javier Monzón of Pepperdine University in California studied the genetic make-up of 437 coywolves in Ontario and in 10 states in the northeastern U.S. and determined that an average coywolf's DNA, while predominately coyote, is also one quarter wolf and one tenth dog. So perhaps "coywolfdog" is a better name for it (or not … Dr. Kays prefers the term "eastern coyote" over "coywolf").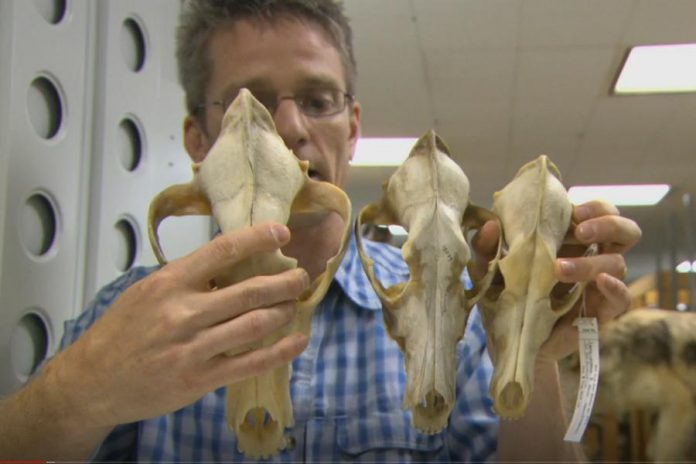 Weighing 25 kilograms (55 pounds) or more, the coywolf is twice the size of the western coyote, with smaller ears but a bushier tail, larger jaws, and more muscle. Unlike western coyotes that feed on small mammals only, an individual coywolf can take down a small deer, and a pack of them can kill a moose.
While wolves prefer to hunt in forests, coyotes prefer hunting on open plains; the hybrid coywolf can catch prey both in densely wooded areas and open terrain — which make edge habitats in agricultural, suburban, and urban areas ideal hunting grounds. These areas both supply cover and provide easy access to food sources.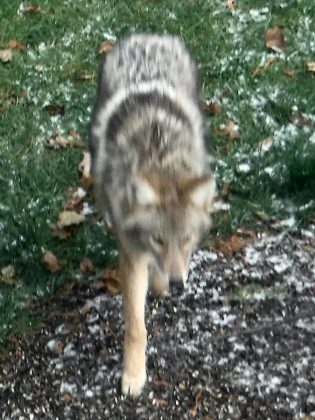 A coywolf's territory can range from as large as 20 to 40 square kilometres in rural areas to as small as five to eight square kilometres in urban areas. Radcliffe's map of coyote sightings in Peterborough (above) demonstrates how local coywolves are potentially moving through the city.
And because coywolves have interbred with domesticated dogs, they have become more tolerant of people and noise. Usually nocturnal animals that like to keep a low profile, they are now venturing out more and more during daylight hours.
Coywolves are opportunistic predators, and will hunt everything from small mammals (mice, voles, squirrels, and rabbits) to larger mammals like deer and moose. They are omnivorous, and will feed on berries, seeds, garbage, compost, and fruit and vegetable gardens — making urban areas an ideal feeding ground.
While coywolves are known to attack livestock such as sheep and scavenge on "deadstock" (dead farm animals), the real danger in urban areas is to family pets.
This past June, a golden retriever in Port Hope had to be euthanized after it escaped its owner's backyard and entered a ravine area where it was injured by coywolves. In early September, a coywolf took a Yorkie from a backyard along the Niagara escarpment area. In October, a pack of coywolves fatally injured a goldendoodle by the Bruce Trail in the Ancaster area. In November, a coywolf reportedly snatched a chihuahua near Van Wagner's Beach in Hamilton.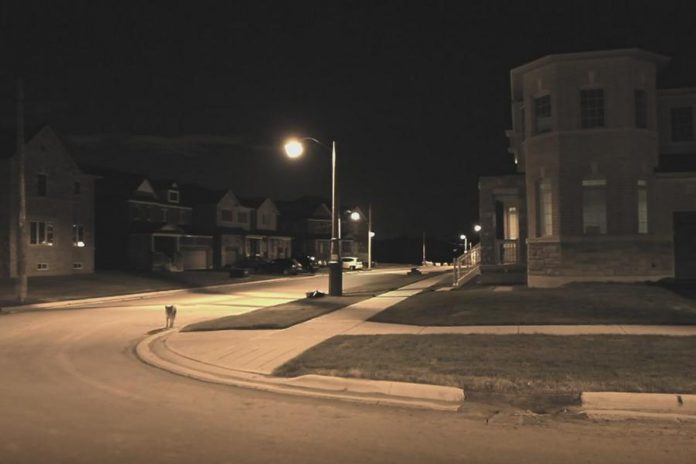 There have also been coywolf attacks reported on children, including a coywolf that jumped on a 10-year-old boy in Hamilton in October (the boy, who scared off the animal by punching it, wasn't injured). However, coywolf attacks on people are rare, with no recent confirmed fatalities (in comparison, dogs kill 15 to 20 people each year in the U.S.).
So, while there's no need to panic about coywolves, they do provide us with a reminder that we share our environment with wild animals and should take steps to reduce the possibility of an unwanted interaction:
Avoid attracting coywolves. Don't leave kitchen waste, especially meat, outside for any length of time. Don't let your bird feeders overflow; not only will coywolves eat seed, but you may attract prey for coywolves. If you compost, use an enclosed bin.
Protect family pets from coywolves. Keep your cats inside and supervise your dogs when they are outside (and always keep your dog on a leash). Clean up after your dog; coywolves are attracted to dog feces. Spay and neuter your dogs (coywolves are attracted to domestic dogs that have not been spayed or neutered, and can mate with them).
Protect young children from coywolves. If there are coywolf sightings where you live, don't leave small children unattended outside, and teach them what to do if they see a coywolf.
If you encounter a coywolf, keep your distance; do not approach it or allow your dog to approach it. Do not turn your back on the coywolf or run from it. Instead, stand tall and back away from the animal slowly while waving your hands and making lots of noise.
If you are out at night, keep a flashlight with you and use it to deter a coywolf should you encounter one.
Coywolves are here to stay, so you should start taking sensible precautions against this modern urban predator.