There are few things in life as terrifying as hearing the words "you have cancer." Those three little words change everything.
They certainly did for Amy Semple, who was diagnosed with breast cancer at the age of 32. But thanks to timely access to advanced diagnostic tools and targeted, technologically advanced treatment options at Peterborough Regional Health Centre (PRHC), Amy is alive to tell her story.
With almost 26,000 cancer care visits last year, PRHC's ability to provide cancer care excellence goes hand in hand with access to new, urgently needed equipment. Our hospital has identified $6.2 million in cancer equipment and technology that must be purchased in the next three years.
Many people don't realize government funding only covers a portion of what hospitals need to meet the best practices in patient care. It's private donations from people like you that allow PRHC to purchase the technology and equipment to advance patient care — both in cancer care and throughout the hospital.
Please read Amy's story and watch her video below, and read a message from PRHC Oncologist Dr. Neera Jeyabalan. And then please consider giving more families the Gift of Hope by making a donation to the PRHC Foundation to fund the equipment and technology to make world-class cancer care possible at your hospital.
This is the third of a series from the PRHC Foundation to show how your donations to our hospital make a real difference in the lives of real people. Over the next three weeks, kawarthaNOW will be sharing these stories of hope from patients, doctors, and parents. This week's story is how donations help advance cancer care at our hospital.
Amy Semple's story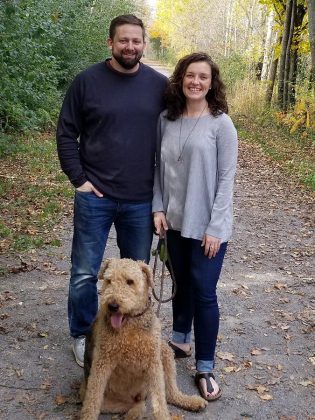 Hi. I'm Amy Semple.
Wife. Daughter. Teacher. Nature Lover. Dog Mom. Breast Cancer Survivor.
I don't remember the words, just the feeling. Everything just stopped.
The last thing I ever expected was to be sitting in my doctor's office getting the worst news of my life. 32 years old and I was a statistic. I was one of the 1 in 8 women diagnosed with breast cancer every year.
In my head, I started pleading for this not to be my reality. But for me, and so many women in our region, it is. And it's terrifying.
I couldn't change my diagnosis, but my hospital was here for me when I needed it most.
When I started my cancer journey at PRHC I was quickly made aware of all of the different areas of the hospital that were going to be used to support my survival. From the Breast Assessment Centre and the Cancer Care Unit, to the Operating Room, Diagnostic Imaging and the Lab — my diagnosis and treatment were supported from beginning to end, close to home.
Cancer can break you. It almost broke me. It was my family, my friends, my students, and everyone at PRHC who got me through it and I'm so grateful. If you've ever made a donation to the PRHC Foundation, you were with me too. Thank you.
Today I'm lucky to have a good prognosis for a long, healthy life. I support the PRHC Foundation because I know firsthand how much it means not to have to travel for cancer care. It was the expert, compassionate staff, and the donor-funded equipment and technology that kept me alive. Now I want to do my part for the many people facing their own cancer journey.
Everyone has a reason to give. This is mine.
Please join me. Your donation today will make an impact in the lives of cancer patients from across the region. At the most frightening time they can imagine, help me give them the Gift of Hope this holiday season.
With sincere gratitude,
Amy Semple
PRHC Patient and PRHC Foundation Donor
Breast cancer survivor Amy Semple shares how PRHC Foundation donors helped save her life

A message from Dr. Neera Jeyabalan, PRHC Oncologist
We're seeing more cancer patients at PRHC than ever before: from 4,500 patient visits in 2008 to almost 26,000 visits last year. But our ability to provide the care our patients need goes hand in hand with access to state-of-the-art equipment.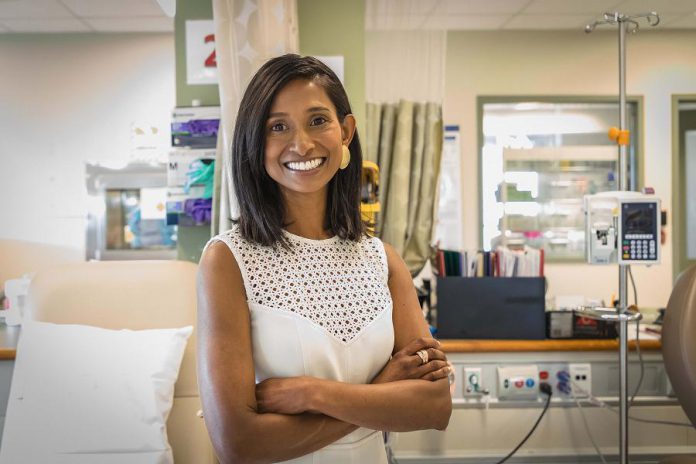 That's why I'm so grateful for donor support. You're there when we diagnose cancer early, when we provide patients with quality treatment close to home, and when we give them the innovative, compassionate and personalized care they need for their best chance of recovery.
So thank you for supporting the 2018 Gift of Hope campaign. With your support, we can give more cancer patients the gift of time — years, even decades, to embrace life and create special memories with friends and family.
The Peterborough Regional Health Centre (PRHC) Foundation works with donors to fund the equipment and technology that form the backbone of patient care at PRHC — bringing new lifesaving services to our region, and helping attract and retain expert doctors, nurses, and staff. For more information, visit www.prhcfoundation.ca or call 705-876-5000. You can also follow the PRHC Foundation on Facebook, Instagram, and Twitter.