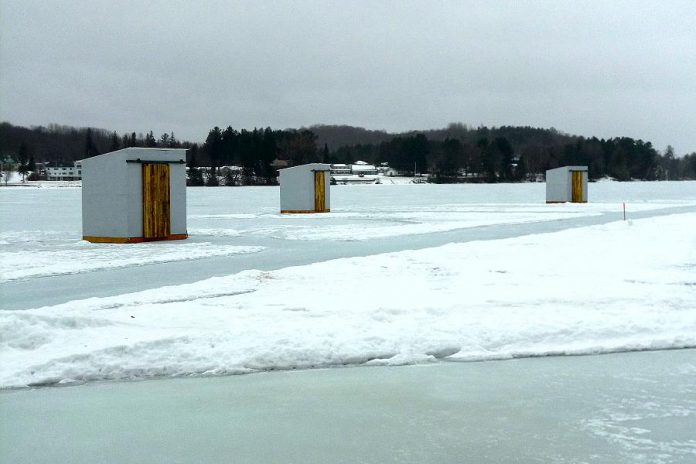 When you think of a little hut on a frozen lake in the middle of winter, ice fishing is probably what first comes to mind.
But what about a pop-up art gallery?
That's the concept behind Ice Cube Gallery, a new event taking place on February 9 and 10, 2019 on Lake Kashawigamog in Haliburton County.
Two years ago, friends Gary Blundell, Victoria Ward, Collin Burke, and Dan Manley (who owns and operates Russell Red Records out of Haliburton) conceived of the idea of creating an ice hut art gallery.
With the help of Toronto-based artist and graphic designer Patrick Lightheart, the idea is now becoming a reality.
Three ice huts have been erected on Lake Kashawigamog where they will house installations by four local artists: Chris Hanson and Hendrika Sonnenberg, Victoria Ward, and Rod Prouse.
In addition to the Ice Cube Gallery, there will be local food, drinks, music, a bonfire, and skating — along with overnight accommodation — at the nearby Bonnie View Inn resort.
The Ice Cube Gallery opens at 1 p.m. on Saturday, February 9th. Along with the ice huts, there will be the Bonnie View Patio Ice Bar featuring cocktails, beer, and more.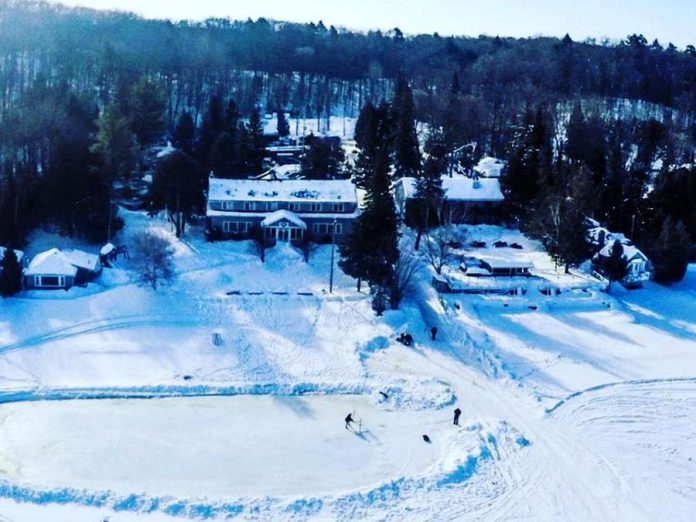 Chef Christoph Carl from Rhubarb Restaurant will be offering a locally inspired food sampling from 2 to 4 p.m. at the Ice Cube pop-up food station — which features a counter top hand-crafted by Nick Hunter from Hunters Edge Studio (the counter top will be raffled off over the weekend).
On Saturday, Bonnie View's own Chef Jay Picard has designed a special menu for the day, including slow roast pork shoulder sandwiches with home-made maple BBQ sauce. There will be an "Après Cube" party in the evening featuring Russell Red Records spinning vintage vinyl.
On Sunday, Bonnie View will host a pancake breakfast for $10. To reserve a table in Bonnie View's dining room or for overnight accommodations, call 705-457-2350.
For more information and updates, visit www.icecubegallery.ca and follow Ice Cube Gallery on Facebook and Instagram.