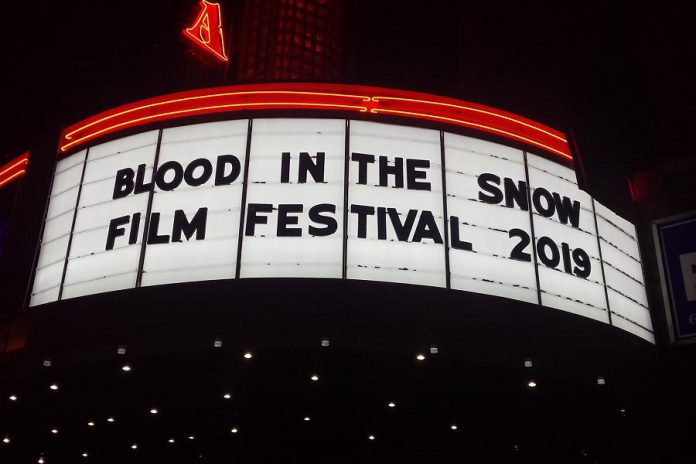 Throughout the month of March, Toronto-based horror film festival Blood in the Snow is taking its operations on the road for a four-city tour, with Peterborough's Market Hall Performing Arts Centre the first stop on its blood-stained trail.
Dedicated to promoting the best in independent Canadian horror cinema, Blood in the Snow will be showing four feature films and five shorts over two consecutive evenings at the Market Hall during the first weekend of March. And while all the films are calculated to thrill local horror fans, many of the films also feature have strong Peterborough connections.
"I'm excited about coming to Peterborough," says Blood in the Snow's founder and festival director Kelly Michael Stewart, a former resident of Peterborough. "It mixes so many things from my experiences of coming to Peterborough and making films and I'm really excited about bringing this thing we do in Toronto to Peterborough. I think the audience is going to be blown away with what we're doing."
The origins of Blood in the Snow began 12 years ago. Working as a screenwriter as well as a contributing writer for the horror film fan magazine Fangoria, Kelly was showing monthly films at a now-defunct movie house when he got the idea for a yearly film festival that would be dedicated to showing Canadian made horror films.
"I started hosting a monthly film night called Fright Night, and I started getting more and more Canadian content each month," Kelly recalls. "At that time, if you didn't get your film into the Fantasia Film Festival in Montreal or Toronto After Dark, you didn't have that many great opportunities to have your film shown.
"So I had all these filmmakers come to me about playing their films at my Fright Night events, but instead of just playing one every month I thought we should show as many of them as we could over a weekend. We decided that we should create a festival, and we held our first festival in 2012 and it did really well."
Held at Toronto's historical Royal Cinema on College Street every November, the Blood in the Snow festival is not only a chance for audiences to experience films they might not get a chance to otherwise see, but it is also a chance for filmmakers to come together and create alliances and new opportunities together.
"I think you'll find that there are two groups that come to the festival — the horror fans and the filmmakers," Kelly says.
"We have filmmakers coming from all over Canada, and they are showing each other their work and doing them on budgets that are completely reasonable and attainable. It's amazing what they can do with limited resources, but all the films are very high quality. They stand up.
"What happens in Toronto is that everyone coms and they get inspired. They see everyone's work and they get to talk to the actors and the crew people. People meet, and the next year they are collaborating on a film together. I see this happen every year.
"I know that Peterborough has its own film community, and I really hope that our films will help inspire the people in the Peterborough community even more to collaborate."
Although horror is a niche genre, its legion of devotes is undeniable and it remains to be one of the most popular genres in the history of film. But, according to Kelly, it's not just the thrills and the frights that make horror films so popular with audiences.
"In horror films you can say a lot of interesting things that you can't necessarily say directly," Kelly explains. "You can use a lot of social messages in them. A lot of horror films are a commentary of what's going on in society at the time."
"They are subversive, but they also often have a bit of playful quality to them. I like horror films that have a little bit of comedy to them. I don't think you can watch something like Dawn of the Dead and take it too seriously.
"I even find Texas Chainsaw Massacre kind of funny. I saw the restoration copy of it a few years ago, and the first time you see it its creepy and based on real people, but once you get desensitized to it its actually really funny. The scene where they were trying to feed the decomposing grandfather is hilarious."
Although I consider myself to be an aficionado of the horror genre, at the top of my head I could only name a handful of Canadian horror films, including Black Christmas, Cannibal Girls, and Seizure. But being immersed in the world of Canadian horror, Kelly points out that our nation's film industry goes far deeper.
"We have a long history with horror films," he says. "Black Christmas is usually the first that comes to mind, but it was Ginger Snaps that kind of set the template for the style and vibe of Canadian horror cinema.
"But if Canadian horror filmmakers have a main source of artistic inspiration, it all goes back to David Cronenberg. He's really the granddaddy of it all for Canadians, because he was able to mix art house sensibilities and psychological drama with horror elements.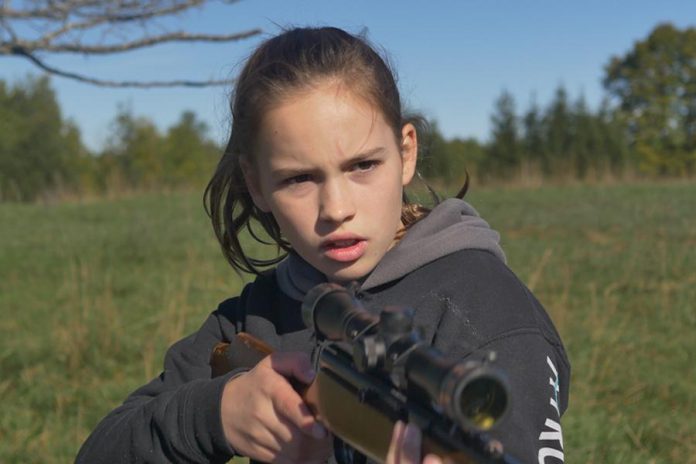 "If you work as his early catalogue, he really bounced between traditional horror films like The Fly to more psychological material like Dead Ringers and Videodrome. You're kind of seeing that come full circle with the Soska twins who are bringing out their remake of Rabid later this year."
For the first-ever Blood in the Snow film festival tour, Kelly and his team are bringing four films and featuring local shorts to four cities over the month of March, including Peterborough, Kingston, Ottawa and Kitchener. In most cases, the directors and other individuals involved in the films will be in attendance at each of the screenings for a Q&A after each film and to meet audience members after the screening.
For their Peterborough screenings, Blood in the Snow is bringing four feature films: I'll Take Your Dead and Late Night Double Feature on Friday, March 1st, and E.M.P 333 Days and Alive on Saturday, March 2nd.
The films will be accompanied by five shorts featuring local filmmakers from the Kawarthas: Peanut directed by Jamie Oxenham and One More for the Road directed by Navin Ramaswaran on Friday, March 1st, and Abduction directed by Michelle Foster, No Trespassing directed by Charlie Lawton, and The Doorway directed by Michael Hayes on Satuday, March 2nd.
But, as Kelly reveals, the shorts are just a small part of the local content being featured at Blood in the Snow's Peterborough stop.
E.M.P. 300 Days, Written and directed by Bridgenorth filmmaker Adriano Ferreri, was shot entirely in the area and features many familiar actors from the Peterborough community. As well, parts of Late Night Double Feature, which was written by Kelly, were shot in Peterborough.
"There is this idea that people don't watch Canadian films, but we find that the people do come out to our films," Kelly says. "Our audience increases each year. At Blood in the Snow you aren't watching stupid sequels or dumb remakes. Instead you're watching well-made original content by local filmmakers for local audiences."
Although access to all of the films is available for a flat fee of $30, each film can be seen individually at a ticket price of $12.
Here's more on each of the four feature films screening at the Market Hall:
I'll Take Your Dead (2018)
Directed by Chad Archibald and starring Aiden Devine, Ava Preston and Jess Salgueiro. Friday, March 1st at 7 p.m.
VIDEO: "I'll Take Your Dead" Trailer

Directed by popular Blood in the Snow contributor Chad Archibald, founder of Black Fawn Films, I'll Take Your Dead is described by Kelly as a mob thriller with supernatural elements.
"I'll Take Your Dead is about this guy named William, who is being blackmailed by the mob," Kelly says. "He lives alone in the country, along with his daughter, and his job is to get rid of bodies. He has to contend with that while raising a young daughter, who is seeing ghosts in the home.
"One day they bring a body to the house to dispose, and William discovers the victim is not really dead yet. So he has to deal with a moral decision: does he kills this woman or does he save her and risk his own family? It's really interesting and I think people will absolutely love it."
Late Night Double Feature (2016)
Directed by Torin Langen, Naven Ramaswaran and Zaschery Ramelan. Friday, March 1st at 9:30 p.m.
VIDEO: "Late Night Double Feature" Trailer

Inspired by the late night TV horror shows of yesteryear, such as those hosted by horror icons like Vampira, Elvira. and Zacharie, this anthology film features two 32-minute horror films, Dinner for Monsters and Slit, with a third story featuring the filming of the late-night movie show as the wrap around.
"The film takes place during a late night taping of a horror movie TV show starring horror host Dr. Nasty," says Kelly, who was a contributing writer and producer for the film. "We show the behind-the-scenes of the filming of the show, and then we show a double bill of two additional films within the movie.
"Dinner for Monsters is about a family of cannibals that hire a chef to cook them dinner, and Slit is more of a serious film about a guy who is hired to cut people in order to release their stress, and this guy finds this one client who is a little more disturbed than the people he's used to, and things go awry from there.
"We also have fake commercials during it. One of the commercials, called Night Clown, is my directorial debut and we did shoot it in Peterborough, just over on Bensford Road. It's very playful and fun."
E.M.P 333 Days (2018)
Directed by Adriano Ferreri and starring Rosa Ferreri, Liam Davidson, and Derek Bell. Saturday, March 2nd at 7 p.m.
VIDEO: "E.M.P 333 Days" Trailer
Of all of the films being featured at the Blood in the Snow Festival, E.M.P 333 Days is the one that has the closest ties to the Kawarthas.
Described by Kelly as a post-apocalyptic thriller, the film was written and directed by Bridgenorth filmmaker Adriano Ferreri and stars his daughter Rosa as a girl trying to find her father in a new world without power, electronics, or technology.
"The film follows a girl who is a survivor of when an electromagnetic pulse is deployed," Kelly says. "So it's like an apocalypse, but it means that there is no electricity and that creates chaos."
E.M.P 333 Days also co-stars local young actor Liam Davidson, who performed in 4th Line Theatre's The Hero of Hunter Street and Lakefield College School's recent production of Mamma Mia, and local theatrical stage favourites Derek Bell and Dan Smith.
The film has also already represented our community well by winning awards at the Rockport Film Festival in Texas and the SNOB Film Festival based in New Hampshire.
Alive (2018)
Directed by Rob Grant and starring Thomas Cocquerei, Camille Stopps and Jules Vincent. Saturday, March 2nd at 9:30 p.m.
VIDEO: "Alive" Trailer

Directed by Alberta-based filmmaker Rob Grant, Alive is a psychological thriller/mystery about a man and a woman who wake up in a doctor's laboratory with amnesia, not knowing who they are or how they got there.
"They are all cut up and scarred and they don't know what happened," Kelly says. "The doctor intimidates and manipulates and punishes them under the guise of attempting to heal their wounds. You don't know the doctor's motivation until the very end."
What makes Alive a must-watch film is its ending, which Kelly us careful not to reveal.
"I can't tell you too much about it because I don't want to give too much away, but it has the best twist ending of any film we've ever played at Blood in the Snow," Kelly reveals. "We are talking Sixth Sense level of twist ending. When I saw it as a screener a year ago, I did not see where it was going."
It should be noted that due to geographical restraints, director Rob Grant unfortunately will be unable to attend the Peterborough screening of Alive.
For film fans and horror fans alike, the Blood in the Snow festival is a real treat for Peterborough audiences. It's a chance to see some unique films and celebrate Canadian cinema.
For more information and to purchase all-access passes and individual film tickets, visit the Blood in the Snow website at bloodinthesnow.ca.