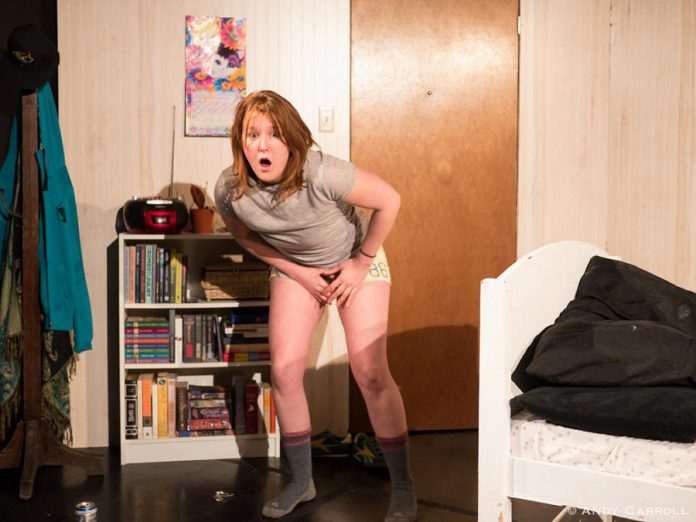 This weekend, get ready for a very different sort of vagina monologue.
From February 7th to 9th, Peterborough performer Naomi DuVall is bringing her highly original show Puss-essed to The Theatre on King (TTOK) in downtown Peterborough.
Featuring the talents of Naomi, along with Lindsay Unterlander and Hilary Wear (depending on which night you attend), Puss-essed is a quirky yet moving show about mother and daughter relationships, grief, healing … and lady parts.
Puss-essed is the story of Bridgett, a young woman living on her own far from home who discovers her estranged mother has died.
While trying to process her emotions, a strange thing happens to Bridgett: one morning she discovers the ghost of her mother is inhabiting her vagina and is able to communicate with her.
Obviously uncomfortable with this strange haunting, Bridgett must find a way to rid her vagina of her mother's spirit, but in the process finds the time to finally have the mother-daughter conversations she should have had while her mother was alive.
When I first learned the premise of Puss-essed, I had to wonder just how Naomi came up with such an outlandish premise for her show. I was surprised to find out that the process goes back to 2014, and the show has a much deeper origin than I expected.
"It started in 2014 after a break up, and I started to be interested in feminism and women's bodies and female health," Naomi explains.
"I started to follow and artist named Sophia Wallace, and I went to this art show called Cliteracy. Her inspiration was from 2009 when people found out the actual shape and size of the clitoris, that it wasn't just a nerve ending, but a bigger-shaped organ that was part internal and part external. I found that so interesting. I became very curious and started doing a lot of research.
"I started to think about the female sexual organs as a character. What would the things be that your body would want to say to you if they could? What are its needs? Since theatre school I've been interested in puppetry and I actually made a puppet that was a vagina that could speak."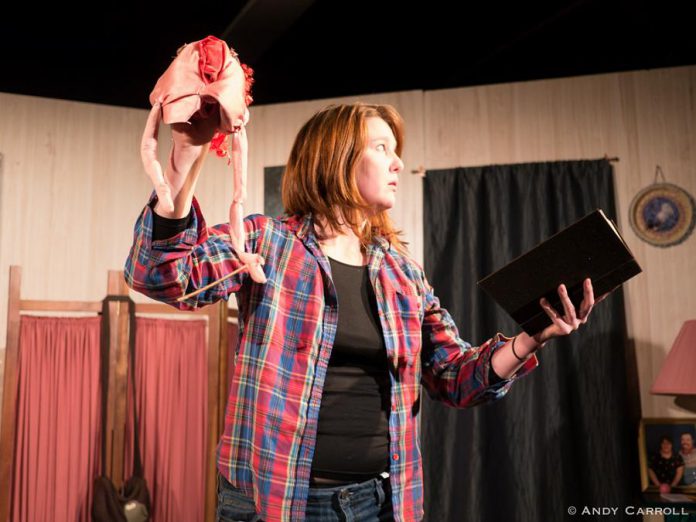 Performing with her vagina puppet at various cabarets, it was during a performance that a remark from an old friend tied Naomi's performance to her own mother, who had passed away a number of years earlier.
"I started using the vagina puppet at some of the cabaret acts I perform in, and a friend who knew my mom said to me, 'You know that character that you use for the puppet is your Mom, right?' It totally floored me. I brushed it off, but a few months later I revisited that comment and I realized that she might be right.
"That made me think that'd it'd be funny if the puppet was haunted by my mom. But then with some forward flights of the imagination, I came to the thought: what if your vagina was actually haunted by your mom?"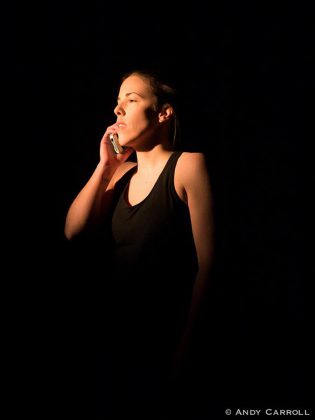 Naomi debuted the piece at the Gettin' Wet Cabaret put on by Unmarked Theatre at Buddies in Bad Times in Toronto in 2018.
However, the TTOK performance is an extended version of that show with two actresses performing, one as Bridgett and one as the off-stage voice of her late mother.
Unique to this performance is that different actresses will be performing the material depending on which night you see it.
On Thursday, February 7th, Lindsay Unterlander will perform as Bridgett and Naomi will be the voice of her mother; on Friday. February 8th, they switch with Naomi playing Bridgett with Lindsay the voice of her mother; and on Saturday, February 9th, Hilary Wear steps into the role of the mother with Lindsay returning as Bridgett.
Athough I already knew the premise of Puss-essed, I wasn't at all prepared for what it was actually going to be like. Most surprisingly is the fact that Puss-essed is not really much of a sexual show. Even though Bridgett's mother is haunting her vagina, there's some sexual humour revolving around cleverly placed puns but little else.
Despite its premise, Puss-essed never gets gratuitous which is so refreshing. The show is really about grief and healing and the complex relationships between mothers and daughters. It puts forth the question of what would you say to a deceased loved one if you had one more chance to have that final conversation.
The result is a far more moving and complex show than you might at first think. It is obviously funny, but the bizarre plot also has great amounts of depth, pathos, and raw emotion. The result is not only a highly original premise, but a fantastic dramatic piece to highlight the talents of some of Peterborough's favourite actresses.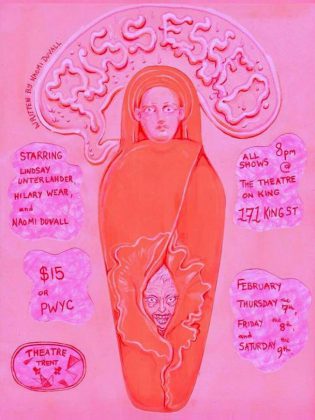 I also want to note that I really enjoyed the nods to the occult and supernatural practices involved in the plot. With my own interests in the supernatural, I felt that a lot of the occult influences were actually fairly realistic in terms of my own understanding. It was a nice touch that at times creates comedy, but at other times seem to be dipped in its own reality.
Puss-essed could be one of the most original shows I've seen while working as an arts journalist in the Kawarthas. But what makes it a winner is its clever execution, emotional script, and strong cast. It's a wonderful show that I plan on returning to again before the weekend is done.
Whatever your initial reaction to the premise is, I challenge you to head down to TTOK yourself and take it in. You will not be disappointed.
Puss-essed runs from Thursday, February 7th to Saturday, February 9th at The Theatre on King (171 King St., Peterborough). Performances begin at 8 p.mm and tickets are $15 at the door or pay what you can.