The students of Lakefield College School transform the Bryan Jones Theatre into England's Sherwood Forest in their performance of David Farr's The Heart of Robin Hood, running from Thursday, May 23rd to Saturday, May 25th.
Presented by the directorial team of Iain Beaumont, Tina St. John and Dayna Taylor, The Heart of Robin Hood is an imaginative take on the legend of Robin of Loxley that actually pushes Robin Hood and his band of merry men into the background and, instead, thrusts his beloved Maid Marion into the spotlight as the show's primary heroine.
Written by British playwright David Farr, The Heart of Robin Hood was first presented by the Royal Shakespeare Company at Stratford-upon-Avon in 2011. Since then it has been restaged multiple times in many forms, including being transformed into a musical and even a Cirque du Soleil inspired performance piece.
In 2014, Toronto's Mirvish Theatre staged a successful run of the play at the Royal Alexander Theatre in Toronto, popularizing the show with Canadian audiences.
Advertisement - story continues below
The show has become a favourite among both audiences and Robin Hood enthusiasts for its playful take on the familiar characters, as well as for featuring Maid Marion in a new and heroic fashion.
Although the plot and natures of the characters change greatly in The Heart of Robin Hood, the setting is very much that of all Robin Hood tales. Set in medieval England, the evil Prince John (Liam Cole) rules over England while his brother King Richard is away fighting in the crusades.
When Prince John arrives in Nottingham to court the beautiful Marion (Faith Dickinson), the horrified lady flees into the nearby Sherwood Forest with her faithful servant Pierre (Liam Davidson) to join the band of rebels led by the legendary Robin Hood (Santiago Paz).
However, upon meeting Robin Hood, Marion finds that he is not all that she believed him to be. Instead of a heroic band of rouges, she finds him and his gang to be a band of merciless thugs. Marion decides to take matters into her own hand and, disguising herself in men's clothing, becomes "Martin of Sherwood", who robs from the rich and gives to the poor and becomes a champion of the people.
Quickly coming into conflict with both Prince John's men and the territorial Robin Hood, Robin and Marion become united when they seek to save two orphaned girls Jethro (Dayna Gonnella) and Sarah (Laura Pede) who fall into Prince John's path of murder and tyranny. Along the way Robin, Marion, and their team discover the meaning of heroism, loyalty, and humanity — while finding unexpected romance.
The true strength of The Heart of Robin Hood lies in this well-plotted alternative take on the familiar legend, and in fleshing out the character of Maid Marion. While many of the other characters in the legend — including Robin Hood, Little John, and the rest of the Merry Men — are deeply established in the legend, Maid Marion is a character we seem to know by name only who acts as little more than a love interest for Robin Hood.
Advertisement - story continues below
It is interesting to see how David Farr transforms her into a strong and independent character, and brings her forth as the most interesting figure in the legend.
Taking centre stage in the role of Marion is Faith Dickinson. Although this is her first time as a leading lady in a dramatic role, Faith is no stranger to the spotlight as the founder of the award-winning local non-profit organization Cuddles for Cancer, as well as being a recipient of the esteemed Diana Awards, created by Prince William and Prince Harry in the memory of their late mother (Faith was also invited to attend the royal wedding of Prince Harry and Meghan Markle).
An impressive young lady with natural poise and charisma, Faith is also an engaging young actress, proving there could be nothing that she can't do. Passionate, strong, and endearing, Faith has a natural presence on stage that connects with the audience, putting her in command of her performance while still supporting the actors around her.
This is a strong starring debut for Faith, who is a delight to watch, making Marion an instant audience favourite.
Opposite of Faith is Santiago Paz as Robin Hood who, in a complete reversal of the traditional tale, is downsized from leading character to romantic interest.
Advertisement - story continues below
His performance of Robin Hood is an interesting one because, instead of the devil-may-care version characterized by Errol Flynn or the romantic hero popularized by Kevin Costner, Santiago's Robin Hood is more brutal, dour, and darker.
A brooding anti-hero, Santiago's Robin Hood has given into the harshness of his environment and, having never given anyone his heart, he is a man without compassion. In his interactions with Marion (both as herself and as her alter ego Martin), Robin learns the lessons that make him the great hero of yore.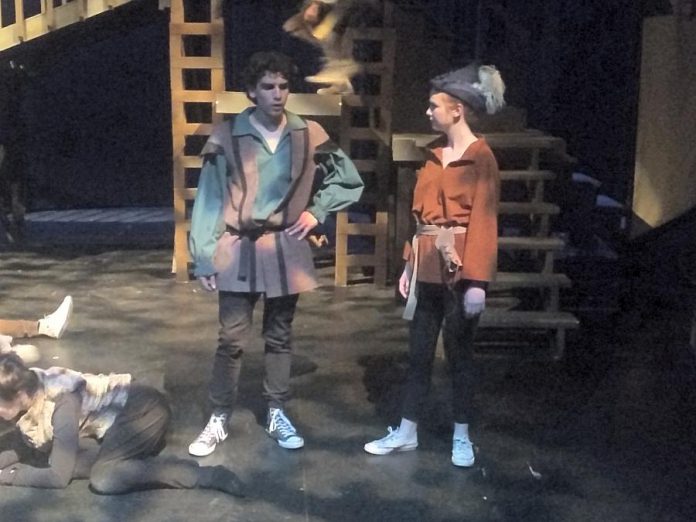 Also taking centre stage throughout the show is the important contribution of Liam Davidson as Marion's savant Pierre. An experienced young actor on stage and screen, this is a rare comedic role for Liam, who primarily has been a dramatic actor since his early days acting at 4th Line Theatre. As Pierre, Liam has a big presence and plays the character much as one would play a Dame in a traditional Christmas pantomime.
Somehow it works, and Liam creates some nice moments that often give much-needed relief from the intensity of the drama.
I also want to give a nod to Mikayla Stoodley who plays the part of Marion's vain and devious sister Alice. I've seen Mikayla in a number of productions over the years, starting with children productions at the Peterborough Theatre Guild and continuing through productions at Lakefield College School. I notice great growth in Mikayla in each new show I see her in, and her performance of Alice is her finest yet. Dedicated to her art, she is a fine character actress who will hopefully find great success as an actress.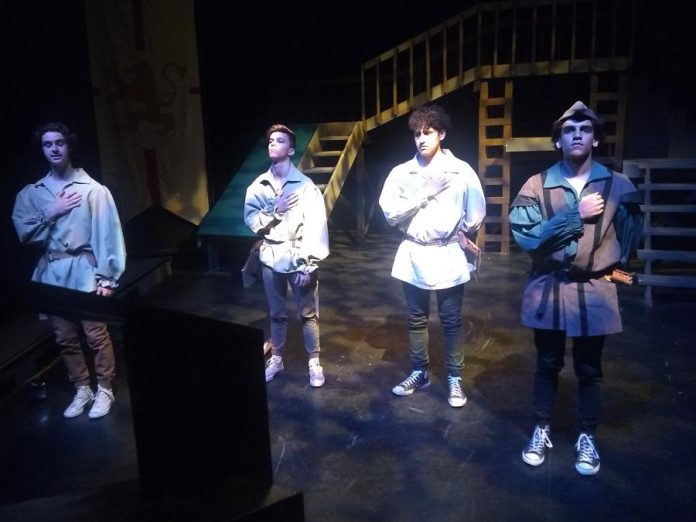 The Heart of Robin Hood also has a great supporting cast of characters, including a deliciously vile performance by Liam Cole as the demented Prince John, Nick Latimer as Will Scarlett, Pedro Zapata Milla as Much Miller, Aidan Segura as Little John, Dayna Gonnella and Laura Pede as sisters Jethro and Sarah Summers, Jayden Julian as the tragic Augusta Makepeace, and Syerra Richards as the mysterious Green Man.
A big shout out also goes to Lexie Shearer in the role of Plug the dog which, albeit bizarre within this narrative, oddly works (I like the pig tails that create the illusion of dog ears … it's a neat touch).
Advertisement - story continues below
While the drama of the show is well told, the comic element of the play seems to get lost in this production of The Heart of Robin Hood. Comedic lines are downplayed while the drama is accentuated. That said, the company is very good at heightening the horror and brutality of the era, which continued to shock me throughout the show.
The Heart of Robin Hood has a surprisingly high body count — perhaps not a Game of Thrones type body count, but much higher and more brutal than one would expect from a student production. Personally I found this to be an interesting element to the show, and applaud the company for not shying away from some of the more brutal moments of the narrative.
VIDEO: "The Heart of Robin Hood" – Lakefield College School
As always, Lakefield College School delivers in regards to set design and costumes. The Heart of Robin Hood has an impressive multi-level set masterly created by Harold Davies, and beautiful costumes designed by Mary Parulski, Annie Da, Minjung Son and Dorothy Li.
Another important feature of the production is the extra effort put into stage fighting and sword handling, which creates another dimension to the show. The students were trained by Jamie Treschak and Brianna Love from Violence in Motion, creating some exciting battle sequences and realistic duels.
An engaging story that will entertain audiences, The Heart of Robin Hood is presented at the Bryan Jones Theatre at Lakefield College School on Thursday, May 23rd and Friday, May 24th at 7:30 p.m., and on Saturday, May 25th at 4 p.m. Admission to the show is free, but seats must be reserved in advance at bit.ly/heartofrobinhood.