Renowned Canadian author Michael Ondaatje is one of several writers who will be appearing at this year's Lakefield Literary Festival in July.
The festival, which is celebrating its 25th anniversary in 2019, includes a full program of readings, talks about the craft of writing, and free community events this summer. The festival takes place in Lakefield from Friday, July 12th to Sunday, July 14th.
"Our 25th anniversary season is a major milestone, and we've created a bright new logo to mark the occasion and carry us into the next quarter-century," says festival board chair John Boyko. "We're a small but mighty festival run by volunteers, and thanks to the generosity of loyal sponsors."

Michael Ondaatje is best known for his 1992 novel The English Patient, which won the Booker Prize and was made into a Oscar-winning 1996 film starring Ralph Fiennes, Kristin Scott Thomas, and Juliette Binoche. Among his other accolades, Ondaatje's 2000 novel Anil's Ghost won the Irish Times International Fiction Prize, the Giller prize, and the Prix Médicis.
Ondaatje will be in conversation with editor and publishing executive Louise Dennys about his latest novel Warlight on the evening of Saturday, July 13th.
The festival opens on Friday evening with "Humour, Hope & Dissent", featuring readings by Lee Maracle and Columpa Bobb (co-authors of the poetry collection Hope Matters), Drew Hayden Taylor (author of the recent play Cottagers and Indians as well as many other plays and books), and Duncan McCue (author of The Shoe Boy and current host of CBC Radio's Cross Country Checkup).
Advertisement - story continues below
On Saturday afternoon, "At What Cost" features novelists Linda Spalding (The Reckoning) and Wayne Grady (Up From Freedom) reading with author and Trent professor Molly Blyth (Mary Prince and Ashton Warner).
On Sunday afternoon, "Leaving Home, Coming Home" brings together Tima Kurdi (author of the acclaimed memoir The Boy on the Beach) with Winnie Yeung and Abu Bakr al Rabeeah (co-authors of Homes: A Refugee Story, a finalist for 2019 Canada Reads and a finalist for the Governor General's Literary Award for Nonfiction).
All four readings take place at the Bryan Jones Theatre at Lakefield College School. Tickets are $22 for each event, and they tend to sell out quickly. The Ondaatje event is already sold out, as is the authors reception buffet in the centre courtyard at Lakefield College School which takes place on Saturday early evening.
For aspiring writers and anyone interested in literary art and craft, three writing craft talks will be offered: "Some problems in translation, or, what did Don Quixote eat on Saturdays?" by Wayne Grady on Saturday morning, "Writing and Drawing with Kevin Sylvester" by Kevin Sylvester on Saturday afternoon, and "Playwriting & More: A Career" by Drew Hayden Taylor on Sunday morning.
Advertisement - story continues below
Each workshop is limited to 24 participants, takes place in Room 8 at Lakefield College School, and costs $30.
Free events at the festival include the family-friendly Children's Tent, presented in partnership with Selwyn Library. This year it features popular authors/illustrators Kevin Sylvester (Gargantua Jr. Defender of Earth) and Ruth Ohi (No Help Wanted!). The Children's Tent, located at Cenotaph Park, opens at 10 a.m. on Saturday.
Also on Saturday morning, the Lakefield Literary Historical Walk will offer a guided tour of the village led by actor, playwright, and author Mark Finnan. While there is no charge for this event, free tickets will be given to the first 30 participants (first come, first served).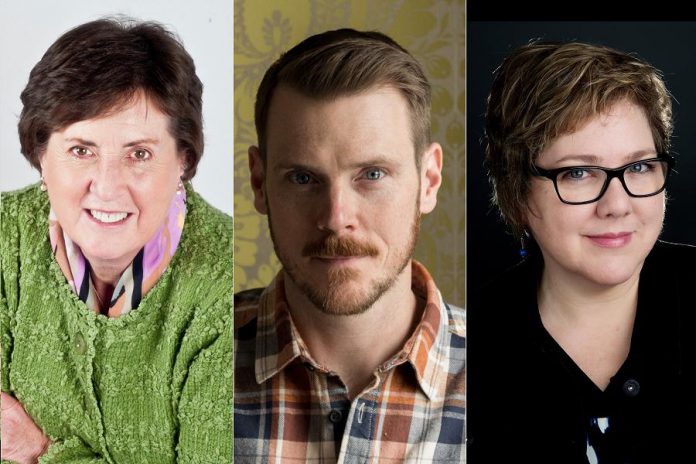 Early Saturday afternoon, the Local Authors' Tent will be open in Cenotaph Park. Local fiction writers Jane Bow (Homeless), Andrew Forbes (Lands and Forests), and Laura Rock Gaughan (Motherish) will be reading from their recently published books. Admission is free.
The festival will also be celebrating the winners for its annual Young Writers Contest, where high school writers will see prizes awarded for poetry and prose in the senior (grades 11 and 12) and junior (grades 9 and 10) divisions. This year, the festival received more than 70 submissions.
Festival passes are already sold out (as well as the Ondaatje event and the authors reception buffet), but tickets are still available for other individual events. You can purchase them online at lakefieldliteraryfestival.com and in person at Happenstance Books & Yarn (44 Queen St., Lakefield) and Hunter Street Books (164 Hunter St. W., Peterborough), cash or cheque only.
The Lakefield Literary Festival was established in 1995 as a celebration of Margaret Laurence, but has since become a celebration of the rich literary heritage of Lakefield and the surrounding area, including the works of Catharine Parr Traill, Susanna Moodie, and Isabella Valancy Crawford, all of whom lived and wrote in Lakefield. Every year, the festival showcases Canadian authors and promotes the joy of reading and writing among children and adults.
For more information about Lakefield's literary heritage, see below.
Advertisement - story continues below
Lakefield's literary history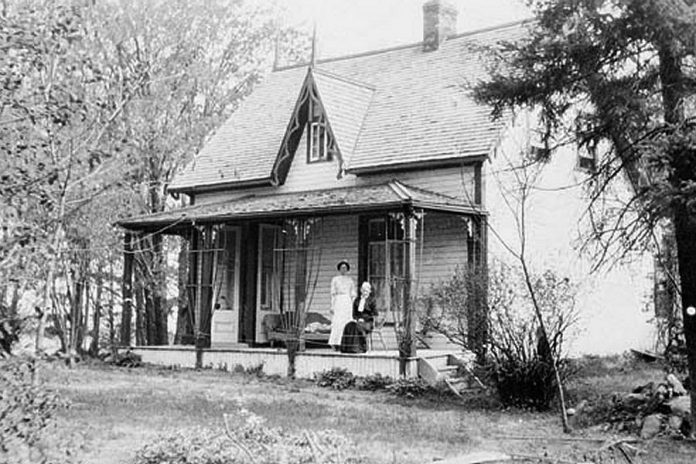 The Village of Lakefield has a rich literary heritage, with two of Canada's most important 19th-century writers — sisters Catharine Parr Traill and Susanna Moodie — having lived in the area, as well as one of Canada's most esteemed and beloved writers, the novelist and short-story writer Margaret Laurence.
Born in England almost two years apart, Susanna and Catharine Parr Strickland eventually married, respectively, John Moodie and Thomas Traill. In 1832, both families emigrated to Canada where they settled on adjacent bush farms along the eastern shore of Lake Katchewanooka just north of Lakefield, with the help of their brother Samuel Strickland.
Their experiences as pioneers led to Catharine Parr Traill's book The Backwoods of Canada (1836) and Susanna Moodie's book Roughing It in the Bush (1852).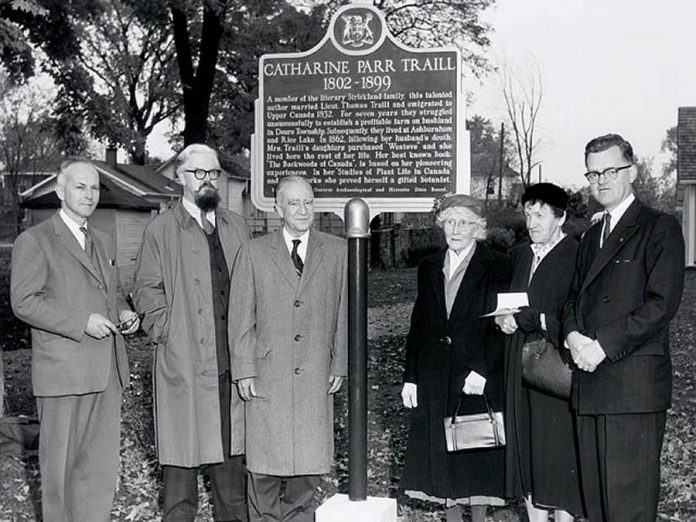 In 1840, Susanna Moodie and her husband moved to Belleville, but she returned to the Lakefield area for a month each summer to visit her sister.
The prior year, the Traills sold their farm and then lived at various locations in Peterborough County until Thomas Traill died in 1859. Following her husband's death, Catharine had a cottage built in Lakefield with the help of her brother Samuel.
She called it "Westove", after her husband's home in the Orkney Islands in Scotland. Except for short absences to visit family and friends, it was Catharine's home from 1860 until her death in 1899.
Located at 16 Smith Street in Lakefield, it is now a private residence with a historical plaque located beside the home.
One of Canada's most esteemed literary figures, Margaret Laurence, spent the last 13 years of her life in Lakefield. She is best known for her iconic books The Stone Angel (1964), A Jest of God (1966), and The Diviners (1974).
Advertisement - story continues below
Called the "First Lady of Lakefield", Laurence lived at 8 Regent Street in Lakefield from 1974 until her death there in 1987. She also had a cottage on the Otonabee River near Peterborough, where she wrote The Diviners during the summers of 1971 to 1973.
Laurence's Lakefield home is located near Christ Church (62 Queen St.), a small stone church built in 1853 under the leadership of Samuel Strickland. It now houses the Christ Church Community Museum, which displays important historical artifacts and displays including the Strickland family history and information about Susanna Moodie, Catharine Parr Traill, Margaret Laurence, and 19th-century writer and poet Isabella Valancy Crawford, who also lived in Lakefield.
Christ Church Community Museum is only open to the public in the summer, when Lakefield also hosts the annual Lakefield Literary Festival. The 25th anniversary festival takes place in 2019 from July 13th to 14th.