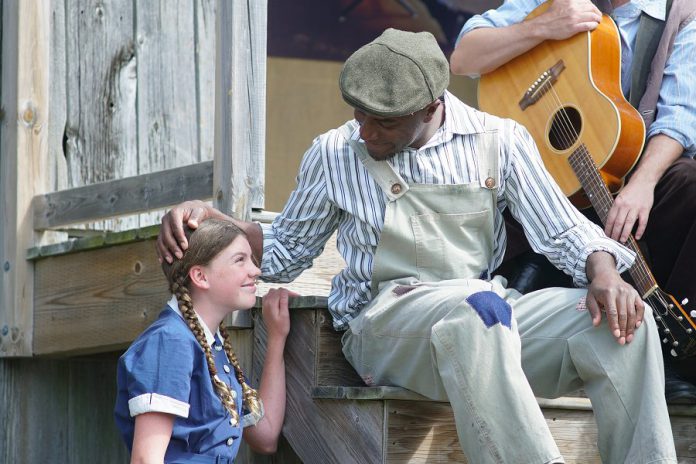 Robert Winslow and Ian McLachlan have something pretty special, which is far from being a fluke if one considers the words of American industrialist Henry Ford.
"Coming together is a beginning, staying together is progress and working together is success."
In the late 1980s, Winslow and McLachlan first came together to co-write the play Pioneer Chainsaw Massacre, which detailed the closure of the Peterborough-based Pioneer chainsaw company.
After Winslow founded 4th Line Theatre in 1992, it didn't take long for the spark that ignited that creative coupling to re-ignite as they co-wrote Crow Hill: The Telephone Play (1997), The Orchard (1998), Doctor Barnardo's Children (2005), and Wounded Soldiers (2014).
Now, with their collaboration as co-writers of Carmel, 4th Line Theatre's second production of the summer season, they are enjoying continued success.
"It's always difficult to write with somebody else but, most of the time, it's not for us because it's a collaboration essentially based on trust," notes McLachlan, sitting down for a chat Wednesday (July 24) at the Winslow farm near Millbrook, the scenic home of 4th Line Theatre.
Advertisement - story continues below
"We recognize that the other person has different kinds of approaches, has different talents," McLachlan adds. "Rob knows this part of the world in a way in which I could never know it. What we have found over the years is a way of combining the different styles and the different capacities that we have."
That dynamic aside, it makes plain sense that Winslow and McLachlan would again work together to write Carmel as it picks up the story they initiated with Doctor Barnardo's Children and continued in Wounded Soldiers.
VIDEO: Carmel – Behind the scenes at 4th Line Theatre (video produced by 705 Creative)
Set on Carmel Line in Cavan Township circa 1937, Carmel follows the struggles of a family to keep its farm during the Great Depression.
In addition, the storyline touches on local labour history of the period, in the form of a strike at the Bonnerworth plant in Peterborough, and also features references to the Spanish Civil War.
"In the 1930s, in just about every country in the world, working people struggled to survive," explains McLachlan.
"That struggle embodied two kinds of forces. One was a material need to actually work with what you've got. You're not getting new equipment. You don't have enough to eat, so you have to grow it somehow, or you have to find it, or you have to fish it. On the other hand, running through the 1930s in just about every culture you can think of was the drive of idealism to make a better world."
"These two things come together in this play: making do with what you've got, but also idealism in the sense of dreaming of something different."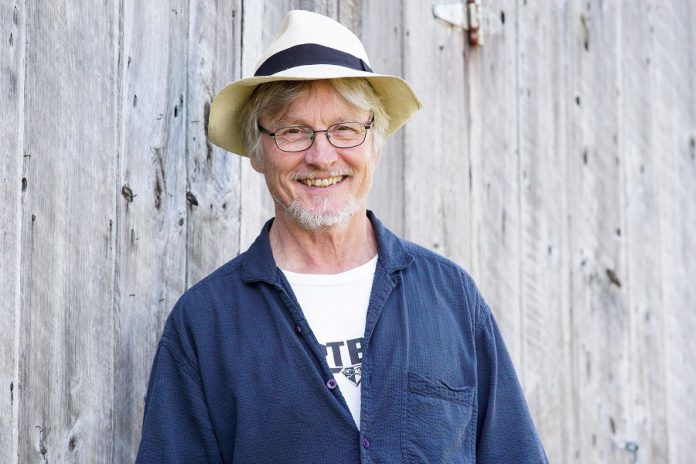 For his part, Winslow — who is also directing Carmel — says continuing the story started by Doctor Barnardo's Children is particularly appealing to him.
"I like following people's lives," he says, noting there are two more chapters to this story that will be written and staged in the future.
"I also like that it allows us to look at different periods of history. We looked at the pre First World War period and then we looked at the World War One period. Now we're looking at the 1930s … the Great Depression. In the next one (tentatively titled Eleanor) we'll be looking at the 1950s, and then the final one will probably be set in the 1980s."
The storyline for Carmel emerged from the recording of an oral history as related by Winslow's cousin Harold Lunn, a market gardener who was involved with the Peterborough market for 60 years.
"I sat down with him before he died. He told me the whole story of his life. I found it very compelling. It was a very moving story."
Advertisement - story continues below
Winslow adds Carmel is basically a tale of family and the resulting dynamic that is common to families to this day.
"There's a line in David Lynch's movie The Straight Story where this old guy is helping a young girl, a runaway who's pregnant and doesn't want to go back to her family. He puts a bunch of sticks together. He can't snap them and he says 'That's family.' I grew up here on the farm with my mom and dad and all my cousins and all the people that worked here … people were coming here all the time and playing music."
"I know family is still big in a different way, but if you look at the country people and how they go through tough times … well, it's personal. It's country people and the times they went through before I was born. I grew up hearing those stories."
Among the cast members of Carmel is someone who's much better known for her musical talent than her theatrical resumé, which to this point has been a blank page.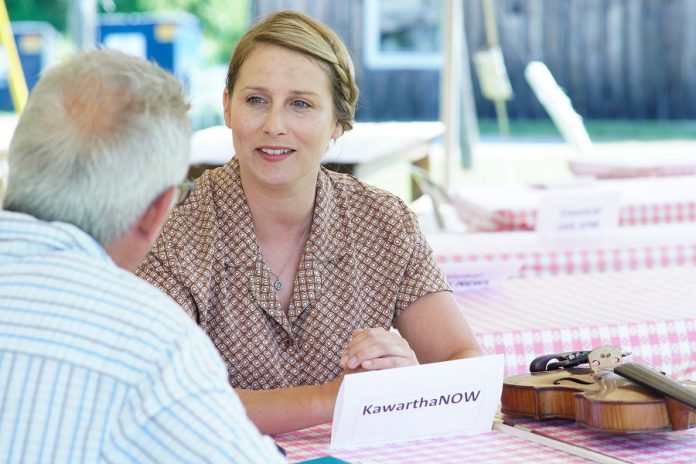 "I got a call from (4th Line managing artistic director) Kim (Blackwell) and Robert," recounts Melissa Payne, a singer-songwriter and fiddle master from Ennismore. "They asked me to come out to the farm for a quick audition."
Payne, who admits to being "pretty intimidated initially," impressed with her audition and landed the role of Audrey Barstow — a role model to a niece who is "an advocate for her and a good woman to follow."
"I'm dipping my toes in the water," admits Payne, who was persuaded to go to that audition by her close friend and music collaborator Kate Suhr (who performs in 4th Line Theatre's current production, Bloom: A Rock 'n' Roll Fable).
Even more appealing to Payne is that the role features her doing what she does best: singing as well as playing fiddle and guitar.
"I had never acted in my life but in this play I get to hold my instruments a lot. That's my safety net. I'm putting myself out there and so far, so good. It's a ton of work but it's a nice consistent job. And I'm at this beautiful farm hanging out with great people."
Payne makes particular mention of the benefit of working with 4th Line's long-time musical director Justin Hiscox.
"He (Justin) has created beautiful music. It's making me a better player. I'm going home and practising my fiddle. That's something you don't do after a shift at daycare."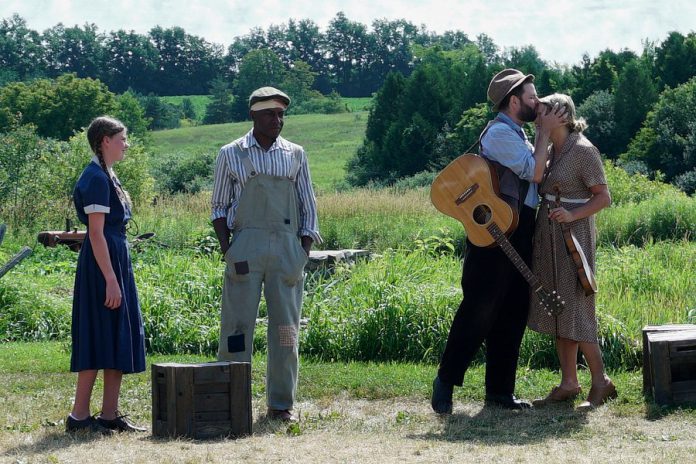 Also featured in the cast is a load of McQuarries: five kids and their mom who call Peterborough home.
"Twenty-five per cent of our cast is MacQuarries," muses Winslow before returning to the dynamics of his relationship, both personal and professional, with McLachlan, who is also an award-winning novelist and a Professor Emeritus of cultural studies at Trent University.
"I'm very lucky to have him (McLachlan) as a collaborator. We can kick ideas back and forth and we accept each other's ideas. We're critical but we're still supportive. All the years that we have worked together have been a real gift. It's not easy to find someone to work with creatively. Even The Beatles broke up."
Carmel also stars Kevin Bundy and Kristina Nicoll in their 4th Line debuts as Walter and Abigail White, the twin pillars of the White family around whom the story is related. Other cast members are Danny Waugh, Kelsey Powell, Andrew Pedersen, JD Nicholsen, Mark Hiscox along with his brother Justin, and — also making his Winslow Farm debut — Jonathan Shatzky.
Advertisement - story continues below
Featuring musical direction and original songs written by Justin Hiscox with original lyrics by Ian McLachlan, costume design by Meredith Hubbard, set and sound design by Esther Vincent, and fight direction by Edward Belanger, Carmel runs August 6th to 31st, Tuesday through Saturday, with curtain at 6 p.m. There will be an added performance Monday, August 26th, also at 6 p.m.
Advance tickets can be purchased by phone at 705-932-4445, online at www.4thlinetheatre.ca, at 4th Line Theatre's box office in Millbrook at 4 Tupper Street and in Peterborough at the Peterborough Museum and Archives at 300 Hunter Street East (atop Armour Hill). Tickets can also be purchased from 4 to 6 p.m. on performance nights at the Winslow Farm (779 Zion Line, Millbrook) but are subject to availability.
Carmel is the second of two productions staged by 4th Line Theatre this summer. Bloom: A Rock 'n' Roll Fable, written by Beau Dixon and directed by Kim Blackwell, wraps up its run this Saturday (July 27).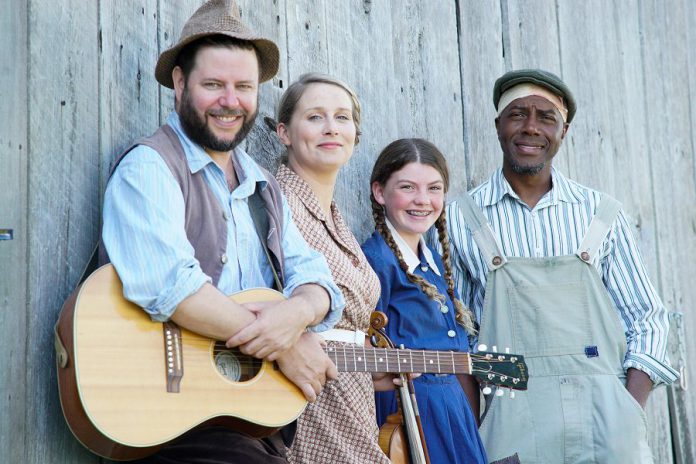 Since 1992, 4th Line Theatre has developed and presented 32 original plays based on regional history and culture, all presented at the Winslow farm. 4th Line Theatre's mandate remains to "preserve and promote our Canadian cultural heritage through the development and presentation of regionally based, environmentally staged historical dramas."