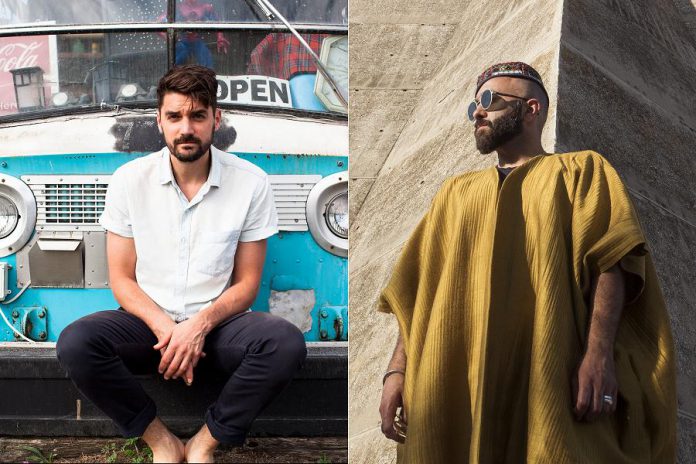 Organizers of the Peterborough Folk Festival have announced the full lineup for the annual music festival, which runs this year on Saturday, August 17th and Sunday, August 18th at Nicholls Oval Park in Peterborough's East City.
Joining already-announced headliners A Tribe Called Red, Kathleen Edwards, Matt Mays, and Fred Penner are Tim Baker (Hey Rosetta!) and Iraqi-Canadian hip-hop musician Narcy. Organizers also announced Missy Knott and Mayhemingways will be joining the list of local performers.
Tim Baker will be performing at 7:30 p.m. on Saturday, August 17th at the Peterborough Subaru main stage, sponsored by kawarthaNOW.com. Baker was the principal songwriter and lead vocalist of Hey Rosetta!, a seven-piece indie rock band from St. John's in Newfoundland.
After the band went on an "indefinite hiatus" in December 2017, Baker pursued his solo career, releasing his debut solo album Forever Overhead in April of this year. In June, the album was named to the initial long list for the 2019 Polaris Music Prize.
Baker will also be headlining the Newfoundland & Labrador Folk Festival Folk Festival the weekend before his Peterborough appearance.
VIDEO: "All Hands" – Tim Baker

Also performing on Saturday, August 17th is Narcy — the stage name of Iraqi-Canadian musician and multimedia artist Yassin Alsalman of Montreal. Presented by the United Way Peterborough & District Neighbourhood Fund, Narcy is considered a pioneer of the Arab hip-hop movement. He released his most recent album, SpaceTime, in November 2018.
Formerly known as the Narcicyst, Alsalman has done voice-over work for the video game Assassin's Creed Origins, won Video of The Year at the 2017 iHeartRadio Much Music Video Awards for his directorial debut with indigenous electronic group A Tribe Called Red featuring Yasiin Bey, earned a Juno Nomination for Best Music Video in 2017, starred in the Ali F. Mostafa's film City of Life in 2009, and has had his music featured in films including Fast and Furious 7. As well as being a musician, director, and actor, Alsalman is a professor of fine arts at Concordia University.
Narcy will perform at 8:45 p.m. on the Peterborough Subaru Main stage. Earlier in the afternoon, he will also be leading an open workshop on hip hop and social change.
VIDEO: "Animal" – Narcy

Other visiting performers at the free weekend festival include Hamilton alt-country and roots band The Redhill Valleys, Niagara folk rocker Katey Gatta, Yukon country-roots band The Lucky Ones, Victoria B.C. alt-folk singer-songwriter Kerry Jayne, and Peterborough-formed Toronto band I, The Mountain.
Along with Missy Knott and Mayhemingways, other local musicians performing at the festival are Peachykine, Say Ritual, Oberge, Cellar Door, Lauryn Macfarlane, a tribute to the late Joe Hall (hosted by Jay Swinnerton), Sista Jill & The Fam Jam, and Irish Millie.
Prior to the free portion of the festival, there are two ticketed kick-off concerts taking place at Market Hall Performing Arts Centre featuring two Juno Award-winning musicians: William Prince on Thursday, August 15th and Donovan Woods & The Opposition on Friday, August 16th. Both concerts begin at 8 p.m. and tickets can be purchased online at markethall.org.
Also as part of the festival, Rock Camp for Girls (RC4G) Peterborough is also hosting a "big show" from 4 to 6 p.m. on Friday, August 16th at Showplace Performance Centre.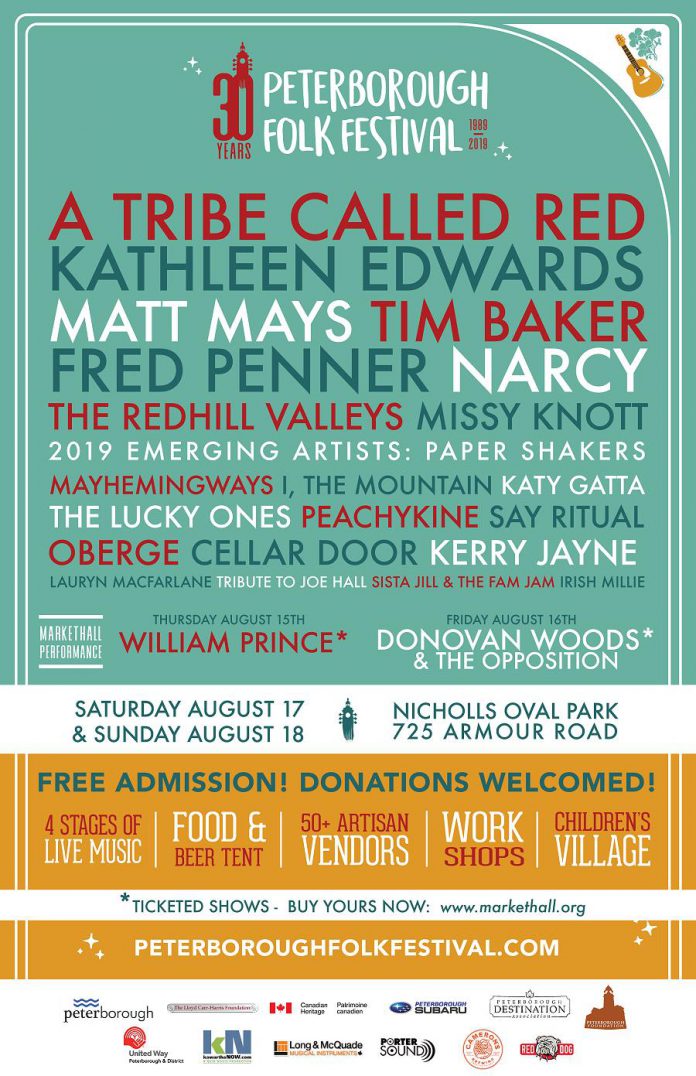 While the four stages of live music at Nicholls Oval Park are the focus of the Peterborough Folk Festival, the family-friendly event has a lot more to offer. There will be food, a beer tent, more than 50 artisan vendors, workshops, a children's village and lots of kid-friendly activities including family yoga, drum circles, face painting, and more.
There will also be after-parties at the Historic Red Dog in downtown Peterborough on Saturday and Sunday night at 11 p.m. following each day's events. The after-parties feature performances by select festival musicians (to be announced).
For a full schedule of performances and events, check out the festival's brand new website at www.peterboroughfolkfest.com.
Note that the festival is still seeking volunteers and sponsors. If interested, visit the website.