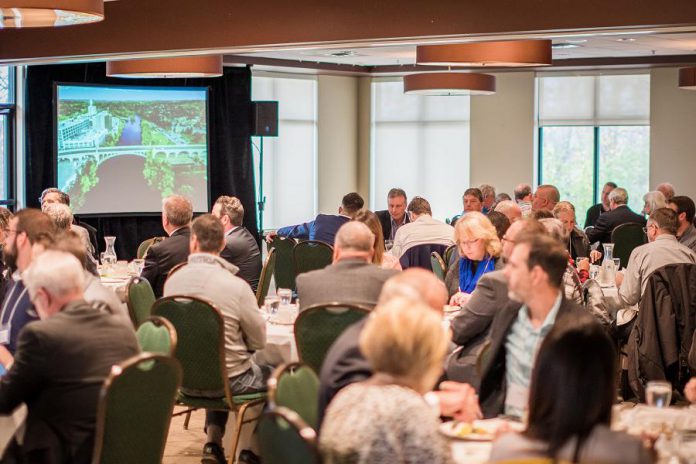 Every month, Peterborough & the Kawarthas Economic Development (PKED) shares its latest news and information of interest for the local business community. This week's edition features the forging of the Community Economic Development Initiative (CEDI) Accord between the region's local municipalities and First Nations, input sessions for PKED's five-year strategic plan, and the TD Economic Outlook Luncheon held on October 30th.
---
CEDI Accord Forged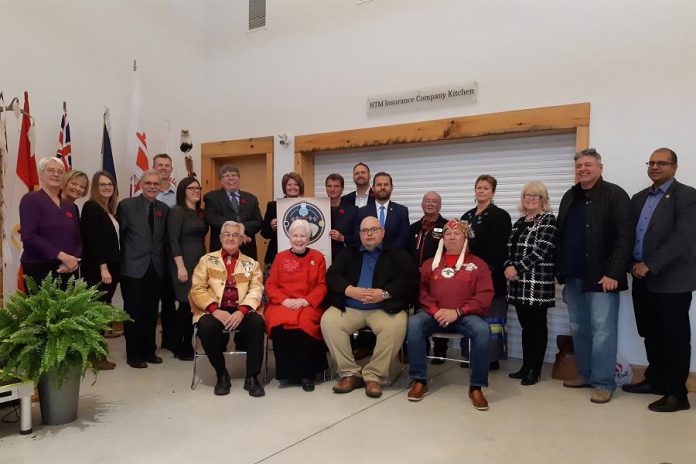 An economic development partnership between the region's local municipalities and First Nations to boost economic development was sealed with a ceremonial document-signing on Saturday, November 2nd at Lang Pioneer Village in Keene.
Curve Lake First Nation, Hiawatha First Nation, the County of Peterborough, Selwyn Township, Otonabee-South Monaghan Township, and Peterborough & the Kawarthas Economic Development were the six partners in the Community Economic Development Initiative (CEDI) that solidified the historic "Ezhi-Wiijikiwendiyang," also known as the Friendship Accord Signing Ceremony.
The accord represents the groups' commitment towards the fostering of relations.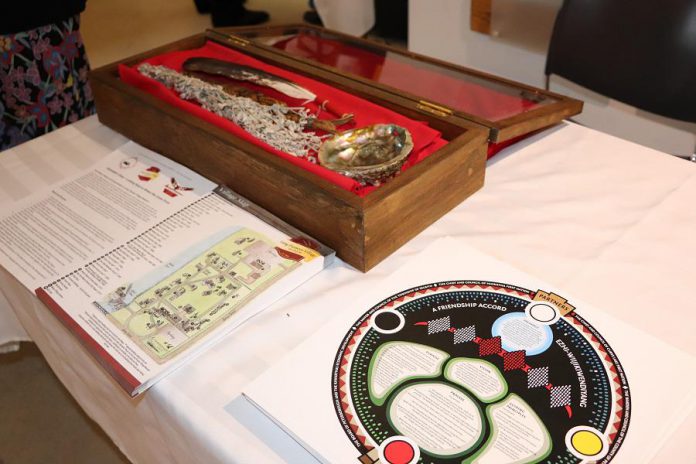 The ceremony started with a traditional song performed by the Red Path Singers, a youth singing group from Curve Lake First Nation, as dignitaries, Chiefs, and other leaders walked into the main hall.
Former Mayor Mary Smith (Selwyn) and Chief Keith Knott (Curve Lake First Nation) then discussed the history of First Nation and municipal collaborations in the region before the ceremonial signing took place.
The Honourable Lieutenant Governor of Ontario Elizabeth Dowdeswell, Northumberland-Peterborough South MP-elect Philip Lawrence, Peterborough-Kawartha MPP Dave Smith, Northumberland-Peterborough South MPP Dave Piccini, and Deputy Grand Council Chief James Marsden of the Anishinabek Nation were all in attendance.
An exciting celebration today as ?@CurveLakeFN? #Hiawatha FN, ?@SelwynTownship? ?@OSMTownship? ?@PtboCounty? ?@PtboEcDev? sign this Friendship Accord pic.twitter.com/pA6gFPbQIV

— PtboRhondaK (@PtboRhondaK) November 2, 2019
We're very excited to be attending the Ezhi-Wiijikiwendiyang: Friendship Accord Signing Ceremony and to be part of this amazing partnership with @FNMuniCEDI @CurveLakeFN @HiawathaFN @OSMTownship @PtboCounty @PtboEcDev pic.twitter.com/0KzdDlE8WA

— Selwyn Township (@SelwynTownship) November 2, 2019
"All of the communities that have signed on have said, 'We recognize that we belong together, we're a family," Peterborough-Kawartha MPP Dave Smith said.
The Accord seeks to provide a framework that will allow each partner the ability to enhance and honour one another's historical, political, economic, social, and cultural relationships.
Although the main emphasis is on building stronger economic ties, the collaboration also aims to educate and engage the public, especially the younger generation, on treaty history and reconciliation.
Honoured to attend the Friendship Accord signing ceremony along with my colleague @DaveSmithPtbo and Federal MP @PLawrence2019 Forging friendship & a platform for common growth between First Nations & Municipalities in Northumberland-Peterborough South & Peterborough Kawartha pic.twitter.com/BZnrdgINeO

— David Piccini (@DavidPiccini) November 2, 2019
Thank you @PtboEcDev for your involvement in this partnership! https://t.co/exDAnhQfuJ

— FN_Muni_CEDI (@FNMuniCEDI) November 4, 2019
In 2016, CEDI was established and coordinated through the Federation of Canadian Municipalities (FCM) and Cando, a national, membership-based, non-profit indigenous organization involved in economic development with indigenous communities. The program is funded by Indigenous Services Canada.
Strategic Plan Input Sessions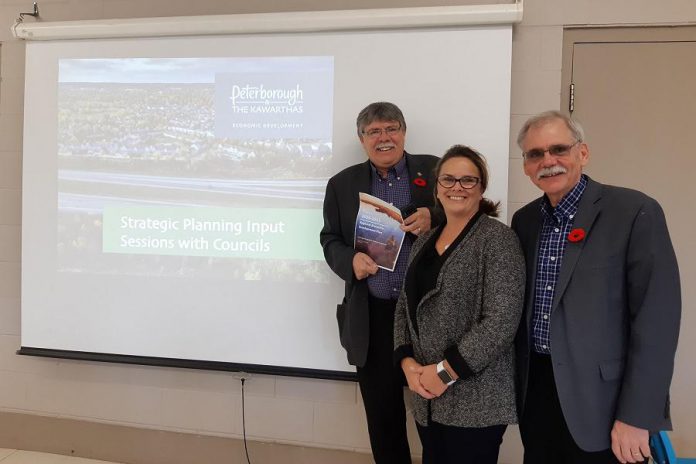 With 2019 quickly coming to a close, an exciting new era is about to launch for the local economy.
Starting in 2020, PKED will launch Future Ready: 2020-2024, a five-year strategic plan that will guide, shape, and ultimately serve as the local economy's road map for the next half-decade.
Future Ready was crafted after significant research and benchmarking was completed, in addition to consultation and focus group sessions with community and business leaders.
Taking it to the next level, PKED recently hosted nine separate strategic planning input sessions with elected councillors from both the city and the county to get their input into the plan.
Stakeholders were asked to offer their input on the plan, while also identifying priority objectives and actions they think need to be focused on to grow the economy over the next five years.
"Our vision is to become the most sustainable and innovative community and economy in Ontario," said Rhonda Keenan, President and CEO of PKED. "This is a wonderful region with tremendous potential. We hope to achieve our vision by partnering with business, academia, and other organizations to ensure that we are working together to become the destination of choice in all our key sectors."
In preparing for the future, it is recognized that innovation will play a significant role. New products, new processes, and new talents will be required to stay competitive with other communities. Peterborough & the Kawarthas will need to create quality jobs without harming the environment, Keenan explained.
"In every public consultation process that has occurred, commitment to the environment, protecting our valued water, air and soil resources have always been mentioned as a huge priority for this region," Keenan said. "Balancing innovation and sustainability is a strength that this region has and will help to prepare us to be future ready."
TD Economic Outlook Luncheon
Partnerships, global market awareness and a future-focused economy.
Those three items were the takeaways from this year's TD Economic Outlook Luncheon, hosted by TD Bank Group Canada, Baker Tilly and PKED, at the Peterborough Golf & Country Club on Wednesday, October 30th.
TD Bank Group Vice-President & Deputy Chief Economist Derek Burleton provided his insight into what the future holds for the global economy but also put the microscope on Canada and Ontario's economy and how it will impact our region.
Burleton said TD Bank Group is projecting around a 30 per cent chance of recession at this point in time — something, he said, many pundits would have guessed would be at a much higher percentage this far along into 2019.
Burleton did note it's a figure local businesses should keep tabs on in 2020.
"The last 12 months, it's just come straight down and you can see where we (Canada) currently stand, which is 2.9 per cent growth," Burleton said during his 30-minute economic outlook presentation to over 120 business men and women in attendance.
A great luncheon indeed
.
.
.
Thank you @PtboEcDev for the thorough local insights and @TD for the global economic outlook
.
.
. https://t.co/emFrlQQaNU

— Park Place Financial (@ParkPlacePTBO) October 30, 2019
Rhonda Keenan, President and CEO of PKED, also spoke and provided a glimpse into the organization's new five-year strategic plan called Future Ready.
Keenan highlighted the importance for the local economy to prepare for a new economy, one that is anchored by jobs that currently don't even exist yet.
The Institute for the Future, a non-profit think tank in Palo Alto, California, said in February 2019 that up to 85 per cent of the jobs that today's college and university students will have in 11 years haven't been invented yet.
@PtboRhondaK @PtboEcDev TD outlook luncheon @PTBOGolfandCC great crowd and comments on ecdev pic.twitter.com/57QWDze0wv

— Jay Amer (@jay_amer) October 30, 2019
"How do we prepare for something that we don't even know about yet?," Keenan said. "Clearly, innovation is key for us creating new methods, ideas, or products for the future.
"Economic development's role is to create an environment where business can thrive and create those new methods, ideas or products. If we know that business is changing, the world is changing, then we need to embrace change and we need to make sure that Peterborough & the Kawarthas allows this innovation to take place."