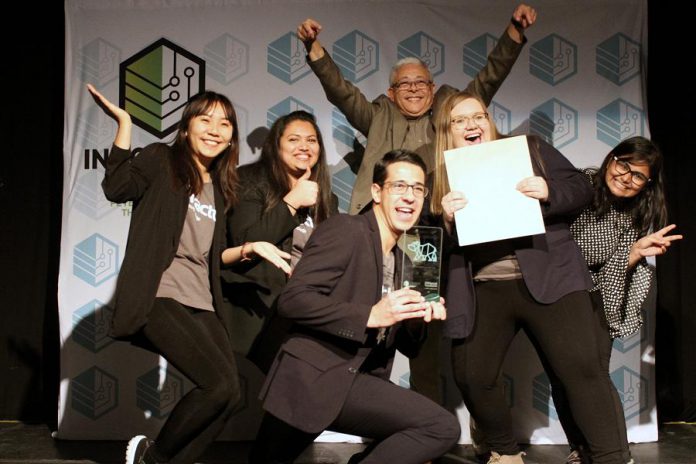 Only two months after winning an international award and a month after winning a student entrepreneurship competition, a team of Fleming College students has won the fifth annual Cubs' Lair entrepreneurship competition, held on Thursday night (November 21) at the Gordon Best Theatre in downtown Peterborough.
Vanessa Mathieu, Joao Borges, Alesha Colaco, and Jo Ho took home a grand prize valued at over $7,200 for their business idea called Paper Plant Project. The students are leading the project, a social enterprise that produces paper planters from recycled paper waste as educative kits for schools to promote biodegradable practices.
The project was started by the Enactus Fleming team, which won the People's Choice Award at the World Project Expo at the Enactus World Cup 2019 in San Jose, California in September. Paper Plant Project also won first place at FastStart Peterborough's fifth annual Pitch It! competition in October.
Advertisement - content continues below
"It was a lot of work that we put into this project," team member Borges says. "With a lot of support from Fleming College, the whole team made this possible."
"It really speaks volumes to the fact that we are on the right track and starting to see value for the accomplishments that we're doing on our product lines and all the impact that we could potentially create. We are looking forward to keep working hard and keep making wins like this one tonight."
During the competition, styled after CBC television's Dragons' Den, seven entrepreneurs (or teams) between the ages of 18 and 29 pitched their business ideas before a live audience to a panel of judges.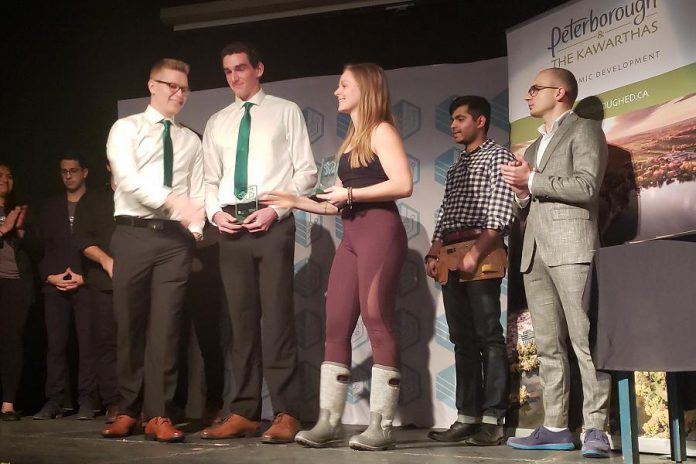 After hearing and evaluating pitches from the entrepreneurs, the judges — Michael Konopaski (managing director of Inclusive Advisory), Nicole Stephenson (founder of Stephenson Law Group), and Dana Empey (vice president of Carlson Wagonlit/G. Stewart Travel Services Ltd.) — ultimately chose Paper Plant Project as the grand prize winner.
The two runners-up were Shane Willis and Tanner Morrow with their business idea Eco Care (a property maintenance company focused on electric powered landscaping equipment) and Telsi Szanyi of Flow Codes (a subscription service for wellness resources, with a focus on promoting well-being for employees in the workplace).
As for Paper Plant Project, team member Borges says the grand prize — which includes $1,000 in cash and more than $6,200 in products and services donated by local sponsors — will be valuable in making the project a success.
Advertisement - content continues below
"With this package we are definitely going to be investing into some marketing research with teachers as well as other marketing niches," Borges explains. "We will also be updating our website of course with Shopify as well as investing a lot into the manufacturing process to make sure we are being as efficient and consistent as possible."
"We also are going to take advantage of being connected with the community and get into the minds of the people around us because, at the end of the day, we want to help Fleming College as a whole but also ultimately help our community."
The fifth annual Cubs' Lair entrepreneurship competition was presented by the Innovation Cluster and Peterborough & the Kawarthas Economic Development.