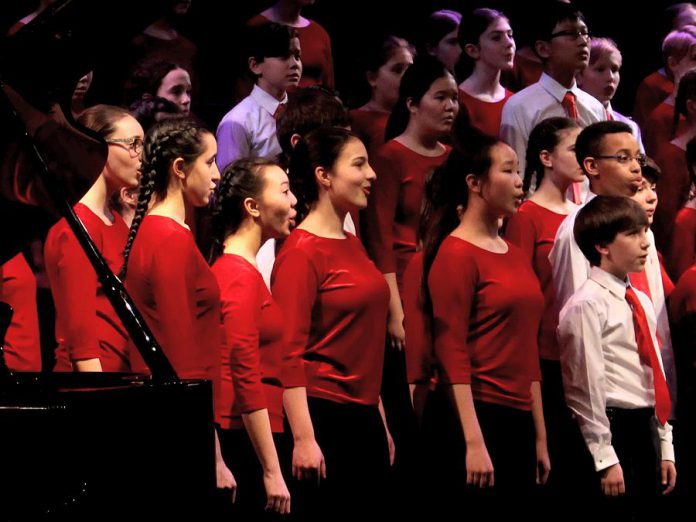 On Saturday, December 7th, the Peterborough Symphony Orchestra (PSO) cues the holiday season with "Christmas Fantasia", a family-friendly concert at Showplace Performance Centre in downtown Peterborough.
Festive favourites in the Pops-style program include music from Pyotr Ilyich Tchaikovsky's The Nutcracker, the suite from the motion picture Elf, and a cappella selections by the celebrated Toronto Children's Chorus (TCC). As always, the much loved traditional audience carol sing-along closes the concert.
"Having members of the Toronto Children's Chorus to sing with will be extra special this year," says PSO Music Director and Conductor Michael Newnham.
The TCC and baritone Bradley Christensen both join the PSO, for the first time, on stage for English composer Ralph Vaughan Williams' beloved ode to the holiday season, Fantasia on Christmas Carols.
"Vaughan Williams' Fantasia on Christmas Carols is a very special piece," says Maestro Newnham.
"It starts quietly with a solo cello, later adding the baritone, then the choir, and gradually the entire orchestra. It creates a wave of sound, with textures that seem to weave in and out of it."
Advertisement - story continues below
Composed in 1912, the single-movement work of roughly 12 minutes consists of the English folk carols "The Truth Sent From Above" (also known as "The Herefordshire Carol"), "Come All You Worthy Gentlemen" ("The Somerset Carol"), and "On Christmas Night All Christians Sing" ("The Sussex Carol"), all collected in southern England by Vaughan Williams and his friend Cecil Sharp.
This piece was suggested to the PSO by TCC Artistic Director, Elise Bradley. This season marks Elise's eleventh year as Artistic Director of the TCC where she has garnered praise for her artistry and for her deep commitment to children and the art of treble choral music.
Maestro Newnham praises the TCC, recognized as one of the finest treble choirs in the world, as "undoubtedly the flagship children's chorus of all of Canada, and it is a great honour to have them here to join us on stage for this concert."
VIDEO: "Fantasia on Christmas Carols" performed by London Symphony Orchestra & Chorus with bass-baritone Stephen Roberts

The 68-voice choir will sing a set of a cappella seasonal favourites including "The First Nowell" and "Hark! The Herald Angels Sing". Along with these selections, and Fantasia on Christmas Carols, they will also be joining the PSO in "Waltz of the Snowflakes" from Tchaikovsky's The Nutcracker.
Artistically, there is an incredible amount of preparation and work that goes into a concert such as this. The choristers spend four hours every week in rehearsals, and many additional hours at home memorizing all their repertoire for each performance.
"The children work very hard as a team to give the best possible performance to their audience," says Carol Stairs, Manager of Artistic Administration for the TCC.
Advertisement - story continues below
Logistically, with a small army of children, there are legions of people involved in making sure that their concert appearance happens successfully: artistic staff, including conductor, accompanist, and conductor's assistants; administrative staff who prepare for concerts, including rehearsal schedules and stage management; and parent volunteers, who assist the children at weekly rehearsals and at concerts, and on whom the TCC staff "depend greatly."
The PSO is also thrilled to welcome New Zealand native and lyric baritone Bradley Christensen, who performs on both concert and operatic stages and has been garnering an excellent reputation across Canada and abroad.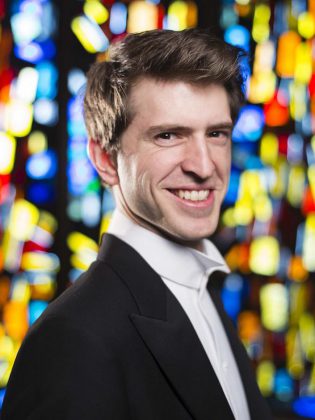 "I recently had the pleasure of working with Bradley Christensen when he sang in a performance of Beethoven's Ninth Symphony." says Maestro Newnham.
"Peterborough audiences will be delighted to hear Brad's ringing baritone in this program. I am personally looking forward to seeing him here since he was an absolute delight to work with."
Bradley says there are a few things that he loves about this Vaughan Williams' Fantasia on Christmas Carols.
"Firstly, the text. That is the most important thing of anything. In this, the message is of love, specifically God's love. No matter who we are, we are all welcome by God to have a place in paradise."
"If you're religious or not, the message of being kind to your fellow human beings is strong. The song finishes with 'and we wish you a happy new year.' It's a feel-good piece."
Another reason he loves the piece is that he is "a sucker for rhythmical changes, like quintuplets, or just a good tune. This has both!"
VIDEO: "Waltz Of The Snowflakes" performed by London Philharmonic Orchestra

The work is challenging, however, with the hardest thing for Bradley being "where the song lies in the voice."
Bradley is a lyric baritone, meaning that his voice lies between the tenor and the bass, higher than a bass-baritone, but lower than the very high baryton-martin. While a high baritone is what is needed with a set like this, he says that "the singer is constantly negotiating the passaggio."
"This means I am road-mapping the entire piece to decide how much head voice or chest voice I use. But got to love a challenge!"
VIDEO: "Elf Suite" by the Golden State Pops Orchestra, composed and guest conducted by John Debney

"This evening will certainly have something for everybody," says Maestro Newnham. "It will have you toe-tapping and singing along in the spirit of the season."
Christmas Fantasia audience members are reminded that Michael Newnham does not present a "Meet the Maestro" pre-concert chat ahead of the PSO Christmas concert. "Meet the Maestro" will return in 2020 at February 8th's Winter Passion concert.
Concert tickets for Christmas Fantasia are $35 for adults and $10 for students. Tickets are available in person at the Showplace box office (290 George St. N, Peterborough), by phone at 705-742-7469, or online at showplace.org.
Christmas Fantasia is sponsored by Elizabeth and Milan Ichniovsky, The Lloyd Carr-Harris Foundation, Marie Cluthé Antiques & Collectibles, and Nancy and Jamie Westaway,